PETER BLAST
WHITE VOODOO
(Big Bang Entertainment Group, USA)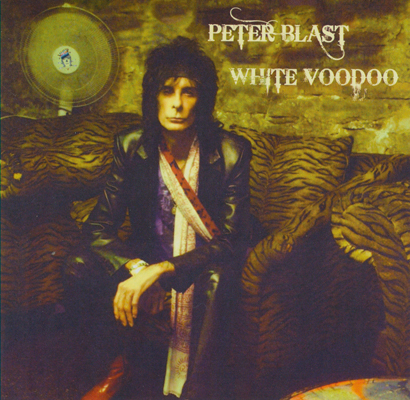 CHICAGO SOUL

The moon is cold in New York City tonight. I can't see the stars, except in my dreams. Just one more cup of dirty coffee in
Lucy's Bar, and I'm on the next bus to Chicago. I hope there's a lonely girl on it, so we can talk the night away. I wanna tell
her about a guy I know. He's sitting up all night making blues for you and me. This really is where the soul of man never dies.

Åh fy faen som det koker. Førti kopper kaffe og seks kjappe Red Bull får ta litt av skylda. Men ikke hele. Den dritten der når
ikke inn til sjela. De ti siste åra, og vel så det, har det 'sheika' langt inni hjertekamra, pga en type fra Chicago. Nå har jeg
hørt på rhytm'n blues (Bo Diddley, Etta James, Elmore James) fra The Windy City lenger enn det, men når de fleste fra den
tida der har tatt kvelden, er det utrolig digg at noen plukker opp beat'n. Det var ikke før hans andre soloutgivelse at Peter
Blast nådde disse strender. Plata het Explode og låter som Ya Better Reach For The Sky, We're The Hell Raisers og It's a
Cruel Cruel World rulla inn på varme hjul her i kåken. Ikke bare lagde han fengende Chicago Soul, men blandet med en dose
NYC-style kulhet, hadde Mr. Blast funnet sin elegante form for rock'n roll . Det mest iørefallende var stemmen hans. Den
kuleste, og nærmeste jeg kan komme på, må være Jackie Lomax. Det slår ikke feil, altså! Den nye plata - White Voodoo - er
hans beste, så langt. Med en besetning av gamle, gode venner og funky gjester fra band som The Faces, Georgia Satellites
og Michael Monroe, er vår mann i Chicago 'right on time', igjen. Etter å ha hørt denne, er det bare å bestille første buss til
Chi-town.
RnR Central - Peter Blast - Explode
RnR Central - A Plush Horse... with a Monkey On a String
RnR Central - Pure Organic Junk
Peter Blast Official Website
Peter Blast on Facebook
30. november, 2012
**Ringo Kid**