include("vis.css"); ?>

include("Toolbar.html"); ?>

Willycranes
Domestic Disturbance
(pscd669)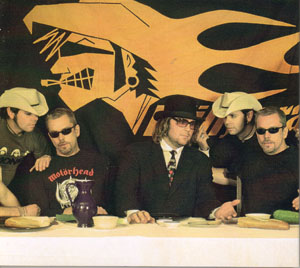 Cowboys from hell!?? No, cowboys from Åland, Finland!
13 songs and half of them runs under 2 minutes, that's pretty damn cool!
This is the second album coming our way, see last years review here ,
and from what Billy wrote a year ago, not much has changed in the Willycranes camp.
And why should it? Fast, hard songs and yeah yeah yeah's that's what bad girls like!
The album's got a cool, asskicking sound, but I wish the songs were better.
After a round with this album I have the feeling of hearing only a couple of songs.
But as I've had numerous rounds with it, the first half is where the best stuff is,
and my fave is track number two, High Road, with a close runner up in Bumble Bee.
For me, it would be enough with a five or six track ep.
www.willycranes.com
www.myspace.com/willycranes

11. March, 2008
**Ringo Kid**