Trashcan Darlings
Getting Away With Murder
(StrangeDolls Records CD-012006)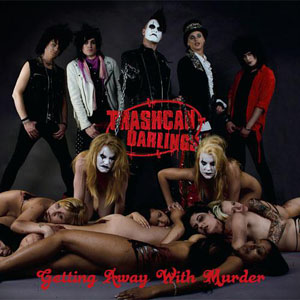 They claim to be the pioneers of glamour punk, but with their second full-length album Trashcan Darlings
play their way out of all underground name-tags, and stand out as a terrific rock n' roll-band.
This album contains everything a great album needs. It includes the classic Trashcan-tunes such as the single
"PlayStation", "Rocket Madonna" with it's cartoonish sound-effects, and the live killer "Me Punk, You Fuck!".
But this album is so much more than that. My personal favourite so far is without doubt "From Purity to Pain"
which has the melody and arrangement of a true rock anthem. Then there's the tender "Please, Darling, Please"
which with it's almost Beatles-like feel almost bring tears to your eyes. And then the biggest surprise;
"Because You're Young" – who in a million years would have expected to find an upright acoustic bass on a
Trashcan Darlings-album? I'm amazed by the diversity that these twelve songs represent. And to end it all;
"Sinister Ride", which is probably the closest to Motörhead you've ever hear guys wearing this much make-up.
I could go on mentioning almost all of the tracks on the album, but I figure you've got the picture by now.
The whole band stands out on this record, but what really comes to you is how good the guitarists go with each other.
It's been mentioned on this site before how highly underrated Chris Damien Doll is as a guitar-player. I don't know
if this record automatically puts him on the front page of guitar-hero magazines, or if there's where he belong;
but the way he spices up almost every song on this album with he's catchy guitar-lines, truly lifts all the good songs
to an even higher level. For instance, check out the super-slick modulation-part on the opening track
"The Violent Years" and what seems to be a hint of Iron Maidens classic "Golden Years" on the outro of that same song.
The inventive solos on the already mentioned "From Purity…" also is truly great.
On "Getting Away With Murder" the Darlings have brought in Silver-guitarist Tommy Akerholt to produce the album,
and though this is by far the best-sounding Trascan Darlings-release ever, there seems to be even more to
get out of the production. This, on the other hand might have resulted in an overproduction,
and that the Darlings would have lost that rough sound that we know and love them for.
To sum it all up; this album shows what there's never actually been any doubt about;
the Trashcan Darlings really deserves to be noticed by the big masses and festivals, and I once and for all
take of my non-existing hat for the songwriter-skills of Chris Damien Doll and Strange? Gentle.
I envy you, but non the less wish you all the best and a hell of tour this fall! Cheers!