The Scared Stiffs
The Last Horror Movie
(Poptown Records 703071001920)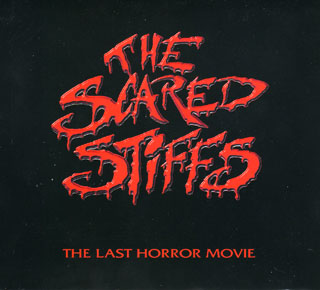 These guys look like shit but sound like heaven!
Their last record, Autopsy Turvy (see my review here: The Scared Stiffs Autopsy Turvy) ,
sure got my attention, but this album got me hook, line and sinker!
Alright, last things first. The scariest thing above all is the fantastic cover of
Wille Dixon's Seventh Son at the end of the album. It's that good I tell ya!
I have no idea who J. Brown is, but he's the guy behind the very cool There's No Wonder I'm 6 Feet Under.
A well done punked up country number called Knoxville Girl,
written by C. Louvin and I. Louvin, gotta be the Louvin Brothers right?
Both of them gets the Stiff treatment and fits right in!
The more I listen to this album, the better it gets. And I've listened to it alot now!
Meaning, I gotta add this to my Best Of 2007 list, cause it came out late last year.
Probably my favourite of the Stiffs originals, Let's Put The F-U-N In Funeral,
makes me dance and sing, and maybe do anything haha! But really, it's a party number and
it strikes just like a hit's supposed to. Great fucking song and a melody to kill for.
I really like this album from a to z, though not all numbers are favourites,
it's become a record I can't live without.