The Last Rock'n'Roll Band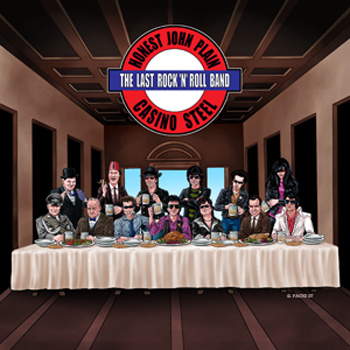 (Revolution Records REX12007)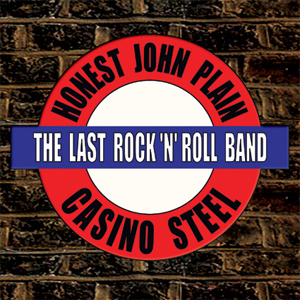 (Action Records AR004CD)
"I wanna have some fun!" sings Honest John Plain with such passion that no man or woman
will ever be in doubt of how and why this album came out.
It's a beautiful mess all over, left behind for others to clean up. This gang is only here for the party and
the red wine, then they'll be off for the next one.
In their trail lies passed out drunks, empty bottles and a broken heart or four.
Fortunately, we got a record to play over and over again and that's what we'll do!
The Stones got the biggest bang but TLRnRB got the banged up sound, just check out the dirtiest
Folsom Prison Blues of them all! The smasher of an opening with Banged Up In Bangkok
will only tease you for what's to come, though it is one of my top five songs on the album.
But there's no chance in hell I'll leave out any numbers for you here!
After the toughest opening this year we're off on a rocket with the previously available on myspace,
Baby's In A Burkha and A Selfish Brat. Played nearly to death already, here they really show us what they're
good for. It's a hit after another which would make a perfect single but the album wouldn't be the same without them.
Everybodies favourite, I Swear, makes a nice change in pace and slows the party down a bit, but not too much.
It's a fucking fantastic song, but as I'm a bigger fan of uptempo songs,
the Matheson/Steel/Plain composition If The Phone Don't Ring - now this is a classic! This song got it all!!!!
The George Jones single, She Thinks I Still Care, sounds really great in this rock'n'roll-country version,
and much easier to pick up on than the version Cas did on his There's A Tear In My Beer album.
A couple of other peoples songs follows, namely The Who classic, Substitute and
what I think is a Waylon Jennings tune called A Couple More Years.
Both of them are great and Substitute really rocks! A tough one to follow up, after the classic
original and the Pistols treatment it got in 1976, but our boys are the right men for the job!
Who said 2007 was a bad year for rock'n'roll ? They don't know what's around.
And for sure they're gonna boogie till they puke as I Won't Do It kicks off with this years
ultimate boogie riff. You all better hang on!
Lightning Never Strikes Twice, sang Slade in 1977, but TLRnRB does. 'Cause except for the
Helter Skelter'ish intro, the third and final Matheson/Steel/Plain rocker, Surfin' On The Thames,
rolls pretty close to If The Phone Don't Ring. Both are of course included in my top five!
So is the The Last Rock'n'Roll Song, but now I've lost track of my top five list, so why not put the whole damn
album in it?! I wonder if there will ever be anything like this record, and oh yes I sure hope so!
This just can't be the last record by The Last Rock'n'Roll Band!
www.myspace.com/thelastrocknrollband
Norwegian version available from cdon.com and distributed by Sonet Distribusjon
French version available from Action Records
Got something to say? : rraf.net :: View topic - The Last Rock n' Roll Band