Terror Twins
s/t
(Demo cd)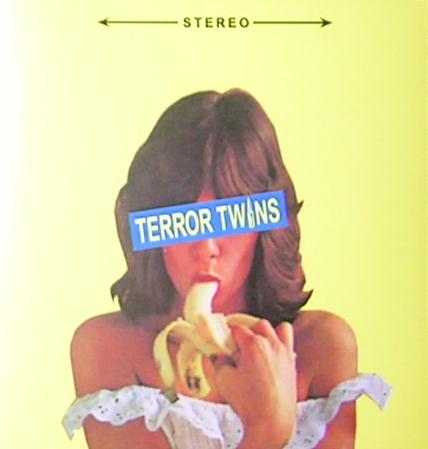 The Trondheim underground has always been full of great bands. Since the hardcore-regime grew strong some years ago,
lots of old school punk bands have emerged from every basement in town. One of these bands is Terror Twins.
I've never seen them live, and I've never really taken them seriously, but this EP really proves their potential.
Terror Twins usually sings in Norwegian, but the opening track of this 3-song demo is the English "Hey, sweet girl
(please shut up!)". As every tune on the demo, this one is hilarious. Not that the Twins are trying to be comedians,
it's just that the straight-forwardness of the music and the uncomplex lyrics just makes you smile and laugh.
On the second tune "Spis knips", which is already a hit on the internet, guitar-player Rove does the singing himself.
Another catchy tune with their characteristic lyrics. The concluding "Trur æ må spy" is also a true hit,
and I look forward to seeing this band live.
Musically they sound a lot like bands such as The Lurkers and maybe Dictators, but the lyrics is so simple
that their almost epic. Old punk bands such as the Norwegian Wannskrækk and Hat are bands that pop into my mind.
Looking forward to hear the sequel of this demo. Cheers, guys! Well done!