Suddenly Yours
A Tribute To Nikki Sudden
(Sunthunder Records 002)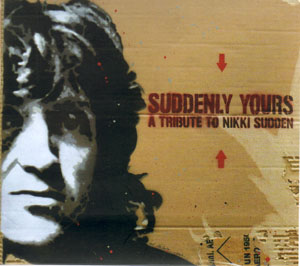 This cd should not have seen the light of day. To be brutally honest. A Nikki Sudden tribute,
perhaps was only a question of time away.
But these contributions are, mostly recorded after 26th march 2006 - one of the saddest days in rockīn roll music history.
But as the rest of us gotta keep walking, and try not to worry too much, this is a truly beautiful cd release.
What makes this one a little different, is that it starts off with a number called Pistol In My Pocket, by american
Joey Skidmore, featuring Nikki on vocals and guitar. Itīs kind of a relief to hear Nikkiīs voice, already in the first track
of his own tribute album! It gives me a feeling that heīs still around, just the way I like to think about Nikki.
The song is co-written by Nikki, and recorded on his home turf - in Leamington Spa, UK , and I would love
to know when this one was recorded, cause the booklet gives no date.
Another special thing, is that this compilation includes two songs not written by Nikki.
Namely Chuck Berryīs Bye Bye Johnny, here in a fantastic version (which sounds like itīs a live recording, cause
of the enormous intensity) , with Freddy Lynxx and fellow Jacobites partners, Carl Eugene Picôt and Mark Williams.
And of course (I might add), Big Store is here, the other track not written by Nikki.
I never quite understood why this number was always included
in a Jacobites/Nikki Sudden/Dave Kusworth set (correct me if Iīm wrong) ! But as time goes by, and lessons are to
be learned - I now see why. Itīs a brilliant song! What an irresistible riff, and an almost irritating catchy chorus (donīt think
I can count how many days at work itīs been in my head).
Too bad, I never got the opportunity to tell Nikki that I started loving their signature tune.
Big Store, was written by Daveīs old partner in the Subterranean Hawks, Stephen Duffy, and this version is the one
the Jacobites, and both Nikki and Dave on their own, has toured all over the wide world with.
Donīt forget the acoustic version, which Nikki wrote for the 1st Jacobites album, back in 1982. But itīs the Duffy
version included here, which Dave and the boys really gives a rough treatment, recorded sometime in 2006.
This is, so far, the only tribute record for Nikki. Iīm quite sure weīll see more in the future. But they will all have a hard time following this one. I donīt have a bad word to say about anyone on this compilation, youīve all made Nikki proud and youīve made me pull out all the records, all the videos, all the pictures and all the memories.
I still donīt smoke, Nikki, but this glass of vodka/orange - is for you.
For you, Nikki, for you...
Official Nikki Sudden Homepage
SUNTHUNDER RECORDS
Have a listen: www.myspace.com/sunthunderrecords
www.myspace.com/nikkisudden
Comments and other views are more than welcome in the forum:
rraf.net :: View topic - Suddenly Yours