include("vis.css"); ?>

include("Toolbar.html"); ?>

Starlet Suicide

Out Of Your League, Cd Ep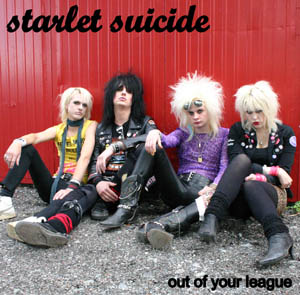 Second ep out by this Stockholm sleazers. And as far as I can see, this one is also released by themselves.
I liked the other one like 50/50, see here, and this one picks it up where they left us then.
Still, there´s a lot of Courteney Love here, and still, she´s not my favourite rocker. But she´s cool!
The recording has improved a bit, and the songs may be a little stronger, but it´s definitely the two faster
numbers which turns me on - Hairspary Lover and I´ll Be Gone, though HL isn´t far from the first track.
They look like a million dollars, and I bet seeing them live is way better than this ep, but it still rocks
pretty good. More will come, I´m sure, and we can do nothing but look forward to it!
mailto:info@starletsuicide.com
www.starletsuicide.com

7. november, 2005
**Ringo Kid**