include("vis.css"); ?>

include("Toolbar.html"); ?>

The Squareheads
Devilīs Daughter
(ER003)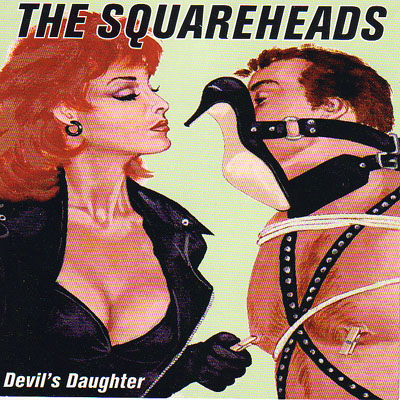 Last time I heard this Halden, Norway band on record, was with their 1999 release, Fucked Up Rockīn roll.
Iīve seen them live after that, and that was a blast I can tell you! Big Daddy, the lead singer, running around playing the main part of Texas Chainsaw Massacre!
Devilīs Daughter came out in 2003 on Eldorado Records,
and though Iīve always liked most of Fucked Up Rīn R, this one is a huge improvement!
Opening track, and maybe my favourite on the record, but thatīs really hard to say, Barfly -
kicks away in a nice up-tempo beat and boogie-woogie riffs and a great bluesy harmonica man added on top.
Gotta hit the replay button right away!
The "Powerage" feeling of Stun Gun Me is fantastic, while the great Headache, brings forth thoughts of
Turbonegroīs Never Is Forever title track. Good stuff for sure!
I really love the feeling of Devilīs Daughter. Itīs got a nice, round and warm rockīn roll sound. I feel satisfied
listening to it, and sure it makes me move around! To the fridge to get another beer...
Itīs sunday night!
www.squareheads.net
www.eldoradorecords.no

12. march, 2006
**Ringo Kid**