Smalltown Ramblers
Too Much Coffee
(Flipside Records - FRCD013)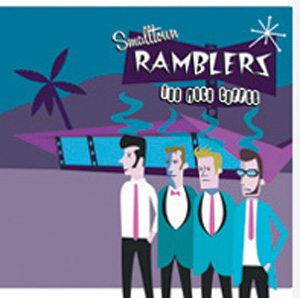 There's nothing quite like hearing a band for the first time. And if you happen to discover a new genre,
that's like coming to a city for the first time. I still got some of that feeling left from when I started listening
to rockabilly music not long ago. One of the bands I've stumbled across is the Smalltown Ramblers.
"Too much coffee" is their second album. Their sound is very stripped, consisting of a single snare drum,
an upright bass, a guitar and a saxophone. The sax working both as a rhythm and a melodic instrument,
gives the band a very original sound. It reminds me more of 50's rockabilly-artists such as Eddie Cochran,
early Elvis Presley and Johnny Cash, than other "newer" acts like The Stray Cats.
As I said the sound is very naked. On the up-tempo songs this just gives 'em authencity and groove, but on
the more tender songs, I feel it gets kind of flat. But their not trying to hide behind a wall of sound either.
Personal favourites on this album have to be the opening track "60 women" which has a great attitude and
killer fills on the saxophone. The duet "Nickles and Dimes" is also amazing. The woman appearing is
Renate Wahlberg. I have no idea who she is, but she sounds like an untouched Vibeke Saugestad,
and the vocal harmonies are just as simple as they are beautiful. "Pearly gates" is a tribute to the bar up above
where we're all gonna end up (maybe), and where the King is sitting on his throne waiting.
A complete rockabilly-tune both in melody and lyrical theme.
Check out Smalltown Ramblers in the new Norwegian movie "Kalde føtter" (Cold feet). And don't miss what's
been said to be their farewell-gig at Elm Street, Oslo, on the 16.th of December.
Go get their albums as well, you won't stop smiling, I promise.
www.smalltownramblers.com
www.myspace.com/smalltownramblers
www.flipside.no