Slömber
Fire In The Jailhouse
(Naked Hollywood Records, NHRCD 001)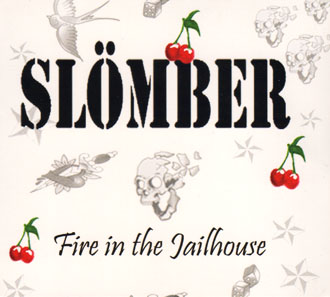 I've been hearing about Slömber for what seems like forever. Finally, their debut EP is here. And it rocks!
Although I really like this record, it took me some time. At first the production sounded a bit flat,
and the all songs sounded the same. I'm glad I didn't write this review then, because now I've totally changed my mind.
"Fire In The Jailhouse" is 19 minutes of pure rock'n'roll. Some of these songs get stuck in your head for days.
I've been humming the guitar riff from "Stealing a moment" constantly for the last few days.
I've had the pleasure of seeing Slömber perform live. And although colorful front man Billy McBarbie makes the rest
of the band seem black-and-white, they put on one hell of a show. If you ever get the chance, go see them.
On their website, they list Mötley Crüe, Guns'n Roses and Motörhead as their influences. And listening to this record,
it gets kind of obvious. I'm a big fan of all the before mentioned bands, and I love these references.
There is nothing wrong with stealing ideas when you do it like Slömber does it.
Their lyrics are basically about fighting for the rights to wear tight pants and play rock'n'roll. Just the way we like it.
So what separates Slömber from all the other bands out there? First of all – how they play live like their lives depended on it, even when there is no one upfront. Secondly – Billy McBarbie´s voice. And last, but not at least – the fact that you'll still like this record in five years time. I hope to God there'll be an album.
www.slomberville.com
www.myspace.com/slomber
www.myspace.com/slombersluts