include("vis.css"); ?>

include("Toolbar.html"); ?>

Nasty Kixx

Hometown Blues (SGR 69-003/EX 17537)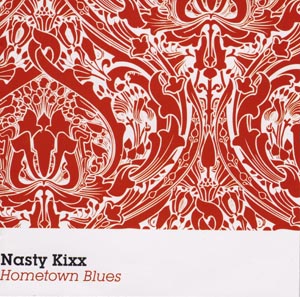 Oh no, not another swedish rock band! I thought that bands on the continent, and norwegian bands too, had put an end to the endless flow of boredom from the east. He-he, you know you got way too many of those mop-tops with a farfisa organ. But just looking at these guys name - Nasty Kixx - you know youīre in for something else. Itīs always refreshing to see bands with x and/or z in the name - very ī80īs glam you know. The four first numbers are all killers. Any of them can be an excellent choice for a single, and should do great out there in all the swedish punkrock/rockīn roll homes. That means it will do well in Norway and rest of Europe as well. They sound better when they got that cool piano pumping in the background, instead of the organ. But it works both ways. Itīs not very far from the latest Hellacopters sound, I think they even got some Wannadies harmonies in there for good measure. Sadly, the rest of the album canīt keep up. Itīs far from bad, just not anyway near the intensity of those four starters. If they had released them as an ep, that wouldīve really blown my mind! But they do that anyway, Iīll just stick to the first half of the album. And yeah, I donīt care much for the final track - a cover of Hanoi Rocksī Tragedy. Itīs too fast and the organ is outta place. But be sure Iīm gonna go see Nasty Kixx if our paths cross!
www.nastykixx.com
www.shotgungeneration.fr.fm
30. june, 2005
**Ringo Kid**