include("vis.css"); ?>

include("Toolbar.html"); ?>

Kevin K and the Real Kool Kats

Perfect Sin (FBK3)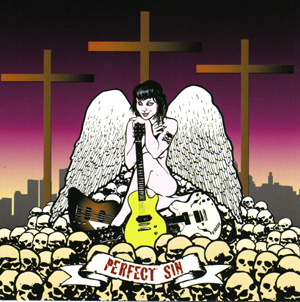 New Yorker Kevin K is out with another album. Just like Jeff Dahl, he´s got too many out there that I can keep track of! On Perfect Sin he is again joined by his Real Kool Kats, like he was on the brilliant Addiction, from 2004. I think this is a really cool collaboration, and it works better than his solo effort, Mr. Bones, from earlier this year! You see, this is a pretty creative and busy guy, which makes it none the less more impressive - the very high quality of this record. Where Mr. Bones failed to sound like a whole album, though it contains a great bunch of hits, Perfect Sin is a complete album stuffed with new rockin´ gems. Firing away like a Ramones on speed in the opening track, Lovespell, even Marky Ramone would´ve had trouble keeping up with the pace! There´s really not one bad track on this disc, I enjoy them all greatly. My favourite outstanding track is the acoustic hillbilly rocker, Hanging On The Eightball, with a very cool saxophone added on top of an amazing cool beat. If you´re a fan of The Heartbreakers and the Ramones, I´m sure you´ll find a new favourite in Kevin K!
http://kevin.k.realkoolkats.free.fr
www.fullbreach77.com
2. june, 2005
**Ringo Kid**