Kevin K and the Real Kool Kats
Live on Radio TV, Varazdin, Croatia june 2, 2005.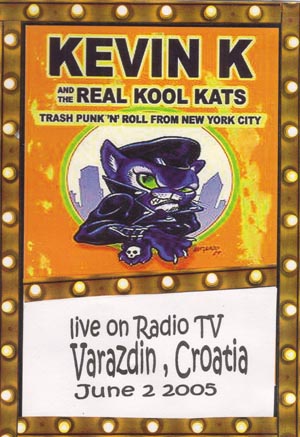 The sleeve says: Trash punkīn roll from New York City! And you should know if youīve read my previous reviews of Kevin K. This dvd is recorded in Croatia, only a month ago! Thanks to new technology, rockīn roll travels fast these days. I really like that, Iīm seeing the show close to when it actually happened, and thatīs a good feeling! Six tracks here, in top-notch quality, in the true spirit of what a rockīn roll show is supposed to be like. You have to see these guys - they are way too tough to stand in a crowd. Put them on a stage, and itīs theirs! I canīt see no audience though. Guess thatīs why itīs called Radio TV... I only know two of the songs: What It Takes, from the excellent Perfect Sin album, and Melody, which I got on the best of compilation New York, New York (see earlier reviews!). The coolest track is one called Do You Wanna Kiss, but the strangest one is entitled Love, and is dedicated to Jennifer Love Hewitt! But hey, anything is allowed in rockīn roll! This is one hell of a cool dvd anyway.
Ps: This was written some weeks ago, but due to technical difficulties, itīs a bit delayed. Sorry!