Just Go Destroy Everything In Sight!
A collection of current japanese rock, garage and punk.
(D1233114)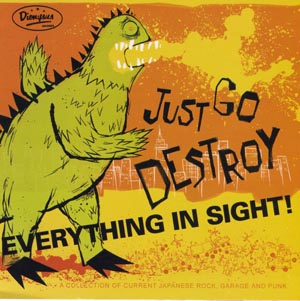 Japanese rockīn roll has always been welcome in my house. Man, Iīve had some good, good times listening to Teengenerate, Phantom Rats, Guitar Wolf and Supersnazz! Itīs something about those bandsī extremely high energy level and their dedication to their heroes, that really amazes me. Besides those bands, Iīm not too familiar with the japanese scene. This compilation is released this year, and is a varied selection of todays scene. First band out, The Have Nots, is pretty close to the Phantom Rats/Teengenerate wild rockīn roll sound, and definitely one of my favourites here. Others I really enjoy are the party-stompinī rock-a-billy of Google-A, Green Day-ish power-pop with Naked, and a great cover of Radio Birdmanīs New Race by The Gimmies. Thereīs a couple of hardcore bands, a little oi! and some weird computerized garage-stuff here too, so itīs not the most coherent compilation Iīve heard. But well worth your time īcause of the cool ones.
Ps: This was written some weeks ago, but due to technical difficulties, itīs a bit delayed. Sorry!