Jetsurfers
Western Reality
(ACP/Musikkoperatørene, ACP 001)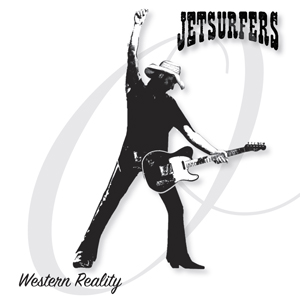 During their eight years and over 500 gigs Jetsurfers have earned themselves a rumour as one of
Norway's greatest live-acts. Now it's time for their albums to get the same recognition as well.
According to songwriter and singer Bjørn Nilsen, "Western Reality" refers to the current situation in the western world. Despite the briefly political content, this album is a beautiful painting of hard-working men with broken hearts
and mud on their hands. Every song on the record have that certain sincerity to it that just makes you
wanna listen to some more. It feels real.
One of my favourites is "Halfway there", which for a poser like me really has some good points. Ha, ha.
It's a catchy tune with lyrics that might as well been written by Hank Williams Sr. or Bob Dylan.
The opening track "The Rivers Roll", which video currently is to be found on Norwegian NRK2's country-svisj,
also is a true beauty. Bob Dylan is sort of represented on the album in other ways as well, with his former guitar-player
Mason Ruffner appearing on the tune "Country soul # 5".
All in all this is a very complete album, with every aspect of country and roots-music you could ever wish for.
Buy it now, and listen to it whenever the freezing rain keeps you locked up inside.
In the middle parts of Norway, that includes almost every day. Ha, ha. Cheers!
Release date may 29th!