Ila Auto
If you don't stop pickin' it might never heal!
(Auto Records/Bare Bra Musikk)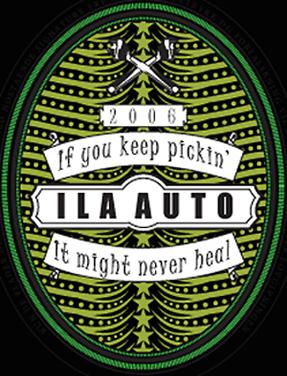 I know this site is called Rock n' Roll, Alcohol and Fucking in the Streets, but if you just focus on getting the booze and the fucking-part right, this album might give you many good times through the winter.
Ila Auto is a complete bluegrass orchestra based in Oslo, and I tell you; this band knows their stuff!
If you're into the genre, artists such as Bill Monroe, Flatt & Scruggs, and a band like Old Crow Medicine Show
ain't that far from what to expect from this gang.
As far as I'm concerned there's two kinds of bluegrass music; the one who makes you forget everything and just smile
and dance, and the one that makes you sit down in your favourite chair and just weep.
This album covers both kinds. Songs like "Fire it up", and the covers "Red clay halo" and "Saro Jane",
puts a huge smile on your face which just won't go away 'till the band brings you down with their truly
beautiful ballads such as "Sunday girl", "The road you walk" and "How do I get out of this".
The songs on this album is all exceptionally good, and the musicians play them all like they deserve to be played;
with presence and "fingerspitzgefühl".
I had the pleasure of seeing them live a couple of weeks ago, and what a blast that was. Finishing their set
with a bluegrass cover of G'N'R monster-hit "Paradise City" made my night!
Check 'em out and get emotional!
For "Bluegrass, Moonshine and Fucking in the barn", this is Billy Boy Barbie saying "Yiihaa!"
www.ilaauto.com
www.myspace.com/ilaauto
22. December, 2006
**Billy McBarbie**