Honest John Plain & Amigos
One More And Weīre Staying
(Action Records 003CD)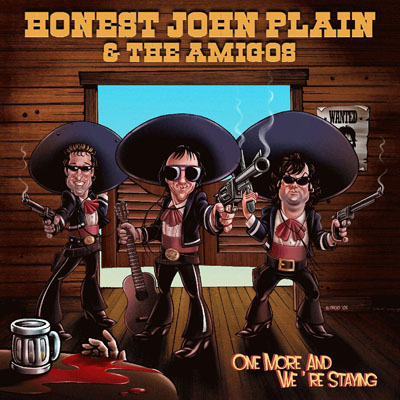 This has been a long wait! Iīve heard so much about this record for a year or so now, and how
fucking great itīs supposed to be! Well, as the saying goes.... , and Iīve waited - but itīs certainly
been worth it! And what else to expect?? Weīre talking about a whole new album by
Honest John Plain and his Amigos!
I donīt expect any surprises in any new musical directions. And I donīt want it either!
Iīve made myself a vodka & orange, while One More And Weīre Staying is put on repeat!
The nighttime is all mine and the best rockīn roll music that I can think of!
If youīve heard the previously two solo albums by John - you know what you are in for.
Except that One More.... is probably the best of them! Itīs really hard to say, cause the first one,
HJP and Friends is so great, and the 2003 release is a close runner up.
But as many great tracks those two records got, One More... has got some more uptempo rockers,
pretty close to the Crybabys stuff. First off is the hit single, if it will come out as a single, 70īs Girl.
It should take over the airwaves and the stereos and the ipods and I donīt know what, all over!
Once youīve heard 70īs Girl, itīs nothing stopping you, and you wonīt turn back! Itīs just
perfect! Itīs thee song that all cool rockers wish to write, but none of them would do it justice.
Only Honest can!
Next up is a brilliant version of an old Boys demo, Mummy. Iīve always liked this song and
itīs lyrics, and this is even better than the Boys version! Now they can pick it up and
play it in London in september!
As Iīve moved on to a gin & tonic, the lovely half electric/half acoustic ballad of
Love Me Over, is on. Bass player Mat Sargent has taken over the lead vocals, as he also does on
You Broke My Heart, Never Wanted To Let You Go and If Our Paths Should Cross.
The last one, in a duet with one of the
most beautiful and charming voices Iīve ever heard, and it belongs to Monique Maasen.
The Mat Sargent songs fits perfectly among Johnīs hits, and You Broke My Heart
shows how great John is as a back up singer too!
One song I never will get tired of hearing, is Bo Diddleyīs Pills!
But I wonder, as John has included a cover of it here - is it the New York Dolls version,
or the original version thatīs the main inspiration?
Anyway, this one donīt back down for none of them, and just keeps the song alive and kicking!
This rockinī party closes with a sexy french track, called Brigitte Bordeaux , and a cover
of one of the greatest songs ever written - the Gary Holton penned We Gotta Go!
Did Gary do this one with the Heavy Metal Kids? I know too little about them, but he certainly
did an amazing version with Casino Steel! Johnīs version is right up there!
One thing is for sure - One More And Weīre Staying is definitely gonna be one of the best albums of the year!

If you check out the HJP link under here, you can hear 70īs Girl and two more tracks from the album.
And then join the Backstage Passers for all the fun!
C U rockers!
Ps: If you got something to say about this review, or if you wanna say somethin about the
songs when youīve heard them on the HJP myspace site - do it here: rraf.net forum - Wine and roses
I had three extra copies of this cd, but they are all gone now!
I can easily get more, just let me know, or you can order directly from The Boys web site,
or the Action Records site. Enjoy!

www.myspace.com/honestjohnplainandamigos
www.action-recordz.com
www.theboys.co.uk
www.myspace.com/theyobs
www.myspace.com/backstagepassers
www.myspace.com/monique

5. june, 2006
**Ringo Kid**