include("vis.css"); ?>

include("Toolbar.html"); ?>

Hanoi Rocks
Another Hostile Takeover (MLCD013)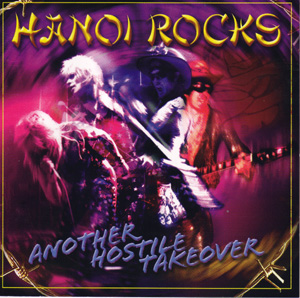 It seems that very few has reviewed this new Hanoi Rocks record, I havenīt seen one! I try to have this rule that not to review a record Iīve bought, I got enough with the ones I get for free! But since Iīve not seen one of Another Hostile Takeover - here it goes!: First things first - great title, and my hopes for this record were sky-high when rumours about it started flying around. I ordered it through an internet shop and got it the day after the finnish release. I was struck by the very cool artwork and Iīm still hoping for a vinyl release. The colours are so Hanoi Roxx! The idea was that the album was supposed to be released all over the world at the same time, but it seems that itīs failed. So donīt wait for it to appear in your local record store - use the www! (Once again - typical Hanoi luck!) īCause if youīre a tiny bit interested in this glorious band - you really need this new album! I have to admit that Iīve spent many hours with it, it didnīt quite get to me. It doesnīt now either. Some parts of it is not exactly what I expected, and Iīm not even gonna mention those Inserts. Itīs up and down like a roller-coaster, but who cares when the ups are saying hi to the angels!? Itīs not like a good old Hanoi record. Like the excellent Twelve Shots On The Rocks, it sounds more like a Michael Monroe solo record than anything. But Mr. Monroe has been way more involved in the song-writing on these two albums than he ever was in the eighties. And I like Monroe solo big time! Songs like Eternal Optimist and No Compromise, No Regrets could easily fit in on the Life Gets You Dirty album. One of my faves on AHT - You Make The Earth Move, sounds more like an Andy McCoy thing, because of the cool intro. Great song, I love it! Iīm a sucker for melodies and love, so no wonder that Love is another favourite. Excellent lyrics, and itīs with much delight I see that they play it live. A line like `Whatīs to complain, youīve obviously played your partī makes me think of love in new ways. And even more `Love donīt hurt - only people make it soī (Michael - I thought Nazareth was one of your fave bands? Haha!). Thereīs a couple of cool hints to old Hanoi. Like the outro on Love, thatīs the intro of Hometown Breakdown. And the `For your love...ī line from Until I Get You in what I expected to be the new single, (still waiting) Better High. Another cool thing about AHT and 12 Shots, is that they got an incredible cool choice of covers! On the american version of 12 Shots, they do an amazing cover of Mink DeVilleīs, Are You Lonely Tonight (among others) - here you get an aaah so terrific take on Phil Lynnotīs Dear Miss Lonely Hearts, complete with very Thin Lizzy guitars, which is not on the original. It fits right in after Up Around The Bend, Heaven Is Gonna Be Empty, Delirious and Are You Lonely Tonight. So, no doubt about it - Hanoi Rocks is back again with a new line-up and a cool album! And hopefully going strong for a long, long time!
2. june 2005
**Ringo Kid**