Guttercat and the Milkmen
Ballad of a drunk man / Lonely tears in the dark
(Promo cd)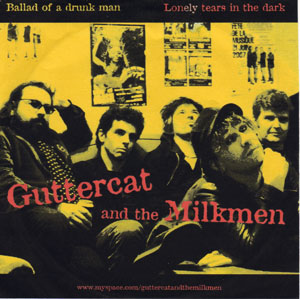 I wanna go to Paris, France! I wanna go wow-wow oui-oui with these cool cats!
The future looks bright for french rockīn roll music, cause these guys knows their melodies.
It was loud and dirty in the band, Baby Strange, which mustīve been one of the best punkrock bands
to ever come out of France! Baby Strange, sadly, is no more, but we canīt sit around crying cause this new band
shakes it up just as good! They sound just like I feel, when Iīve had one too many - turning up the volume
to the rockīn roll hall of fame of the lost and the lonely. Beautiful electric guitars shrieking over a steady beat, as the
acoustic rhythm keeps me sober enough to get another bottle of red wine delivered to my table.
Two tracks (both available on their myspace), which sounds a bit messy, like the one and only,
The Heartbreakers. Maybe Keef turned up at the Villa Nellcote again, invited these rockers and pushed rec
as he handed them another bottle of Jack Daniels. But who turned up the mic on the backing oohīs ??
Iīd give him a shiny medal! Very fucking well done!
Two tracks just ainīt enough, you teasers! Give us some more!