Evil Angels
Lucifers Hill
(Evil Angels Production 2007)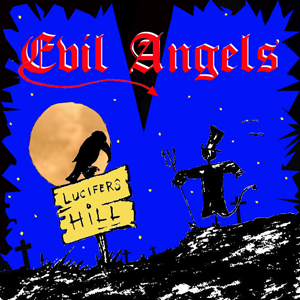 Evil Angels bust a button in my Trash jeans when they debuted with the now classic,
Bakrus Blues (Hangover Blues) five-six years ago. Since then, they've put out an ep entitled
Bakrus Blues, performed a couple of support gigs for Nazareth, played the Storås Festival and toured the mid-Norway heavily. I've seen the band a couple of times, the last one as support for the Backstreet Girls. They delivered an energetic show
stuffed with great riffs, but might have left the audience a little confused, both cause of the difference in the material
and a few strange cover choices. I mean, when you support the best boogie band in the world - don't let anybody
let their guard down, and show them what you got!
But, I might be wrong there. Cause some of the audience seemed to appreciate the choices.... so you choose sides!
Well, here we are today, and the Evil Angels got another cd ep out.
I know the boys love Ac/Dc and Backstreet Girls, but I also know that a bunch of delusive groups
have found their way into some of the members´ record collections.
A very tough way to go when you want your band on the road, if you ask me. But yet again - I might be wrong.
Just look at the bands out there making it big time. Don't they all brag about how different taste they got in music,
and how that makes them such a good band?! Well, it makes me boogie till I puke!!!!
Not that I suspect the Evil Angels to believe in such a huge success, I guess they're just out looking for a good time.
Anyway, with all this in mind - it's with an excitement and a case of doubt I put this ep on my stereo.
So, first track - title track - to me this sounds like an Iron Maiden demo, Bruce Dickinson early era. I've had my time
with Iron Maiden records, especially the first two, with Paul Dianno, but I've enjoyed the Dickinson years too.
But not so much today, I wanna boogie, and I expect some hard boogie from the Angels! Still, after numerous listens - they do get away with it. Next one up, a number called Hard Boiled Hard Cash, and here we're on the right track! It sure kicks,
it makes my heart pound and I wanna go hang out at my local smoke-filled bar with this one blasting out.
Hard riffs and a sing-a-long chorus that really makes it, but I want a darker growl on the lead singer.
A little dirtier and this one is right up there! Pay Me Back is cool enough, and the Norwegian number,
Brennende Redsel, works really well, and I like the background yelling at the end.
Another catchy hard rocker, but still not quite my taste, before two live bonus tracks at the end. The 1984
Bruce Springsteen classic, I'm On Fire, works fantastic! A great, and a bit surprising choice, guys!
Ac/Dc's TNT is last up, and while they do a more than approved job which beats the crap out of other
versions I've come across, more dirty feelings into it would certainly raise the glasses.
Evil Angels Homepage
www.myspace.com/evilangelstf
Comments?? See the forum: rraf.net :: View topic - Evil Angels - Lucifers Hill