Dogs D'Amour @ ElmStreet 03.05.06
Now here's something I never thought I'd live to see. Tyla and his Dogs D'Amour at ElmStreet. I'm not really sure what the difference between those two are. According to the lovely merch-lady, Dogs D'Amour are the electric band-version of Tyla. On the last Dogs album, Tyla not only wrote all the songs, but played all the instruments, produced, mixed and did the artwork.
Dogs and Tyla records have always been trademarked with Tylas amazing artwork. Apparently, he sold his artwork long before he ever sold a record.
Tyla totally outshines his band. His stage-presence is so absorbing, you forget that there are other people on the stage with him. You can hear that they are doing a good job, but you don't really notice them.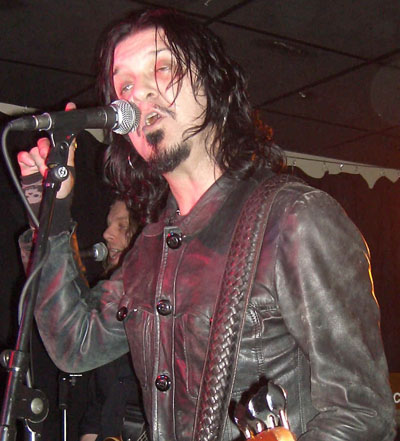 Pic by Kåre Leth
The set-list was a mix of new songs and old hits. Old hits included "Drunk like me", "How come it never rains", "I don't want you to go" and "Last bandit". I'm not a very big fan of their new release "Let the sleeping
dogs lie", but the songs worked much better live that it does on record.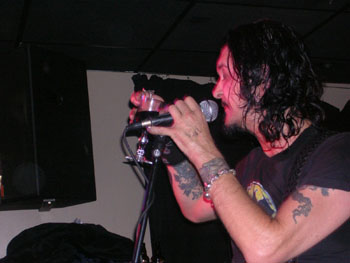 Pic by Kåre Leth
It seemed like the audience mainly consisted of people who new the band very well. There weren't many songs where the audience were quiet and didn't sing along.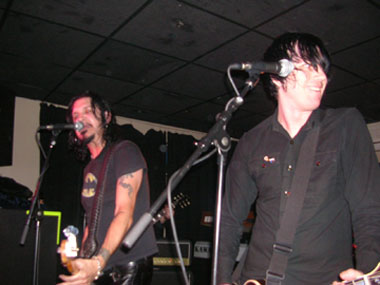 Pic by Kåre Leth
The warm-up act Skaladdin were quite ok. I'm not very fond of ska, all it ever does is remind me of Rancid,
and how much more I like them. And there is a rather big ska-scene in Switzerland. Who knew?
Skaladdin made me tap my foot at least twice, so I must've liked them.

Pic by Kåre Leth
After their last song, Tyla jumped from the stage and into the audience, yelling "to the bar!",
hugging everyone within reach on his way.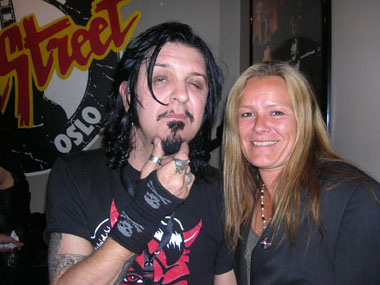 Pic by Kåre Leth
More pics at: www.jb-racing.com/dogs
I walked home, humming "Only girl I ever loved" to myself, and feeling like a fourteen-year old
in love for the first time; ecstatic and delirious.
15. may, 2006
**GlamGirl**