Chrome Division
Doomsday Rock´n Roll
(SPD/Nuclear Blast – SPD-NB-16652)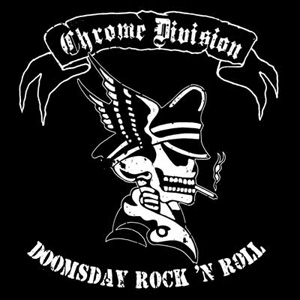 The first time I heard this album was in a record-store late this summer. Being broke, as usual,
I couldn't afford to buy it at once. It didn't really hit me as a killer album either, but the woman behind the counter
was so beautiful I just had to stay for the album to finish. Ha, ha.
Well, let's get down to business. Chrome Division are fronted by the testosteron singer Eddie Guz of The Carburetors,
and Shagrath who I believe is the guitar-player from Norwegian metal'ers Dimmu Borgir. Fortunatelly this sounds
more like the first mentioned than the last. To be honest it sort of sounds like what I think The Carburetors
were trying to do on their last album. It's Motörhead vs. Judas Priest with the catchy choruses
from Carbo's debut "...Glory is Forever". When I reviewed "Loud Enough to Raise the Dead" I was bummed out
because of the guitar-players need to do wanker-solos, and how that affected the songs in a bad way.
The fact that this band really includes several metalheads, gave the feeling that this would head in that same direction.
Puh, am I relieved that it didn't.
"Doomsday Rock n' Roll" is just fast forward r n' r with king size hairy balls. I mean, some songs are
a little out of the rock n' roll-bag, and maybe more like slow metal with a taste of melancholic grunge;
but all in all this is a pedal to the metal delivery from Eddie, Shagrath and the others.
Personally I get my biggest kicks from the opening tunes "Serial Killer", "Hate", and the heavy punk tune
"When the shit hits the fan". The lyrics sure ain't written by Bob Dylan, but I've never heard Mr. Guz
claim to be a poet neither. This is women, cars and crimes; in other words – you get what you expect.
That is probably a good overall description of the album as well; you hear the first tunes, and that is pretty much
how it goes all the way. There's a couple of songs in the middle which stick out, and they even threw in
what must count as a ballad in the metal scene; "The angel falls". I liked that one too.
If you want to get drunk, blow of some steam, or maybe get in trouble with the law
for speeding in traffic – go buy this album. It sure gets my foot pumping, and that's what rock n' roll is supposed to do,
isn't it? Cheers!