The Buckshots
Too Hot 2 Handle
(CD, Heptown Records – HTR022)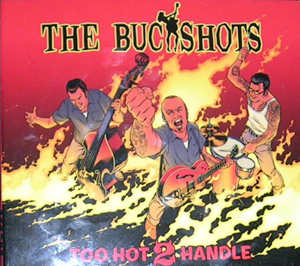 During my recent trip to Copenhagen I accidentally stumbled over this awesome rockabilly record-cover
and decided to check it out. I listened to the record for two minutes and I instantly knew I'd found gold.
(If I mention that the record store's name was Golddigger, the word irony comes to mind.)
Coming from Swedish Gothenburg, The Buckshots are another pine on the Scandinavian rockabilly-tree.
RRAF has earlier reviewed the recently retired Smalltown Ramblers;
and what an act to continue the rockabilly-traditions with.
I'm a fan of uptempo rockabilly songs, and fortunately there's a lot of them on this album.
The Buckshots sounds a little like the Stray Cats, but with less jazz and more of the 50's rawness.
Their sound is great, and the use of piano, harmonica and distorted guitars makes this a real boost on the stereo.
The upright bass is played remarkably well, and the doubled guitars gives this record a sound as fat as
Elvis on his dying day (R.I.P). You can always question the use of additional instruments
beyond what a band can present live, but my opinion is that you really need some extra gun-powder
to make people go nuts in their own living-rooms. Judged from some of the sleeve photos,
The Buckshots have no problems putting on a memorable live show.
Personal favourites on "Too hot 2 handle" are opening track "The devil is a woman" (like there ever was
a doubt of that, haha), "We wanna bop", the slow intense "Lovesick", and the hilarious
"Don't say nothing bad about my baby", which lyrically reminds me of AC/DC's "Whole lotta Rosie".
All in all a great rockabilly album, which becomes better for every spin in the record-machine
(or CD-player, as the kids call it nowadays).
Try ordering the record at one of the websites listed below, and make sure to catch them live if you ever have the chance.
The bands website also contains links to a lot of other cool rockabilly-related sites.