Bigelf
Cheat The Gallows
(Custard Records)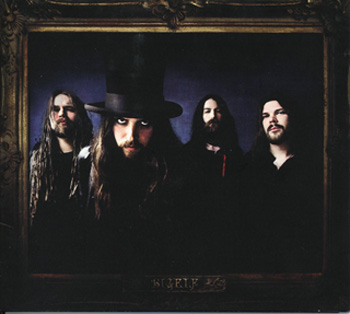 First I thought, What the fuck is this? Has the circus rolled into town?
It certainly is a lot going on here, and very interesting too. There's organ sounds everywhere,
huge orchestrated parts and heavy guitars. It can get a bit too much, but mostly it's just good fun.
I really love the opening to the first song, Gravest Show On Earth. It's real loud, real raw guitars
and a vocal to die for! Don't think the song keep it up, though.
Next up, Blackball, is a cool 7 minutes long number. Of course it's too long, but I still like it.
I like the melody and "sickness" of it, and the Deep Purple organ sound. Deep Purple comes
to mind a lot when listening to this album, as well as Black Sabbath, and that's just fine.
Even cooler, is the next one, Money, It's Pure Evil. And it's only half the time! The guitars
sound really great and the chorus is just beautiful. The "nicest" song on the album.
Maybe the heaviest song on here is The Evils Of Rock'n'Roll. Fantastic groove on this one,
and some of my friends are really gonna love it! I think they will really dig the whole album,
but sadly I don't. Most of the songs are too long, and you'll hear three songs in one number.
But I'm still amazed that I like it as good as I do, and it's been playing for quite some time now.
If you're into Deep Purple, I've got my old tapes out again, then I think you're really gonna dig Bigelf!