Backstreet Girls
Shake Your Stimulator
(FaceFront044)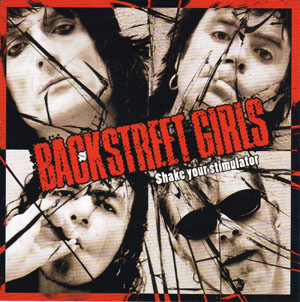 I couldīve told you right now, what you got coming, when it comes to this brand new Backstreet Girls cd (wouldnīt it
be cool with a vinyl release too!) . But I canīt, īcause you donīt know whatīs coming! I did not, and did the band?!
Okey, the guys are not jumping any new grounds, of course. And who the hell wants them to?
I want my boogie, my very special Backstreet bondage boogie! This is the way I like it!
They give us speedy Ramonesy numbers, songs that couldīve been on Powerage, Quo riffs and raffs, and
punkrock rockers thatīll make you wonder if the crowd still does the pogo dance!
As this album hit the stores yesterday, and the bandīs been
bringing it to a few shows, including the release party, some of you are probably out of breath already.
But what do you know?! What do you think?!
In my ears, itīs like a new milestone for the band. I guess I feel the same as any other BsG fan, saddened about the fact
that B.T. Baarli is not in the band on this release. But B.T. himself is happy that the band continues,
not giving in to anything or anybody, in true Backstreet fashion (yeah, fashion, Peter!) .
Both Pelle Ramone and TNTīs Diesel Dahl, beats the hell outta those drums, and Bent Bastard, previously heard on the
Hey Ho Letīs Quo/Hey Baby 7" single, wonīt give you a moments peace.
And last but not least, the 2nd best drummer in the world (quoting the band) , next to B.T. - Martin H-Son (ed. note: a whisper in the dark said that he saw one of the very first Ebba Grön gigs in Stockholm City!) , previously in the Troublemakers and
the Rampant Dogs, kicks and spits like hell in the back there! Just go see a gig!
But itīs not just the man/men behind the drums. Itīs another feeling behind this record than the previous albums.
Iīve never heard anything like Philīnī Goode, and I dare you say youīve ever heard the band faster than
High On Gibson Gasoline and Beep Off Baby!
Itīs not one track too many on this record, it really shouldīve been many more! Think about the vaults!
And give yourself a few seconds after last number, entitled Champions, cause youīre in for a couple of mothers!
Backstreet Girls - Official website
www.myspace.com/backstreetgirls
FaceFront.no
If you want to, please comment on Shake Your Stimulator here: rraf.net :: View topic - Shake Your Stimulator