New years eve, 2003:
Wheeewh!!!! What a show the Valentourettes put on last monday! The place was packed and the crowd went absolutely nuts! Hope to see these guys again, ´cause this was better, as I recall it, than the last time, and who knows where this will end. Okey, time to wish you all a fanfuckingtastic celebration of the new year. Chxeers!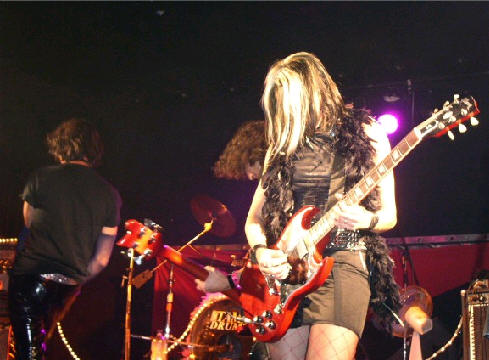 Bonne Année 2004 from The Sparkling Bombs, here represented by Lady Bittersweet and Alice Lipstick Whore. L.U.V.
Friday 26. december, 2003:
TONIGHT: NULL$KATTE$NYLTERNE at Blæst, Trondheim! Stay sick & show up!
*New links are up in the "fanzines"-section.
*Some 7" singles added to the shop.
*New links in the "int. bands"- and "rec. labels" sections.
`Baby, it´s a dream come true. Standing right alongside of you.
Wish I could tell you how much I care, but I only have the nerve to stare´
(Jackie De Shannon)
Christmas Eve, 2003:
Oy Santa! Here´s a nice little present for you to enjoy on this glorious day:
All In Black - Music Magazine
They got two video-clips of the Trashcan Darlings, from their X-mas bash at Last Train, "I just wanna die (on a chemical high)" and "So whore". Wonderous stuff!
And yesterday, the Trashcan Darlings "You lucky bastard" 7" single, arrived in my street. This is a bootleg of "Criminal porn" and "Psychotic barbie" (early live version), made by a mysterious man. The songs are taken from the very rare CD-promo by the same name. You won´t find that one, so better hurry up and get this 7" while it´s still available. I got five numbered copies on dark blue or see-through white vinyl, 60,-NOK (8 euros/9 $).

And I wanna wish you all a Merry Christmas, and hopefully, the Yobs are blessing your X-mas too: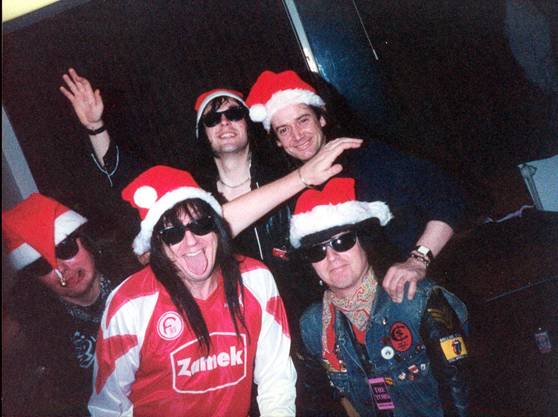 Monday 22. december, 2003:
!X-MAS party in Trondheim 26. december!
Look above for links.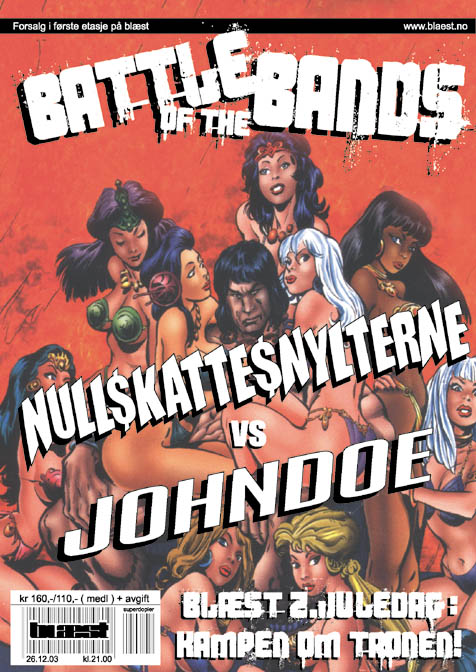 Friday 12. december, 2003:
More reviews are up, including the greatest Xmas album of all time!
Go shake a leg!
Tuesday 9. december, 2003:
Okey, Bonk was not a good band!! My mistake. Hey Andreas, whatever happened to the melodies...?
Anyway, I´ll most likely get down to Blæst again, tomorrow. Åzzy, the guitarist of Null$katte$nylterne will play some good ´ole rock´n roll for you (together with some other dude). Free entrance!
I wanna show you these amazing stories from New York City, when the sun was shining
and all the boys were alive! So hop on, check out my good friend, Deborah Olin´s stories: Debbie Cb's.
Hope you´re doing great, Deborah!
Thursday 4. december, 2003:
Tonight, Oslo-rock´n rollers, Bonk, plays at Blæst, here in Trondheim. I´m really looking forward to seeing the guys, as it´s been some years since I last experienced them live. I´ve never seen Bonk before, but the members have payed their duties in the dark Oslo-scene with legendary bands like Astroburger, Kung Fu Girls and Anal Babes (R.I.P.). They´ve just released a single, and an album will follow early next year. I´ve only got a 7" single from probably three- four years ago, which I really like! So come and have a beer or four, CC is 80,- NOK.
Lots of new reviews are up. Well, for me it is a lot... and more will come pretty soon. Among others, the brand new Jayne County record. Chxeers!
Tuesday 2. december, 2003:
A tribute to the UK Subs has just been released, featuring our own heartbreakers, Trashcan Darlings.
Go here for more info on other bands and how to order: www.uksubs.com.
On the not so bright side of the world, where I was yesterday when I was here. To tell somebody something that I really don´t want to, it breaks my heart. You´ll always be in my heart, no matter what. Have a safe trip, I forgot to tell you that.
"Nobody likes us, everybody hates us, ´cause we eat worms all day..."
Monday 1. december, 2003:
Ah, what a wonderful world! Maybe it feels like it right now, ´cause it´s closing in on christmas, and The Yobs have almost completely taken control over my stereo. I like this time of year, hopefully it´ll be a white christmas this year too. More romantic that way.
And, most of all, I got this wonderful feeling because of the excellent performance that Jacobites put on last thursday. It´s not very often I´m so warm inside, so thanx a lot to all the people that turned up, though I hoped more would come and see some history. But, this is Trondheim, who could ask for more?!
And a big hand to the Credo Bar who showed guts, I´ll always remember this night.
Wednesday 26. november, 2003:
Aaah yeah! So the day is finally here, for those of you who are going to Elm Street Rock Cafe in Oslo tonight.
Latest is that Nikki Sudden & Dave Kusworth are safe and secure in Oslo, ready for tonights show, and tomorrows show at the Credo Bar here in Trondheim. And bring cash! The guys have a lot of records with them, the Trashcan Darlings-boys are now broke.
For the norwegian speaking, here´s a nice piece: Adressa.no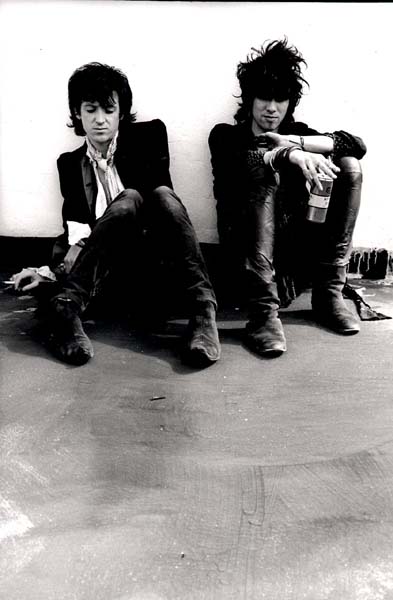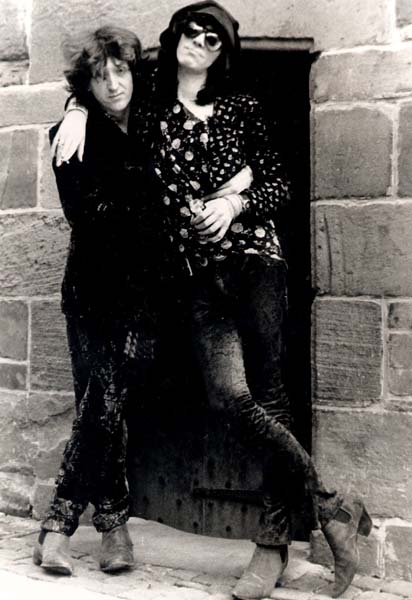 Stay bruised, C-YA !
Wednesday 12. november, 2003:
Oh, sorry, more ads in norwegian. I ought to give some of you some language-lessons.
But who cares, I won´t be at the party mentioned down under anyway. Friday, I will go and see the promising, swedish punkrockers of Blisterhead, at Uffa. They sound very good, like some of the best moments of Rancid. Oyh-oyh!
"KICKS FOR C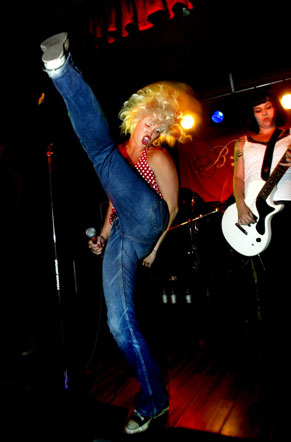 ASH"
BAZOOKA BOPPERS

med støtte-spillere:

THE CARBURETORS

+ TRASH CANDY & LEGENDS OF RAWK
+ DJ GLAM-PUNK-ULF

lager

ROCK'n'ROLL HORROR SHOW:
Fre 14 nov 03 KL.21.00 Kr.100 på

ROCK BOTTOM
Kjelleren til Muddy Waters/ samme inngang / Grensen 13 Oslo

KICKS FOR CASH kjøp et uinnspilt album,

til halv pris!
Landets mest fremadstormende rockettes skyr ingen midler for å få sitt
debutalbum innspilt og inviterer til ROCK'n'ROLL HORROR SHOW. Bazookaene
har trommet sammen sine musikalske svirebrødre for å samle inn nok cash
til sitt hjertebarn - debutalbumet!

For antakeligvis første gang i historien vil et band selge albumet til
fansen på forskudd! De tøffe & trofaste, foregangsmenn og
foregangskvinner, kan kjøpe et AlbumBevis! for kr. 75,-, og vil bli de
første som får et signert eksemplar når plata kommer ut.

Bazooka Boppers ( www.bazookaboppers.com ) er 5 svært pågående kvinnelige
rock 'n rollere som har satt seg fore å sparke deg i gang med sin
ustoppelige, rett-i-trynet, punk-boogie-rock 'n roll. 2003 har gitt bandet
stigende formkurve, mange heftige opplevelser, og enda flere blir det i
månedene som kommer med både skive og turnè. Få dem med deg før det
endelige gjennombrudd skal skje!! De vise vil nok si,...- at vi får vente
og se, men i denne bransje, er det intet som tyder på at Bazooka Boppers
lar tilfeldighetene få lov til å råde over det!!

Møt opp på dette hårreisende arrangement i bluesklubben Muddy Waters
rockekjeller. Kveldens tema er ROCK'n'ROLL HORROR SHOW. Formålet er å gi
folk "Kicks for Cash" - ræv-sparkende rock til folket!

For anledningen er uansett Bazooka Boppers musikalske onkler, THE
CARBURETORS (www.thecarburetors.com), klare for å antenne sin høyoktans
"Fast Forward Rock'n'Roll".

Et annet spesial-lag fra den mer skitne delen av
Rock'n'Roll-Oslo gir også Bazooka´ne en ledig hånd på avtrekker´n!

TRASH CANDY & the LEGENDS of RAWK består av folk fra TrashCan Darlings, Big
Balls, Vendettas & Beat Tornados som vil gi sin pub-boogie-rocka versjon
av artister som også står Bazooka Boppers nær,- Alice Cooper & Johnny
Thunders
etc. etc.

Desuten vil DJ GLAM-PUNK-ULF, som utvilsomt har byens feteste
rock'n'roll-samling, lime dette kjeller-partyet sammen til en " årntli
råkken-råll"-happening!!
DRESS UP, DROP IN, DROP OUT ..!!

BOOKING:


Dark City Entertainment DA
Postboks 2157 Grunerløkka
0505 Oslo, Norway

Steinar Kallander, Agent
Tlf. (+47) 22 04 04 32
Fax. (+47) 22 04 04 31
Mobil: (+47) 90 10 38 46
Email: steinar@darkcityentertainment.com
www.darkcityentertainment.com
Sunday 9. november, 2003:
Nikki Sudden & Dave Kusworth
as Jacobites (acoustic), will kick off their 2003 Teenage Christmas tour
in Norway. On wednesday 26. november they are at the Elm Street Rock Cafe in Oslo, and on thursday 27. they´re here in Trondheim, at the Credo Bar. Show up brothers and sisters, this will truly be one of this years ultimate highlights, don´t miss it! More info will follow.
"F.U.C. her, tell her I said hi!"
Monday 3. november, 2003:
Hey! This mail was received at the rockalco... HQ last week. It´s only in norwegian, I don´t have the time to translate it, but it´s about one of the biggest robberies of a Oslo studio. So if anybody knows anything, get in touch with us, or the guys below:
Hei! Et av de større øvingsrombrekkene i Norge noensinne fant i natt sted i Oslo. Foreløpige oversikter tyder på at det ble stjålet utstyr for en halv million kroner, i tillegg til verdien av de samples, programmeringer og opptak som forsvant.
Send denne mailen videre til junkier, helere, teknikere og musikere du kjener, det er de som mest sannsynlig kan bidra til å hjelpe dem som ble rammet av katastrofen.
Under finner du en liste over noe av utstyret som er savnet.
På forhånd takk.
mvh Jan Roger
HJELP! Subway Safari, Honcho, Mindgap, SRG og Supervicious har hatt innbrudd i sine lokaler i Trondheimsveien 139c, og mistet store mengder personlig og uerstattelig utstyr.. Dette skjedde natt til 22. okt.
Vi håper venner, kolleger og bekjente vil ha to store glugger åpne etter følgende stæsh på svartemarkedet:
Gitarer/ Basser:
-Fender Telecaster76, Standard cream med 3 singlecoils, Sjelden
-Epiphone Les Paul, Sunburst
-Ibanez Les Paul, Svart
-Fender Stratocaster89, Sunburst
-Rickenbacker 400 l, Svart
-Høfner Bass, Svart
-Yamaha Sg 2000
Alle instrumenter lå i Flights
Gitar og Bassforsterkere/ kabinetter:
-Mesa Boogie Roadking-topp, Splitter ny custom med Rødt Krokoskinntrekk. Eneste i Norge.
-Egnater TSOL 100 w Topp
-Marshall 4x12 Anniversary Kabinett (Blått)
-Mesa Boogie 400+ Basstopp

-Marshall MOSFET 4x10 kabinett
-2 stk Ampeg SVT III Pro Basstopp
-Groove Tubes Bass Preamp
-Adyton Poweramp
-Fender Hot-Rod Deluxe
-2 stk Korg Digital Tuner 2000
Keyboards og Dj-utstyr:
-Korg Triton I Rufo-flight
-Korg N-5 I Softbag
-Korg Es-1 sampler
-2 stk Technics 1210. Mye klistremerker etc.
-Stanton DJ-mixer med sigarettburns og bilgummi(!) på..
Tromme:
-Pearl Sopranino 12Skarptr.
-Drum Workshop dobbelpedal DW 5000 Accelerator
-Div. Hardware
Pa:
-Carver 900 watt Forsterker
-Yamaha Promix 01 v. (Gamle typen)
- Ca 25 mikrofoner av ymse fabrikat. Shure, Akg, Adk, Pearl, i svart koffert og tagget sølvkoffert.
-Behringer Multicom kompressor
-Sharp Minidisk
-Spirit Folio 12 inp. Mikser
-Behringer 602 mikser
Flere Kofferter/ Bager med gitar-effekter ble også stjålet:
Aluminiumskoffert:
Vox wah, Boss TU-2 tuner, C.Martin Delayla Echo, Electro Harmonix Big Muff+kabler
Aluminiumskasse:
Roland Chorus, Roland Giga Delay, Roland Compressor, Ibanez Flanger, Ernie Bell volum, Vox Distortion,
Ellers:
Boss Comp/ Sustain, Ibanez Tubescreamer, Boss Superbasschorus, Sovtek Big Muff,
Vi håper noen der ute vet eller finner ut noe, og fete dusører utloves& Please send dette videre til alle du/dere kjenner i bransjen!!!!!!

La disse jævlene få svi!
Hilsen Subway Safari
Gudbrand: 90993368
Per Egil: 91179800
Rune: 92241969
Terje: 98856207
And also, this incident happened just shortly after (sorry, norwegian again!):
Hold utkikk etter et 40 kilo tungt Johnny Cash bilde som hang på uteserveringa til Mono i bakgården deres. Det ble stjålet natt til lørdag.

Som Runar på Mono sier det: "Jeg blir helt matt".

Bildet ser du her: http://www.cafemono.no/043.asp
Har du hørt/sett noe, gi lyd fra deg!


Tuesday 28. october, 2003:
"It´s all quiet on the eastern front..."

This weeks gig´s, that rockalco..., and brothers will attend:
*Turboneger at Studentersamfundet, Trondheim, tomorrow at midnight. Sold out!
*The Mormones
at Samfundet, saturday 1. november. Check the Mormones web-site for other tour-dates.
This is also the birthday of my "brother", the D.O.R. Well, after midnight that is.
So buy him lots of beers, get him real drunk, and fuck him!
Tuesday 21. october, 2003:
A lot of rock´n roll happening in Norway this week, sadly it´s impossible to be everywhere!

Tonight, the extremely well behaved, Star Spangles, from NYC, is supporting Jane´s Addiction
at Rockefeller in Oslo. You can say what you want about J.A., I don´t bother.
Unfortunately, for those without tickets, the gig is completely sold out.
But check the Star Spangles web-site, and prepare yourself for upcoming shows later on.
On thursday 23., the opening of the new stage at Oslo´s Muddy Waters, Rock Bottom, presents:
Backstreet Girls & Trashcan Darlings.
Be there!

On friday 24., The Crypt presents Indikation, at Dis Cafe in Fredrikstad.
This is an all-star band from Oslo, including members from Kåre & the Cavemen, Beat Bandits, Los Plantronics and Peau De Peche. They still think it´s 1965. God bless ´em!
On saturday 25., the Valentourettes comes to Trondheim and Posepilten, to honour our late, and beloved,
Jokke
Don´t know if it´s sold out yet, but it will be, so get your tickets in advance. 150,- NOK
Click on "Jokke" for more information, but the site is only in norwegian.
And you shold also read the report from the Hønefoss gig, with Backstreet Girls and Dirty Deeds.
Go to the official Backstreet Girls web-site.

Faves in the Street HQ at the moment:
*White Line Fever, the official Lemmy biography.
*Bamboo Kids, "Caught in NYC" and "She got off". First two songs from their mildly variable record.
*Wayne County & the Electric Chairs: Storm the Gates of Heaven, LP
*Nikki Sudden: The Last Bandit, double CD compilation.
And yess, Nikki Sudden will play at Uffa in Trondheim, and Elm Street in Oslo. Dates will follow!
*Hollywood Vampires, demo.
*If I should fall from grace, the official Shane MacGowan documentary.
Tuesday 7. Rocktober, 2003:
What a weekend! All the drugs, the sex, the fighting! OK, some of it then...
And now, it´s time for the aristocrats of Glamour-Punk to hit Trondheim again,
TRASHCAN DARLINGS
take the stage at UFFA friday 10. october.
Support is by the phenomenal Hollywood Vampires. Petter Baarli of Backstreet Girls fame,
said they were the reincarnation of the New York Dolls, only a little more sober.

And on sunday 12. october, the Twistaroos are coming to town.
This is a sexy combo, consisting of members from the Yum Yums, the Graves and the lovely Vibeke Saugestad.
So come on down and do the twistaroo!
More info here: UKA
Thursday 2. october, 2003:
Finally, the Electric Ladyland web-site is up and rockin´ again. Drop them a line in the guestbook, and
tell them how sexy you think they are, ´cause I think you think so too!

A fantastic weekend is about to begin, check these glorious rock-shows I´m going to:
*Friday 3. oct: Backstreet Girls + Dirty Deeds at Alfreds, Hønefoss.
*Saturday 4. oct: Trashcan Darlings + the Abusers at Gamla, Oslo.
Boogie-woogie & Glam-punk all night long!!!
And don´t forget the Trashcan Darlings at Uffa, Trondheim, next friday.
We got a great support-act, the Hollywood Vampires from Trysil (formerly Loaded).
Be sure to scroll down the line here for more fancy news like porn, transvestites and just plain R´n R.
Toodlepip, fuck!