Tuesday 30. september, 2003:
My pictures of the fabulous Jayne County, that I took during her tribute to Dusty Springfield,
is now up on her official site. Go to:
www.jaynecounty.com

Oh, and I think I forgot to mention that my report from the Backstreet Girls gig in Moss, earlier
this summer, is up on the official BSG site. Just scroll down a bit in the "news" section.
The fantastic Nikki Sudden is coming to the Elm Street Club in Oslo, no date is set yet, but
sometime in November is a pretty good guess. And the man wants to play some more dates in the country,
including Trondheim. So if anybody else wanna see him here, send me a mail and let me know.
www.nikkisudden.com

Probably the best fucking rock´n roll record of the year, is Bazooka!!!
By four young brats from NYC, The Star Spangles!
Check the review-section, and be sure to check out their web-site, as there´s some
really amazing video-clips there.
www.thestarspangles.com
Monday 22. september, 2003:
The norwegian boogie gods,
Backstreet Girls
finally in Trondheim again!
Forthcoming wednesday at Posepilten, ten o´clock!
That night, I´m gonna drink ´till I stink, & boogie ´till you puke!
Wednesday 17. september, 2003:
Hey, back from New York City! We had an amazing vacation, that´s got us really exhausted!
Meeting all my heroes and seeing the citys sights in ten days beat the crap out of me,
but maybe the alcohol got something to do with it too. Pictures and stories will come soon.
Glad I still got some days off, ´cause tomorrow we got the honour, of once again to see the beer-drinkin´
rock´n roll messiahs of
Null$katte$nylterne
So get your lazy ass down to Blæst, CC is nothing, free entrance!
And there´s also two other bands, but I don´t know if I care about them.
Monday 1. september, 2003:
`I ain´t talking ´bout San Francisco, no no no. And I ain´t talking ´bout Los Angeles, uh uh uh.
Now I ain´t talking about Detroit City, although they gave us the MC5.
I´m talking ´bout New York City, I´m a talking ´bout New York City.
Down at Max´s Kansas City....!
(Jayne County)
The Psychotic Barbies will participate in tonights event, MandagsGrillen at Cafe 3B in Trondheim.
MandagsGrillen is a rock´n roll questions and answers competition, and the Psychotic Barbies contains
members from the Action Pilots, yours truly and perhaps some more. This is not a band!

On thursday 4. september, me and my "brother", the DOR, are leaving for NYC. The well deserved vacation will for sure be spent in best possible way. Just check some of the shows we will attend:
* Sept. 5. - the Dictators @ Southpaw, Brooklyn NYC
* Sept. 13. - Jayne County @ High Life, NYC
* Sept. 14. - Turbonegro @ the Irwing Plaza, NYC
Hope to bring some wonderful stories and pictures back, but no promises made!
And I´ve also heard that there´s a lot of NY-rockers and TurboJugends that wanna meet us, so if you see
two guys not looking very american, just scream Norway or something. We´d love to drink with ya all!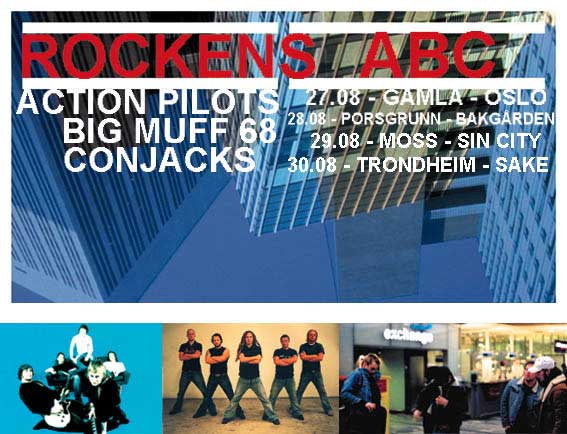 Monday 25. august, 2003:
The ABC Rock´n Roll tour 2003 kicks off on wednesday 27. at Gamla in Oslo, and climaxes in Trondheim
at the Sake pub on saturday 30. august. And trashing some points inbetween.
Be sure to catch the hard rockin´ mofo´s of Action Pilots and their bandit-compadres, this is gonna be one hell
of a rock-ride! All this for only 50 nok/7 $/6 euros.
NB! The show in Moss is only Action Pilots w/supportact Decibøllene.
Yours truly, which by the way is one year closer to being an old cunt, today, thanxxx for all the congrats!
Has this weekend entered the world of reviewing blue movies, how about that!?
So go check it out: Bad Girl City
New reviews are up, including one by swedish glam-rocker Thomas Ericson. He wants you all
to get every record by teenage glam-fag Jeff Dahl!!!!

The Graves
***Amazing Graves***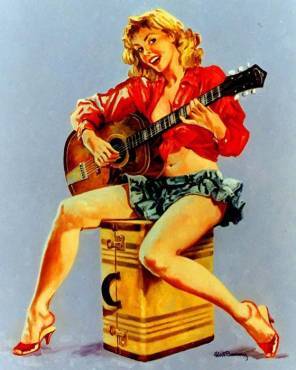 Wednesday 20. august, 2003:
Friday 22. august (forthcoming), the amazing Graves enters the stage at Knaus, Samfundet,
for one of this falls ultimate rock-shows! Don´t miss out on this happening, as you´ll get teased
the rest of the goddamn year for being such a stupid fuck. No, I´m not being ridicilous here...

The Trashcan Darlings and deutschlands finest, The Revolvers have just released the punk-rock ep
of the century! The Lipstick Menace tour, 4-track ep, has got two originals, the bands doing a cover by each other, and two smashing live recordings of "Born to lose" and "Sonic Reducer". So hurry up, if you wanna get hold of one. Red or transparent vinyl, with a safety-pin to the 100 first.
Tuesday 12. august, 2003:
Moss city, just right outside of Oslo, is one fine place to be this forthcoming weekend.
Not just the home of the fantastic Yum Yums, but the annual happening of Rock Mot Fotball festival.
And this year, they´ve really hit my buttons (as if they didn´t do that previous years).
The flyer above, I think belongs to the Graves, who will be one of the many great bands there.
And here´s some more candy for ya:
*The Queers
*Backstreet Girls
*Mohammed
*The Yum Yums
*Los Plantronics
*The Graves
*The Camaros
*Everything But Fun
*Dirty Callahans
*Powerpop Boys

So no mumbling, humbling or fumbling around, just get down there in time.
Around noon should be early enough, and CC is 150,- NOK, or somewhere close, I guess.
Maybe I´ll have more secure facts tomorrow.
The Cock´n Roll compilation is finally here, so send me a mail if you want one.
I´ll put up a review soon.
Wednesday 6. august, 2003:
Holy Mary, tomorrow night´s gonna be hot!
The legendary Elm Street Rock Club in Oslo, houses an all-time high rock´n roll party:
The Carburetors
Trashcan Darlings
&
Supervixen
"One boys `good time´ is anothers booze-fuelled pill poppin´ party". Wonder what it´s gonna be...
And be there early, if you wanna see this motherfuckin´ show.
C-YA!
Records I got too fucked in my head to last night:
*The Cutbacks - She´s a murderer 7"
*Johnny Thunders & Patti Palladin (with friends) - Copy Cats
*The Dogs D´ Amour - In the dynamite jet saloon
*Supersnazz - Diode City
*Nomads records! Anything, anytime...
Wednesday 30. july, 2003:
Hey! Check out this sleazy, finnish band:
Mean Idols
They got a great 7" EP out, and you can listen to one of the songs on the site.
And they do a Wayne County and the Electric Chairs cover too!

Bought any good records lately? The Carburetors has just released their awesome "Burnout" 7" single
on Sneakers records. Available through here, and you should also pay the band a visit.

Rock Summer keeps on Rolling, here´s some faves you oughta seek, find and buy:
*Upper Crust - Let them eat rock, CD
*Dictators - New York New York, CD (Fuck ´em if they can´t take a joke!)
*The Yobs - Christmas album, CD. (Any season fits this record)
*Thee Ultra Bimboos - Bimboo Wizard, CD
*New York Dolls - Too much too soon, biography. (Out now in a sexy new edition)
*Hanoi Rocks - 4CD box-set

Sunday 27. july, 2003:
A bunch of new reviews are up, and some thoughts on most of the bands that´s linked to.
More will come there, but at the moment I´m busy listening to Little Steven´s Underground Garage Rock Show.
And I got a lot of catching up to do.
Little Steven´s Underground Garage
So listen to what Little Steven´s playing, I can guarantee you a good time.
Saturday 26. july, 2003:
Well, it´s been and still is too hot to spend time in front of the fucking computer. So there´s been little updates lately. But as you can see above, the Cock´n Roll compilation by Sleazegrinder is out now, and it´s on the way.
I hope to have it by the end of next week, and more info will come then.

Last night was a great night , but I got too pissed, so my night ended sudden. I think.
TurboJugend Trondheim, one of the worlds biggest Jugends, had a party in the Kings Cross pub.
It was really nice to meet you guys, but I´m sure we´re gonna have lots of great drinking in the future.
Though I´m not a TurboJugend on the paper, I hope to join your parties anyway.
And Sondre, it was almost that that guy in the street got himself a little golden shower:-)
On thursday next week opens one of Swedens biggest festivals, Storsjøyran. A weird festival with a lot of crappy bands and awful people drinking ´till they stink like shit! But, they also have some great bands, and I´m going there to fuck-up my friday night with these rock´n rollers:
*Thee Ultra Bimboos
*The Pretenders
*Soundtrack Of Our Lives
*Dom Galna Hundarna, feat. the Nomads!
Maybe I´ll see some of you there, so ´till then, cheers!
Wednesday 9. july, 2003:
Having a good time enjoying the summer?? But perhaps you miss some enjoyable music to go with it??
Aah... don´t cry, you´re a big girl now. Then I shall give ya some fine tips. This trixx here is partly stolen from the DENIMzine-guys, but if you scroll down here a mile or two, you´ll see that it´s been done here before.
And by countless others.... So here we go, some summer rock´n roll:
* Hanoi Rocks: Self destruction blues
* Dogs D´ Amour: Happy ever after
* The Humpers: Euphoria, confusion, anger and remorse
* Mott the Hoople: The ballad of Mott: A retrospective
* Supersuckers: Must´ve been live/Motherfuckers be trippin´
* Hanoi Rocks: Live in Tokyo 2002, Video CD ( Thanxxx to the DOR)
Stay tuned for more tips on satisfaction another day.
And be sure to read about the fantastic Oblivians in the review-section, and buy everything by them!