Friday 27. june, 2003:
Okey people of Trondheim, forget about the summer, the sun don´t set in
until october. Norways finest city will again have the honour of a visit by the
amazing Trashcan Darlings! Don´t bother get a tan, noone cares anyway!
More info on this gig will come later, though both venue and date is set, this is just to teaze you darlingz:))))

Everybody should really check out the wonderful world of Jeff Dahl.
One of rock´n rolls finest men ever to set foot on a stage.
I know it´s pretty damn hard to keep up with he´s up to, but here you get all you need baby.
And hurry up, you can now download the fantastic "Ballad of Mott pt 2", someday it´s gone.
But you better take some time off whatever else you´re doing, and check out all the links to other
great bands. I especially recommend the Slash City Daggers (they´ve called it quits now, but anyway...)
and Germanys finest, Hollywood Teasze. You´ll be humming along all day and night...
Oslo, 28. june: "Sick My Duck" releaseparty...
!!!!BACKSTREET GIRLS!!!!
*DRINK ´TILL WE STINK - BOOGIE ´TILL WE PUKE*

Monday 23. june, 2003:
So now you´ve probably heard some of the new songs from the Backstreet Girls´ "Sick My Duck" album
on their web-site. Releasedate is on monday 30. june, but there´s a huge party on saturday 28. june:
the "Sick My Duck" releaseparty!!!!
If everything goes well, perhaps we´ll meet.
Go to the review-section to see what I think about the record, and also there´s some thoughts on the
"From bubblegum fun to glittered depression" ep by fantastic Sparkling Bombs.
Lemme know if you want one, maybe I´ve still got some left. Or I´ll be more than happy to help you get one.

Wednesday 18. june, 2003:
Yeah well, so Hanoi Rocks cancelled on us Norway people, again.
Not too many norwegians are happy about that, still I´m hoping they´ll be back for sure, soon.
The new Backstreet Girls record, "Sick my Duck", are set for release on monday 30. june.
Releaseparty at Gamla in Oslo, saturday 28. june.
But check out the great, official Backstreet Girls web-site now, to hear one new song each day.
And hurry up, the party has started!
You´ll find the link to the site in the Norwegian Bands-section.
Sunday 8. june, 2003:
Great gigs coming up: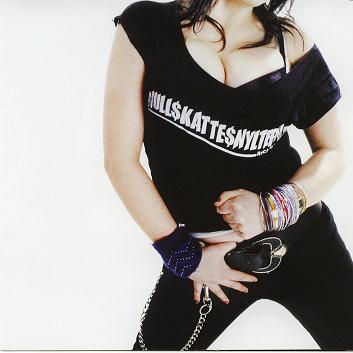 The one and only gangsters of Null$katte$nylterne are celebrating the release of their new EP with two shows in their homeland of Trøndelag next week. On Thursday the 12th of June the inhabitants of Trondheim are getting a long awaited chance to have a closer look at the sexy show the five gentlemen of Null$katte$nylterne have put up. They have spent the last year touring on the continent and well qualified rumours tell their gig at present is tighter than the jeans of mid-seventies Status Quo. So put on your best looking shoes and get yourself down to Café 3B to see the sensation - it's all your for 60 kr at the door.

On Friday the 13th - yeah it's spooooooky - they move their gear up to Namsos and Rock'n'Roll extravagansa is promised in the old "Jernvaren" shop. Could there possibly be a better place to put up a rockshow than in an old muttafukin Metal Store!! The answer is NO!! Expect tons of fireworks and decibels!! 150 Kr at the door. Tickets sold at Øyvind Johansen Platebar!
(Thanx to Åzzy for the words)
Friday 6. june, 2003:
Hi there, and welcome back to the english-speaking world. Sorry for the touch of norwegian, but I guess
it sometimes will be so. It´s just that people are sending me these really cool ads for shows, and it would be
stupid if I should translate it. But if someone out there wanna send me something for their own gigs,
I´ll put it up. Whether it´s in french, italian, danish or greek....
Oslo, Norway is for sure the city to be in this weekend, if you wanna rock´n roll.

* Tonight it´s Rock Friday at Gamla:
The kings of power pop, pop-punk, bubblegum-rockers the Yum Yums will satisfy you the way you like it.
Support is the great MC Dolly from Bergen.
If your into the Queers, Groovie Ghoulies, Ramones and so on, hell don´t touch yourself there!
Go where the Yum Yums are!

* Saturday night, also at Gamla: The Carburetors!!!!
This is the releaseparty for their brand new 7" single, "Burnout". Also they will release their video of "Burnout"
and believe you me, it will fucking blow your brains out!
Both the single and video will be up for sale at this site, pretty damn cheap too. A Carburetors longsleeve is available, so get in touch if you wanna dress sharp.
More info on the video here: Tumblewine Films.

The shop may be a little up to date. Gotta get a new scanner, and can´t promise anything in the near future.
But I´ll try and give you some here.
*Still got some copies of DENIMzine #6 left. Check out their site in the "fanzine"-section, and see what´s in it.
*Action Pilots/Motown Torpedoes split 10". A hard rock classic, get it while you still can!
*Trashcan Darlings t-shirts, as well as some out of print 7" singles.
*Kwyet Kings 7" single.
*Bithammer 7" single.
Both bands are Arne Thelin bands, and some of you might know the Kwyet Kings, as Turbonegro´s
Euroboy was a member for quite some time.

A review of the new Michael Monroe (lead singer of Hanoi Rocks) record is up in the review-section.
Save your soul and party, and get out and buy it now!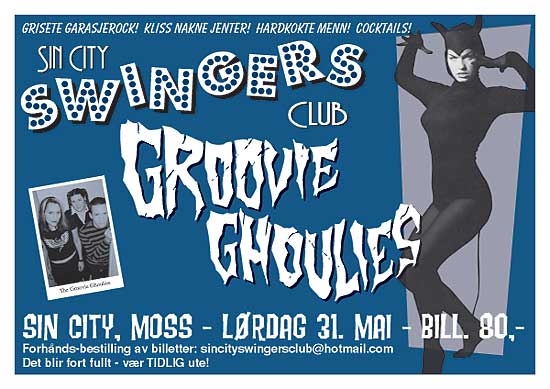 Hei!

Etter den fantastiske suksessen, vårt ett års-jubiléum viste seg og bli,
er det atter på tide med: GRISETE GARASJEROCK,
KLISS NAKNE JENTER, HARDKOKTE MENN OG COCKTAILS!

Sin City Swingers Club hviler ikke på sine laubær, nei...!
Denne gang kan vi by på en aften med den elleville vennegjengen
The Groovie Ghoulies, fra San Fransisco i AMERIKA!!!

The Groovie Ghoulies er, sammen med The Queers,
Mr T Experience og Chixdiggit, et av de aller største bandene
når det er snakk om punk-rock med et altfor høyt sukker-innhold.
De blander, med største selvfølge, skikkelig skumle tekster om
monstre og sånt med fantastiske pop-låter av Ramones-skolen.

Hvem i all verden har vel lyst til å se Turboneger i den ekle
idrettshallen Oslo Spektrum når man for en brøkdel av prisen kan
dra te Moss og oppleve The Groovie Ghoulies i på Sin City?
I tillegg blir det hazardiøs platesnurring fra Reverend Morten Heat!
Og..., som om ikke DET var nok...! G R A T I S C D ' E R
T I L D E F Ø R S T E 5 0 B E T A L E N D E ! ! !

Da Sin City ikke rommer flere enn ca 100 personer, er det viktig å
være tidlig ute med å kjøpe/bestille billetter før det blir utsolgt.
Billetter (80,-) kan enten kjøpes i baren på Sin City eller bestilles via:
sincityswingersclub@hotmail.com

Få ut finger'n! Du vet aldri hvor den har vært!

Ufint antrekk!


Kjærlig hilsen Tex

Wednesday 28. may, 2003:
Looking for a kiss?!?! Or at least a good time?
The Jayne County website got some wonderful news for ya. There´s a really great review
of the "Girls Gone Wild" show she did together with amazing Lisa Jackson.
Go to the News 2003-section and read all about it.
And while you´re there, check out the lovely Lisa Jackson.
She got some really nice songs you can listen to.
"The boys are asking for a little more, than two perky nipples on a cracked out whore."
Trashcan Darlings headlines a festival in Soon, Norway, today.
More new songs will be performed, and GOD! I wish I was there.
But I´ll try to go see the drunk´n rollers of Ricochets at Blæst.
And the Turboneger LP, deluxe edition has finnally arrived!
Also, nice to get a greeting from the Silver boyz. They´re in the studio right now, and we can
expect their album in october. Guess the dark fall will be saved then.

Monday 26. may, 2003:
After their smashing performance at Blæst last friday, the Action Pilots set out to conquer
the far west of Norway. Following places will get their asses kicked twice a night:
* Garage, Bergen - wednesday 28. may
* Askøy, outside of Bergen - thursday 29. may
* Folken, Stavanger - friday 30. may
Be there or be square!!!! As the King himself would´ve told ya.

We the punks of Trondheim, will get some hard ass-supportive ROCK, when the denimdudes
of Turboneger hit Trondheim Spectrum on thursday. High prices though, it´s not an excuse to miss
this gigantic rock´n roll show anyhow! C-Ya there!
By the way, Happy Toms US tour-diary is up in the review-section now.
Only in norwegian. Don´t know if it will be in any other languages, so take it easy.

Tuesday 20. may, 2003:
It seems like Fredrikstad, Norway is the place to be this forthcoming friday. Sorry that the ad is in norwegian, but
there´s so many italian and french and other eurosites out there, that´s in their respective language. So I figured that it´ll pass for this time. But I´m trying real hard to keep up with what´s going on on those sites, so here´s your chance to read it Norway style.
Anyway, norwegian rockers Girl From Saskatoon, and canadian rocker Geoff Berner,
will give you a night to remember. Don´t miss it, if you´re drinking in the neighborhood.
And you can send a mail to the address below, to get some mp3´s and info on the bands.
But we here in Trondheim are in for a real treat too, forthcoming friday.
Hard rockers and boogiefanatics; Action Pilots @ Blæst. Don´t even think about not going!
And the mighty Mormones @ Posepilten tomorrow night. Same goes for them.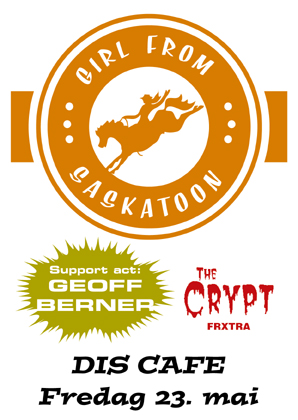 The Crypt presenterer

GIRL FROM SASKATOON + GEOFF BERNER

Fredag 23. mai kl. 21.00

Dis Cafe, Fredrikstad

Girl from Saskatoon besøker Fredrikstad med sin fortryllende garasjecountry
og med seg som support har de canadieren og norgesvennen Geoff Berner med
sin trekkspillpønk, unn deg selv en unik konsertkveld!

Girl from Saskatoon ble unnfanget en hjertetung vinterkveld tidlig i 2002,
av tre stolte, unge, vakre fra Fredrikstad med bakgrunn b.la fra Bronson
Comet Lighter, Buzz og Blant de Primitive. Etter å ha danset frem sine først
spede rytmetoner byen som varmt nærer mang en sliten rocker ved sin barm,
har de talentfulle, èn etter èn, over noen år tatt steget fra fødebyen til
Oslo`s deilige gater hvor kjærlighet, savn, hverdagsliv og pur spilleglede
er blitt forent i ett lysende band!

Kort fortalt debuterte trioen; Girl from Saskatoon medio Oktober 2002 på
Grünerløkka Lufthavn til stor suksess, og har i løpet av sin korte levetid
blitt ett ettertraktet objekt.

For foto, .mp3 eller generell informasjon kontakt:

Jens C. Andreassen
tlf: 924 64 803
jenschristian@iname.com

Thursday 15. may, 2003:
For those of you who are waiting for their copy of "Scandinavian Leather" deluxe LP edition,
it has arrived the country. But the motherfucking moneygrabbers at the customs has laid
their sweaty fingers on them. So guess the bastards gonna have their unfair share of the whole.
Anyway, theres 15 of us. So either we go down there and beat the crap out of them, or we just have
to split the extra costs. I´m a non-violent guy, so I lean towards the last option.
Let me know if anyone would like to do different, I´ll be supportive as far as it goes.
Expect the records to be here in Trondheim sometime next week.
If anybody is looking for the double LP in gatefold sleeve of "Darkness Forever",
just send a mail, and I´ll get it for ya.
The legendary TV Smith, former lead singer of punk heroes the Adverts, has got his own web page.
There you can download his latest single, "Not in my name". This is an internet only single, and
will not be released otherwise! Over 5 000 has downloaded it so far, and you should too.
As it´s a great acoustic number, performed by TV so emotionally it gives ya the creeps.
And by the way, it´s an anti-war song. Not my bizniss.
www.tvsmith.com
Hanoi Rocks are booked at John Dee in Oslo june 14. !!!!
Get your tickets now, and pray to your god they´ll show up this time!
Rock´n Roll, Alcohol and Fucking in the Streets´ gang of whores will drink there.
Come and fuck us over!
www.hanoirocks.com
www.hanoi-rocks.net
Tuesday 13. may, 2003:
Trondheims most wanted PJ (Punk jockey. Picked that up from somewhere), (DJ) Runaround,
entertains with hard rock, punk and something for us soft-hearted ones, at Blæst, wednesday 14. may.
That´s tomorrow!
Take a chance, find new faves and enjoy rock´n roll classics.
Show up and hold the liqour!
Trondheim City has got it´s own TurboJugend on the world wide web.
Check it out here: TurboJugend Tr.Heim
And sign up for a membership!
Are you bored in front of the computer? Tired of the same ol´ same ol´??
Want something that satisfies your most important needs?
Then go to these fabulous sites:
www.sleazegrinder.com & www.badgirlcity.com
The "Cock´n Roll" compilation is released by Sleazegrinder on may 22., and includes everybodies
superstars, Trashcan Darlings! Send me a mail if you want to get hold of a copy.
Trashcan Darlings will also appear on some other compilations this year.
Among them, one entitled: "We are the boyz", out of Argentina. It also includes great glamrock
heroes, Star Star. So look out for that one! More info when it´s ready for the streets.
Rock´n Roll shows you won´t miss:
* Mormones at Posepilten, Trondheim - wednesday 21. may.
Their debut longplayer, "The Mormones guide to good and evil", is released on may 19. on Trust Me Records.
But if you´re fast enough, you can order it from here now, and I can almost guarantee you´ll get it before the weekend. Price: 110 golden norwegian coins. See review in the review-section.
www.mormones.net
* Action Pilots at Blæst, Trondheim - friday 23. may.
Last time these cats performed at Blæst, they rocked everybodies balls.
Here´s your unique chance to catch them again. Or if you missed them (are you mad!!!),
don´t even hesitate one second!
Their split 10" with Motown Torpedoes (3 songs each) can you easily order through here.
Price: 50 NOK!!!/7 Euro/8 $
* Datsun and Bazooka Boppers releaseparty at Gamla, Oslo - friday 16. may.
The Boppers celebrate their great, debut 7" single, "Shake It". And Datsun´s releasing their
second fullength CD, "Don´t even dare to care".
Boogie Chick Rock and Trash Punk in glorious union!'
www.bazookaboppers.com
www.datsun.no
* Aussies legendary punkrock trio, the Hard On´s, plays at Elm Street Rock Club, Oslo - thursday 22.may.
Support will of course be the Wonderfools.
"Think about you everyday"



Thursday 8. may, 2003:
I had a great time at the 10. (I think it was) annual Punk Rock Festival in Oslo last weekend.
The megasuperfantastic Rat Cats put up one hell of a show, and Johnny and the Dragqueens (replacing
Gentle Strange? Slaves) exposed themselves in best possible way. Pictures will be up on this site later.
One band calling themselves Kabelkrøll, was the big surprise for me. Look out for future shows by this
wild gang, they will be in your neighborhood sometime soon. The Mormones did their thing, excellent as usual.
See the review section for some thoughts on their upcoming album.
Once again, this trip wouldn´t have been so great without the help from such lovely friends:
*Ulf Lyrån - for the best music ever!
*Ellen - greatest roadcompanion since Jesus and his angels drove my spaceship.
*Helge and his family for the enormous hospitality (sorry to wake you night after night).
*Ole Børre for arranging the whole damn thing.
*and everybody else that drank, ate and rocked along.
Thanxxx!
The weekend is closing in, and heres some shows rockers in the Oslo area must go to:
*Everybodies favorites, the Action Pilots, plays at Kampen Bistro tomorrow night (friday 9.may that is).
And after the show, buy the guys some rounds of beers. They deserve it! And you get to pay your dues.
*The Carburetors are turning up the volume at Planke MC in Fredrikstad on saturday 10. may.
This takes place in an old mechanichal workshop, so prepare yourself for a real blast!
Ka-Boom!!! You have been warned.
Fantaboulus Sneakers Records, will release the Carburetors new 7" single later this month.
And it´s a must have! A goddamn amazing single. You can get it through here, once it´s out.
Monday 28. april, 2003:
Not so much happening in my hometown lately. A couple of shitty bands appearing, among them
an awful japanese act called Ex-Girl. Pretty satisfied with the fact that drunkenness keeps me from
remembering anything at all! There´s a lot of great japanese bands, like Guitar Wolf, Teengenerate and
Supersnazz. Know your bands! Do not support this arty, farty shit.

Weekend starts at wednesday night this week. Just in time to get my skinny ass down to Oslo
for this years Punk Rock festival at the Blue Monk Club. And yessireee it´s gonna be great!
The amazing three-piece, the Rat Cats are playing on thursday night, one show I´ve for sure been
looking forward to for years. So don´t miss that one.
Theres a lot of great bands all three days, but unfortunately, I´ve lost my program.
The only ones I do remember, are Lillehammers little sons, the Mormones, Oi Division (formerly known as the Fuck-Ups) and the Gentle Slaves, which includes members of the Trashcan Darlings.
Just show up at the Blue Monk Club and see for yourself.
The new Turboneger record, Scandinavian Leather, just hit the streets of Norway today. But hurry up and order your copy of the deluxe limited edition LP (only 2 000 made) from Bitzcore in Germany now!
Go to the Turboneger link in the norwegian bands section.
Also, Turboneger´s sweet queen, Happy Tom, will post a tour-diary from their recent
US trip together with QOTSA, here on the site. So stay tuned for that one, as it´s pretty funny to see
what the denim demons have been up to in the land of the free.

New reviews are up, and read some inspiring thoughts on some of the bands in the norwegian bands section.
More to come there, sometime whenever.
Stay sick! It seems that I will, literally.
Monday 14. april, 2003:
Aaah, Easter holiday. Well, in my case, only three days of hard work before I´m hitting the mountains.
Just got back from my weekend in Oslo, and jeezez, what a party! All that crack, beers, booze and rock´n roll!
Yeah, most of it that is. Rock´n roll people know to control themselves.
Trashcan Darlings played three!!!! new songs at the gig, and the Scarecrows were just amazing.
More info on the Trashcan Darlings site.
Gotta say thanxxx for really rocking my weekend:
*Trashcan Darlings for having the party*The Scarecrows who came a long way to support*Ulf Lyrån for the rock´n roll music*Krille and Joel DENIMzine who came from Gothenburg to party(and they did!)*Johan Forsberg for his allways enormous hospitality(you´re allways letting me crash when I need it)*Ellen for keeping me going for the long road*Helge and Kristin for being such a great rock´n roll couple*Mia, thank you for the moustache, I looked great as a nazi*Terte Baarli for allways being there*E.S. Brady("I´m irish, I hate the english!")*The Electric Ladyland for the fantastic night at the Blue Monk club*Åzzy(I wanna go with you to New York and meet Jayne!)*The Trysil boys, hope to see you in may*
If I´ve forgotten someone now, you´ll be here when my head is allright again.
Fucking AC/DC will be supporting the Rolling Stones on three dates in Germany in june. How great is that!!!!
When the Stones played one club gig in Sydney in february, they were joined on stage
by Angus and Malcolm Young for BB King´s "Rock Me Baby". Check out some amazing photos
here AC/DC.

And see the guestbook, a german band is looking for a rock´n roll drummer.
Keep on rocking!!!!
"Jesus is gonna come back in a spaceship, with an army of Angels!"
Happy Easter!
Thursday 10. april, 2003:
Only some thousand seconds left before the party tomorrow night.
And there will be a couple of surprises for you there.
New reviews up in the review-section now. Two tasty 7" singles and one hell of a show. Go there!
More will come, so stay tuned for records I love and you all got to have. You need my love:-)

C-YA @ Elm Street friday night!!!!
Monday 7. april, 2003:
Forthcoming friday, the 11. april, will probably stand out as the sleaziest rock´n roll party ever set up!
The most exciting band in the world, Trashcan Darlings, is supported by swedish glamrock
sensations, The Scarecrows! This exclusive happening takes place at the legendary Elm Street Club
in Oslo. And one big advice, is to be there early.
How is this fucking possible??!! Well, the real cool dudes stick together ya know.
And hopefully, Trashcan Darlings and the Scarecrows will play some dates together in Sweden soon.
Want more info on this gig and the bands? Check out the links in the band-sections on the left.
The fucked-up Trondheim Kid, will of course be there, and most likely be found behind the merchandise table (except during the shows, then I´ll be in the frontline!).
There you can get the coolest t-shirts and records ever made! The new Trashcan Darlings t-shirt and also the Scarecrows will bring their new stuff. So ladies & gents, stuff your pockets full of cash!