include("vis.css"); ?>
NEON LEON
KEEPING IT HOT BY PLAYING IT COOL
The best statement you can make about NEON LEON is that there is, and always has been,
only one NEON LEON.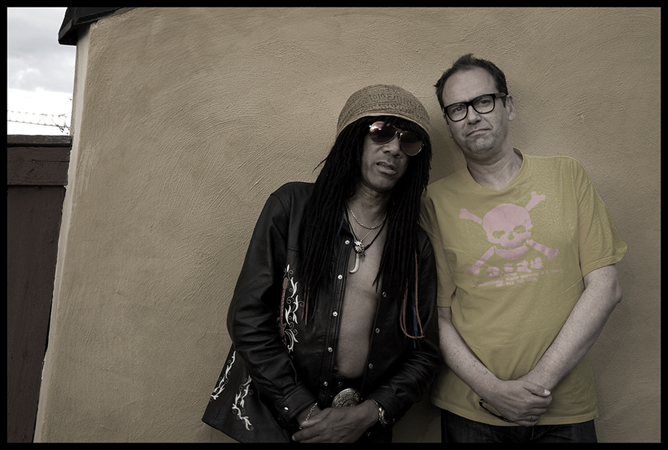 I haven

't got a clue where I was when Pope John Paul II got shot but I have absolute recall of the
moment I first saw the sleeve of Neon Leon`s "

Artificial Stimulation

". Through his association with
the New York City music scene in the early 70`s Neon Leon met the artists, writers, poets and
musicians of the time and the courtiers around them. He introduced these people to each other.
Fortunately, however, time has not lessened his impact! The late Duke Ellington said there are two
kinds of music, "Good music, - and the other kind." True to those words, Neon Leon fused bad-assed
rock `n roll, blues, soul and even reggae into one incredible sound and, without him, my library of
modern music would be sorely lacking. I got introduced to Neon Leon in 1984 when he played a sold-
out gig in Oslo, Norway. As the show began, Leon came out dressed in his costume of black leather
trousers and black waistcoat and white shirt. As could have been expected, he became the focal
point of the kaleidoscope-lit stage. Neon Leon just seemed so happy to be up there with his black
Les Paul Custom. Later that night I took Leon to a famous nightclub where we spoke for hours and
opened just about every bottle in the club. He was a gentle man and gentleman! We were very
comfortable with each other and he treated me like a long lost friend. Nowadays I`m so fortunate I
can call him my friend.

**
Tom Kristensen
**
Photo by Oskar Ohlson - Silkeselenium.se
Neon Leon On a Fast Track To Hell: myspace.com/neonleonkinglion