Trashcan Darlings
Live at Elm Street Rock Cafe,
Oslo 25/03/06
There is something very special and very dear to me about Trashcan Darlings. I remember very well the first time I heard their music. I can tell you the exact date and time when I first laid my hands on one of their releases. The first Trashcan gig I went to is still one of my best concert-memories. When you love a band like this, there's always that small worry when they are about to release a new album. I'm always somewhat concerned that they'll release something crap. (Like Hanoi Rocks did last year.) Something that'll reduce my love and respect for them. That, and the fact that this was their first gig with their new bassist,
Q. Ken Rockers, made this night special. This was a "let's see what our fans think
of our new songs (and new bassist)"-gig.
Well, I'm one of their fans, and this is what I think ;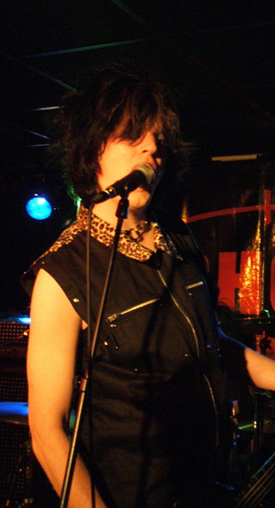 Q. Ken Rockers (Pic taken by GlamGirl)

First of all, Q. Ken Rockers rocks. Although I miss Dee, it sort of felt like Ken's always been playing with the band. He looks good too, my guess is that he'll give the rest of them a good run for the groupies. No need to fight guys, there's probably more than enough groupies for everyone..
This gig were origianlly supposed to be at Rock Bottom thursday night. But Rock Bottom suddenly decided to close down, and the gig was moved. The band seemed a bit worried that maybe people wouldn't get the message, and not turn up at ElmStreet. There were no need to worry. A lot of people turned up.
And they all looked like they were having a blast!


Chris Damien Doll (Pic by GlamGirl)
Their set-list included seven unreleased songs. Two of which already have become live hits; "Me Punk, You Fuck", and "From Purity To Pain". They're both catchy songs with an easy sing-along chorus. The rest of the new songs are maybe not instant hits, but they will grow on me, I know. Because they are all great tunes. I've heard rumors about Trashcan going rockabilly, and moving towards harder rock. The new album is supposedly going to have a little bit of everything on it. If this is true, I'm a bit worried about how they're going to get it all to fit together as a whole on the album. The new songs they played were neither rockabilly or hard rock. They were good old Trashcan Darlings songs. Just the way we like'em; catchy, fun and with great guitar-riffs. Maybe I haven't been paying enough attention before, but the skills of Chris Damien Doll is truly amazing.
He is highly underrated as a guitarist.
Inbetween the new songs, some old classics. Personally, I missed "Chemical High" and "Holiday In My Head". But if they were to play all my favourites, they'd be playing all night, and all morning too.
So no complaints here.
It is always fun to watch the crowd at Trashcan-shows. It seems like they have a solid and very loyal group of fans. A lot of the same people tend to show up every time. That's good, you know there'll be dancing, singing and fun up-front. I'd hate to be at a Trashcan-gig where everyone just stood there, nodding their heads. The crowd is doing half the work at shows like this. The Darlings seems to be appreciating their
fans just as much as their fans appreciate them.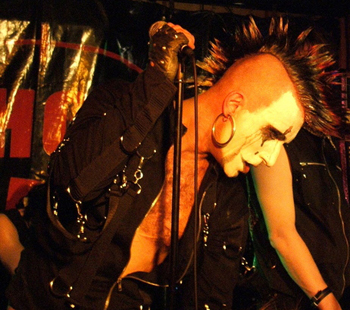 Strange? Gentle (Pic by GlamGirl)
My ears are still ringing. My throat is still sore from singing. I'm looking forward to this release. I'm not worried anymore. And what's even better, a new album means a new tour. Because Trashcan Darlings is first and foremost a live act. If the Darlings play anywhere near you, go see them! Please, darling, please.
www.trashcandarlings.com/
www.elmstreet.no
For more glam-tastic photos, go here: Trashcan Darlings photo album