Lenny Lee
Box o' Chocolates
(Poptown Records 703071001821)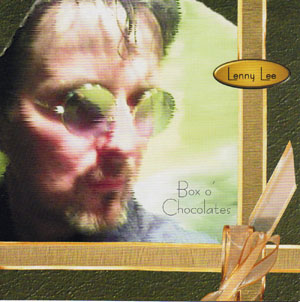 In the press release following this cd, Lenny gives a very good description of how his record sounds,
i.e. the title. "You never know what you're gonna get" he says, and I have to admit that that's very well put.
You really have no clue what's coming next on this record! A very good start with a powerful poppy
number called Someone To Listen, which includes my countryman, Kim Christiansen on guitar.
Itīs not my daily choice of musical entertainment, but I can't escape the fact that it's a good popsong.
From here on, it's a dreadful combination of styles and sounds that not even my worst nightmares
could bring me. I think I hear hints of Sting(!) in a couple of the songs. The third track , Just Passing Through,
sounds like the childrens television happy hour! Strange techno-ish sounds, depressed plunking guitars,
boring nightclub jazz, and I donīt know what else we're introduced to on this album.
But I do know that I would throw my box of chocolates out the window, if it would taste like this.
This is a record, so I'll keep it cause I like the first track on it, but the rest of the bites are up for grabs.

BTW - Poptown Records have brought us a bunch of great records,
like Peter Blast, She Wolves and Thunderboss (which is said to be a fine rocking album)
so be sure to check them out!