Kevin K
Rockin Roll Dynamite
(FBK-009)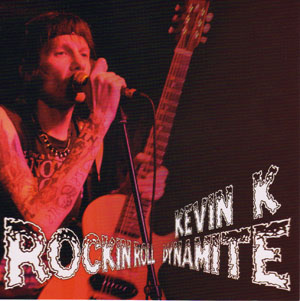 Ok, first thought when a new package from Kevin K arrived -
what is this guy on?! But thatīs alright, as long as he keeps on dragging
one cool rocking number after another out of his hat!
12 tracks listed and one not listed. Not all tracks are for my taste.
As a heavy metal friend of mine said - this is the stuff for me! The opening number,
Down In The Sewer is one of those. The next one, Call, is just up my alley, and hereīs the
Kevin K Iīve learned to love so much over the past years.
Kevinīs cool guitar playing over a steady, and in a cool monotone way, beat, and a lovely
melody to get you humming along. I love the lyrics and I love the song, another favourite of mine!
And they keep on coming! Going Nowhere Fast fooled me in the first three chords - I thought Kevin was
on the road down the Dictators classic, Stay With Me! And he keeps that great riff all through the song,
and Iīm excited! And Iīm staying this way through the rest of the record. Just let it all rip with
another fine punk rocker in I Was A Teenage Pig - 1min 58 sec and a damn nice guitar solo!
This is the way to rockīn roll, Kevin! And you sure know your rockabilly too -
For You My Love (written by one Paul Gayten) is one of many highlights on this album, but it stands out as a hit
in a Stray Cat kind of way, and it would be cool to see it as a promo, taking over the airwaves!
To top it all off, a cover of the Stooges classic, Death Trip, and the not listed track -
a cool rocking Cramps kind of number. But I wanna mention more great numbers here -
Hillbilly Man is cool, Old School is great, All Fixed Up rocks like an angry Heartbreakers,
and She, with a lovely backing choir, takes me down melody road again.... And I love your voice, Kevin!
There, now Iīve said it all!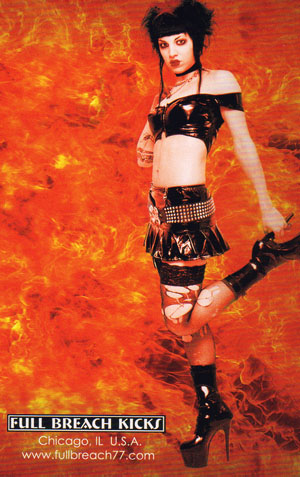 Ps: If you go to the discography section on Kevinīs site, you can download some tracks from the album,
including For You My Love.

http://kevin.k.realkoolkats.free.fr
www.fullbreach77.com
24. july, 2006
**Ringo Kid**