Howlin┤ Mama
5 Howlin┤ Tracks
(Borderline Records 002)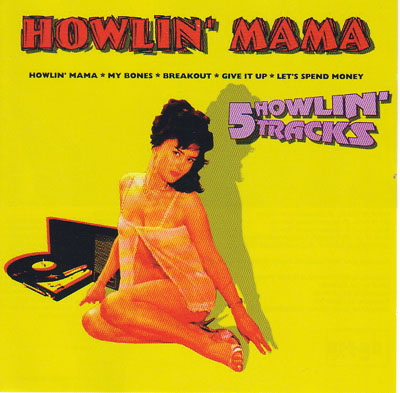 Aah, Halden, a beautiful little city a bit south of Oslo. I┤ve been there a couple of times, drinking Irish Coffee in
one of my favourite bars on this planet, Siste Reis Pub, while watching local rock stars getting pissed.
Halden has given us some of the finest in Norwegian rock┤n roll since the late 70┤s/early 80┤s. The Young Lords,
Saturday Cowboys, Henning Kvitnes solo and the Basement Brats, just off of the top of my head.
The Basement Brats played a big part in
my upbringing, and was one of the best bands during the 90┤s, in my humble opinion. It┤s a shame that they┤re
no longer around, but some of the members are still out there doing the Halden rock┤n roll. The Nuggets
was a very good band, I wonder if they┤re still together... But now, one of the Brats┤ guitar players -
Nils Tempo, is here again, with a pretty new record. Howlin┤ Mama have been doing this for a couple
of years, but this ep is their first release. I expected quite a lot of it, because of the background of some
the guys, I see that Squareheads is mentioned in the press release but can┤t figure out who, but it can┤t compete with the Basement Brats (I can clearly hear somebody yelling `what!!?┤...). They┤ve listed
inspirations like the Cynics, Dead Moon, Heartbreakers, Mot÷rhead, Oblivians, Devil Dogs and Reigning Sound.
I think they hit the nail with the first of the lot, Cynics. There┤s really no weak songs here, just that the two
first numbers, Howlin┤ Mama and My Bones, are the ones I┤ve played the most. I love those Basement Brats
type of harmonies on My Bones, brings back nice memories.
mailto:howlinmama@hotmail.com
Listen to the title track: NRK Ur°rt - Howlin Mama
The Basement Brats Museum

7. november, 2005
**Ringo Kid**