Where Did The Years Go?
The Lost Dimitri Monroe demos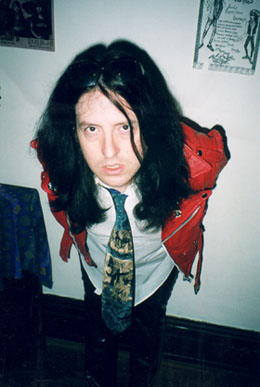 Iīve had this site up for some years now, but this is the first cassette I get in the mail!
As Iīve always loved the format, and I still listen to tapes, it was really good to hold
a new self made compilation tape, on the good old Maxell brand, type 1 - normal!
So whatīs on it?
Well, as the title suggests, this is not all finished material. All songs feature
Mr Dimitri Monroe, in various bands and with different people.
Seems like heīs located in Los Angeles, and that The Saviors is his current band,
who performs the first three songs, whereas the first two, Detox Jukebox and Nitemare Years,
are intended for a singles release.
I would easily pick up a Saviors 7" if I heard it in a shop or somewhere!
And as two songs would just tease me, Iīd hope for a chance to get the third one too,
and then just wait for the long player!
The tape rolls on in the same sleazy way with Mr Monroe and friends in his bedroom,
kicking out great tracks like Nostalgia Kills and the amazing Good Times Gone!
If Johnny Thunders and Stiv Bators gets you wet, then youīll also get turned on by
Mr Monroe! That said, heīs not out to copy any of those guys. Dimitri certainly makes
his own sound, I guess with good help from his friends and band mates.
In the fantastic, Recipe For Disaster, performed by Dimitri & The Lads - the guitar sounds
like something Nikki Sudden couldīve done, and the vocals can remind a little of Stiv, in itīs own
charming way, for me anyway. And thereīs a last number, not mentioned on the track list - but itīs a
wonderful piano ballad, very sad and beautiful.
Definitely a guy to look out for, and whatever band he comes with -
stay tuned and be ready to dig it!