Alice Cooper / Twisted Sister
Wembley Arena Pavillion, November 6. 2005.
This was my second Alice Cooper-show this year, the first was the show at Sentrum Scene in Oslo in August.
Arrived at Wembley Stadium around 7.00 PM, just in time for Twisted Sister... they struggled a bit soundwise the first songs, but it worked out allright... TS is not my favourite band but it was cool to hear classic TS-songs like "Kids Are Back", "I Wanna Rock" and "Were Not Gonna Take It" live and Dee Snyder looks exactly the same as he did back in the 80s...
As a "Alice Cooper special guest" Twister Sister actually got to play a full set, but at 8.15PM
enough was enough... they did "You Can't Stop Rock'n'Roll" and they were finished,
but the Rock'n'Roll had no plans of stopping yet...
The stage was transformed from the Twisted Sisters' "Marshallstack-mayhem" to the "AC Big Rock Show" in about 15 minutes, and it was time for the Alice Cooper band to take the stage to a taped intro of "Phantom Of The Opera" The band went straight into a really cool short version of "Department Of Youth".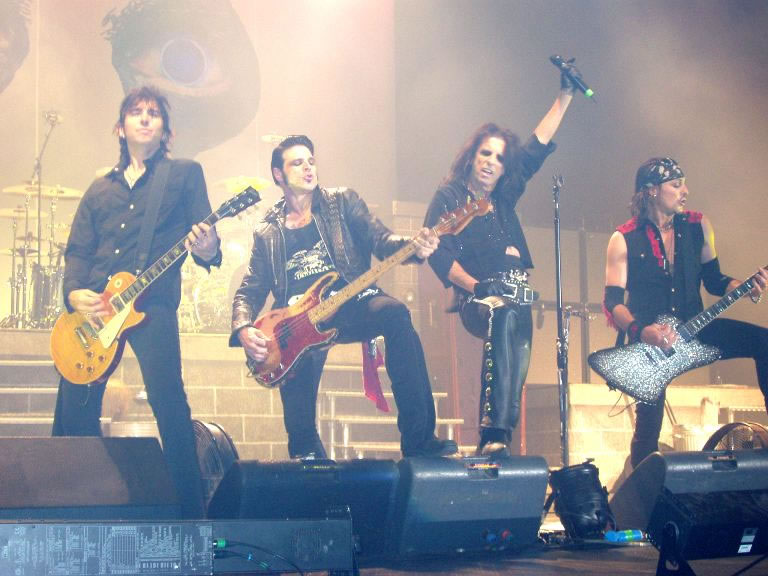 Pic taken by Sharon Hoover and Nick Woodburn
Next they went through the classics "No More Mr. Nice Guy", "Billion Dollar Babies" and the title track of the new album, "Dirty Diamonds" all played in a great old-school style!
One of the big highlights for me, the great "Be My Lover" was played amazingly,
by Alice and guitarist Ryan Roxie alone the first verse.
The beautiful ballad "I Never Cry" were played on acoustic guitars before more
of the old classics followed. (see full setlist).
"Is It My Body" was another highlight for me, before Alice got a well deserved rest while the band got the chance to show what they were good for in the "Black Widow-jam", and what an amazing band this is;
The current lineup is Ryan Roxie and Damon Johnson on guitars, Eric Singer (Kiss) on drums,
and Chuck Garric, bass.
It is very obvious that Alice wants a real old-school garage-band again, instead of some flashy metal band as he had in the 80s and 90s..., this is pure Detroit, 70s. That shines through in the setlist as well.
Another thing that striked me watching this show, is that its more like a Alice Cooper-band playing, instead of Alice Cooper with a backingband, and that was in my opinion probably the coolest thing of this show. These songs are ment to be played as a band!
The obligatory 5-minute drumsolo followed, before Alice reappeared for some of his heavyer songs. It was during "Feed My Frankenstein" (of course) Alice built a headless body inside a upright coffin out of bodyparts spread around the stage. After this, he dissapears for a short while, but returns with a black tophat and a boa constrictor around his neck for the creepy "Welcome To My Nightmare".
It was after this everything went nuts, with "The Piece" which is a story told with a medley of some of Alice's creepiest songs (see setlist) ... Damon Johnson played the keyboards perfectly on those tunes.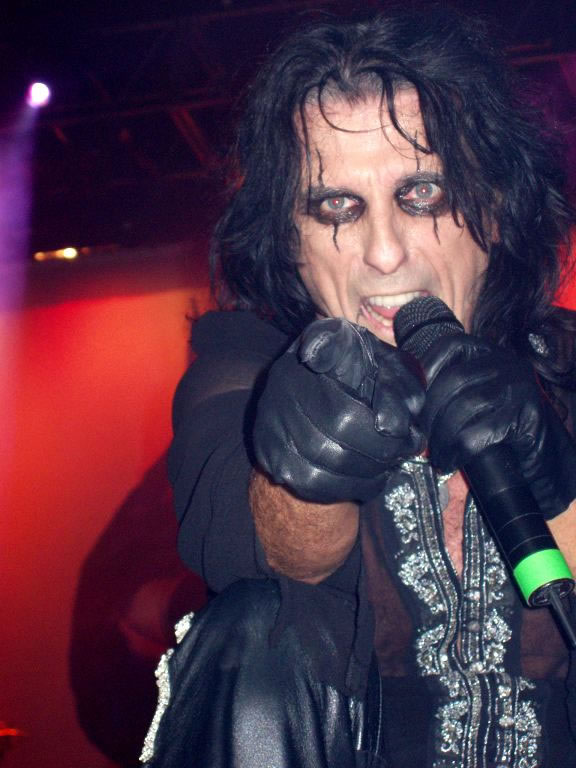 Pic taken by Sharon Hoover and Nick Woodburn.
During these songs Alice was SO on form it was scary. I bet every one in that room had goosebumps through that "piece". "Steven" did even bring a tear to my eye!!!
At the end of "Killer", the famous guilliotine was brought out, and Alice's head came off once again.. The executioner placed the head on the top of the body created in the coffin during "I Love The Dead", and the "frankenstein-body" was complete. Now it was time for the encore...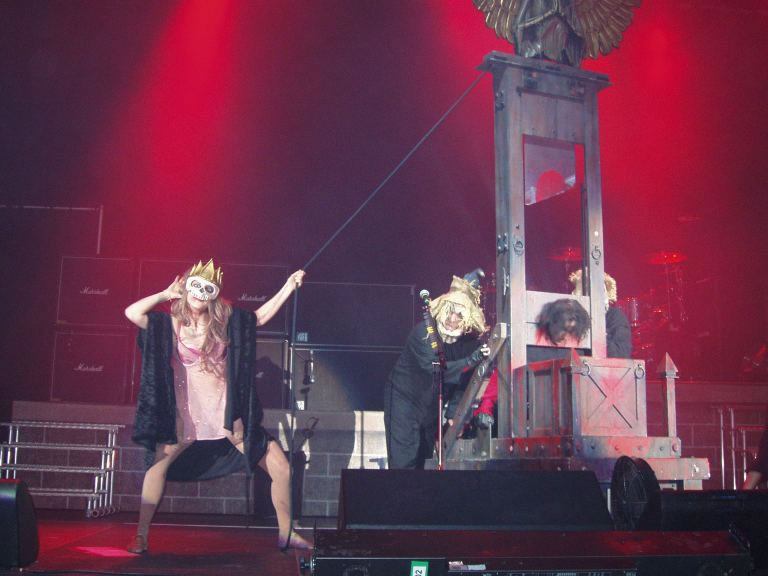 Pic taken by Sharon Hoover and Nick Woodburn.
Alice reappeared through the coffin for a pretty basic encore songwise, with the exeption of the amazing
"Wish I Was Born In Beverly Hills" off the album "From The Inside" which included Alice's daughter Calico dressed as Paris Hilton complete with the little Chihuaua, which goes for her throat in the end..
After "Paris" gets carried off stage, Alice picks up her purse and dog
and imitates her walking across the stage.. hillarious.
The show was almost exactly the same as the show in Oslo, except for a few minor setlist-changes, a much bigger venue, and a tighter band... I was wery exited to see that it was nearly sold out,
this venue holds 10 000, and it came around 8500 people.
The set lasted for nearly two hours, and Alice is seriously better than ever!!!
It was without doubt the best rock-show I've ever seen!, I can't wait for the Dirty Diamonds DVD of this years Montreaux show which is released in mid 2006!!!
For more pictures from this tour of very high quality, visit www.alicecooperpics.co.uk

Setlist:
(Phantom of the opera intro tape)
Department Of Youth (part)

No More Mr. Nice Guy

Dirty Diamonds

Billion Dollar Babies

Be My Lover

Lost In America

I Never Cry (Acoustic)

Woman Of Mass Distraction

I'm Eighteen

Between High School And Old School

Sunset Babies (All Got Rabies)

Is It My Body

Go To Hell

Black Widow Jam (incl. Drum Solo)

Gimme

Feed My Frankenstein

Welcome To My Nightmare

"The Piece":
- The Awakening
- Steven (part)
- Only Women Bleed
- Steven (part)
- Ballad Of Dwight Fry
- Killer
I Love The Dead (Band Vocal only)

School's Out

Poison
Wish I Were Born In Beverly Hills
Under My Wheels (Band introduction

7. december, 2005
**Øystein, guitar-slinger in the Magnum Maids**