New York City 12. sept - 20. sept 2005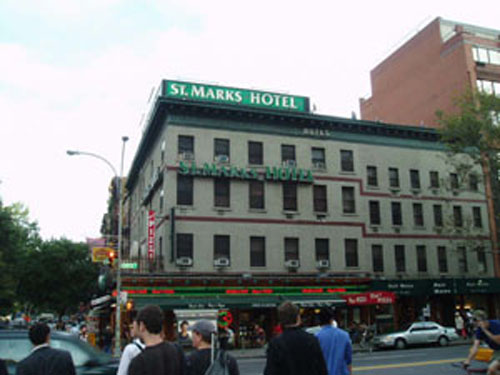 A girl I know said, `You´re getting hooked, you know!´. We were talking about New York City - probably the greatest city in the world. And she´s right, she´s been here many times and has many times to come, too. It´s like a drug, you have to come back when you first get the taste of the city. This was my second time, joined again by my brother in rock´n roll, Mr Angel Eyes, for a suck-up of the piss-drenched East Village. More precisely, we spend most of our time in and around St Marks Place - spot on for the sleaziest bars, rockiest record shops and the coolest fashion outlets. Where we meet the people we can connect with and have a really good time with. They seem to like us, and we definitely love them! And those people are really our main reason for going back again! We get a lot of warm hugs and wet kisses when we leave, lips telling us `I´ll be seeing you again, very soon´.
I don´t know what´s with the Rolling Stones management, or who the hell is in charge, but Alanis Morrisette supporting the greatest rock´n roll band in the world!!? It´s like a very good Monty Python sketch - who would´ve thought of it! After a pre-party with the IORR (iorr.org) Norwegian contingent and friends, at Mustang Harry, we slide over to the venue, hangs in the bar just to hear Alanis´ whining in the distance. Then it was finally time for the 20th Rolling Stones gig at the MSG, since 1969! Prettty fucking historic, and the RRAF was there, to let it all rip! I could've gotten my camera with me, they didn´t search me, but I didn´t dare – I´d heard they most likely would´ve taken it away from me. Too bad now… but the memories are all mine, and Angel Eyes´ and the crowd of 19.000 people, who saw the amazing performance. The band was on fire!
The after-party at Mustang Harry lasted into the wee wee hours, with drunk Norwegians everywhere, including a hot dog millionaire and a famous tv personality.
On the Giants Stadium show a couple of days later, they changed the set-list a bit, which I didn´t mind at all. 70.000 people sang their rocks off as the fireworks lit up the Jersey night. I´ll never forget how badly Keith fucked up the intro to Brown Sugar, hilarious and really cool too, right after they had smashed through Jumping Jack Flash the hardest I´ve ever heard! Charlie is my darling, he sure can beat those skins, yeah!
A huge thanxx to the awesome Jamie and Andy, who took us to the show, from Times Square, through the heavy NYC traffic, and safe into Jersey with beers and all. We couldn´t have made it without you!
See pictures and full reports from these shows, as well as from the whole tour, on It´s Only Rock´n Roll:
The Rolling Stones World Tour 2005 - 2006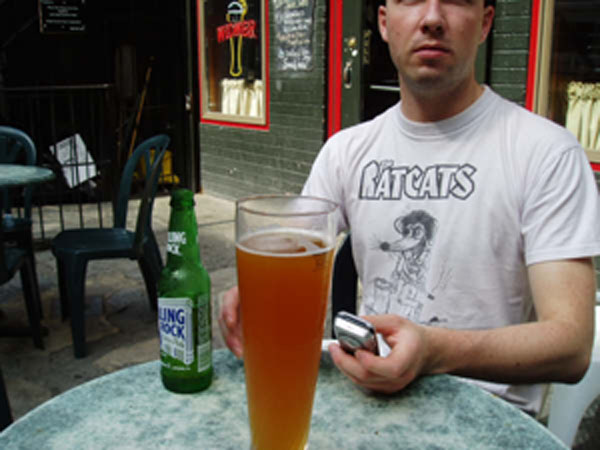 Sleeping the day away at the St Marks Hotel, on east 8th street – ain´t too bad. We like it here. You can pay by the hour, the place is known for it. We don´t mind. A lonely hooker stands in the street, and we´re just happy to leave her stay there.
The daytime sun was too hot these first days, and the humidity unbearable. As the sun´s slowly going down, we crawl out from our nest and search the nearest slice of cheese pizza, and a bottle of American beer. A great irish pub just down our street, Bull McCabe, serves as a cooler, as we watch the many different cultures of St Marks Place walking by.
The Dictators´ Handsome Dick Manitobas bar, on avenue B, is the perfect place for rock´n roll and drinks, and we pick it up there, just as we left it two years ago. Good to see that some places stay exactly the same, so you know what awaits you. Great folks, terrific music and just lovely people behind the bar. We even witness an old fashion bar brawl one night.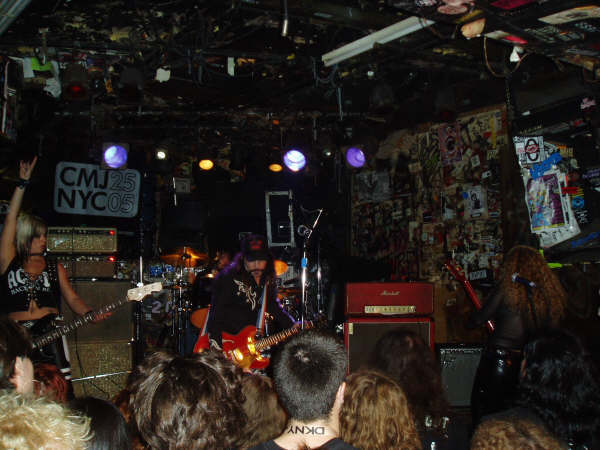 Friday night it was time for some club gigs again. My friends from North Carolina, Snatches Of Pink, played just across the street at the legendary Continental. Then off to CBGB´s before it sold out, which it did right after our arrival, to see the spectacle of Zeke. Damn, those guys are even faster than the Ramones ever was! By the way – I was hugely impressed over the amount of Backstreet Girls the dj played! Nashville Pussy was on after Zeke, saw some songs, seen them a couple of times earlier, before rushing into a yellow cab to Ottos Shrunken Head, up on 14th street, where Alison Gordy and her friend, Susan Mitchell, performed some songs during a benefit show for New Orleans. Including a tender version of Johnny Thunders´ You Can´t Put Your Arms Around A Memory. The night ended at Manitobas…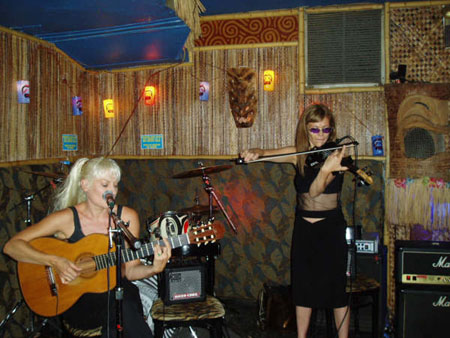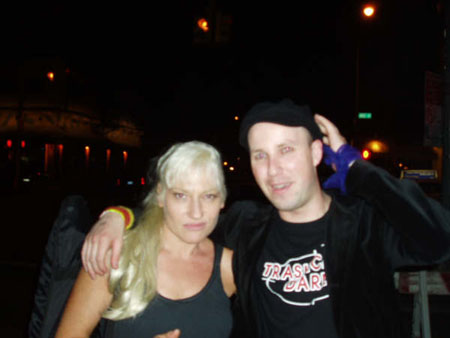 Saturday night saw us in New Yorks last shit hole, according to Tommy Volume of the Star Spangles, the Mars Bar, on 2nd st and 1st avenue. What a great place! The screw-driver was nice and strong, the jukebox played rock´n roll music, and the sweetheart behind the bar was beautiful! Tommy was there with Lee Black Childers, legendary photographer and Heartbreakers manager. A tremendous nice guy and full of good stories. Watch out for his biography!
We had a few drinks and a lot of laughs with Lee and Alison at the No Lita restaurant, on Houston st, the day after. Really nice place, for sure going back there next time I´m around. I think I might have left a piece of my heart there…
Sunday night, we went to an After Midnight After Party at Jesse Malins bar, the Niagara, on avenue A. Sami Yaffa was supposed to come, never saw him, but the drinks went down while Joey Valentine (ex Star Spangles, now in the Babyshakes) played just about every favourite record of mine!
Before we had to leave for the JFK airport, we had a date with Ruby Lynn Reyner at a French café, on 11th st and 6th avenue. As we waited for her in the bar, we had a chat with Little Steven, from Bruce Springsteen & The E Street band, maybe even more known for his amazing part in the Sopranos, as Silvio Dante. He´s into quite a few Norwegian bands, which he plays on his radio show, Little Steven´s Underground Garage. Which you all have to check out! And maybe – you´ll soon hear some favourite RRAF bands…
Ruby was adorable, and she showed us a trailer from her forthcoming film about her. She´s been in and around the Max´s Kansas City and CBGB´s scene since the 70´s, but her first record came out last year, which you´ll find in the reviews. Another one is in the making. Read about her in books like Please Kill Me, by Legs McNeil, and High On Rebellion, by Yvonne Ruskin.
Then it was all tears, and just a few beers, and goodbye New York. I Miss U and God Bless You!
Ps: All pictures are taken by Angel Eyes, and you can see more here:
Angel Eyes´ photo album.