Sunday 18. june 2006:
A new review is up!
Check out my thoughts on Mr Dimitri Monroe and his bedroom demos!
I´m listening to Joan Jett and The Ramones today and tonight!
I was going for a drive, and I wanted to listen to Ramones Mania, but I couldn´t find it!
I got all the tracks on the albums and other compilations, but today - I wanted Ramones Mania!
But, it was nowhere to see. Can you feel my frustration?
So, I wanna start a Ramones appreciation thread, in the forum. And I´m gonna do it right now!
In the Wine and Roses section, and I hope that you wanna join me.
Tell us about your favorite songs and shows, and stories, all kinds of stories!
Have you ever met a Ramone? Have you ever dreamt of The Ramones?
Everything you wanna say about the Ramones!
But, please keep it in english!
Here Today, Tomorrow The World!
Friday 16. june 2006:
Put up an article from Trondheim newspaper, Adresseavisen,
about The Boys London shows, in The Boys page in the bands section.
I translated most of it into english, so hope you all get a meaning out of it.
Wednesday 14. june 2006:
Put up a link and info to the Peace & Love Festival 2006, in the Shakedown section!
Some guys just look cool, no matter what!
Check out the new pics that Peter Blast sent me,
with The New York Dolls! In the Bands section!
Wednesday 7. june 2006:
Just put up a great review of the great Toy Dolls concert!
Monday 5. june 2006:
I just finished a review of the brand new Honest John Plain & Amigos record,
One More And We´re Staying!

If you wanna say anything about the reviews or anything else about this site,
be it good or bad criticism - you can do it here: rraf.net Forum - Wine and roses
Saturday 3. june - second update!
Some new dates are up in the Shakedown section.
I´ll try and update it more often.
Saturday 3. june 2006:
Next saturday, june 10th, I´ll make my return to Oslo!
Elm Street Rock Cafe is the place to be, and the memorial concert for Nikki Sudden (RIP).
For info in english: rraf.net :: View topic - Nikki Sudden Memorial Concert
And info in norwegian: musikkguiden groove.no - Minnekonsert for Nikki Sudden
Everyone that´s seen Nikki should come! Everyone that never got the chance to see Nikki,
should come! And this is also your chance to see Dave Kusworth, again, or maybe for the first time...
It doesn´t matter! What matters is the meaning of this great rock´n roll show, and the honour that we´re
gonna show an artist and a rock´n roll extraordinaire! Nikki was special, he still is!
And this night is gonna be special!
Are you broke? Dig deeper in your lover´s pockets than ever before!
You need this more than ever!
Have a bottle of red wine and bring some roses!
More reviews are on the way, they are not quite finished yet.
I have very little time to do this now, but I´m doing some, just because I want to.
Please see info on the Contact page before sending anything to me, or you might end up
not getting a review here at all.
And thanks a lot for the tape! If you see this, you know who you are, I didn´t find any
contact info on the Rapid Pulse web site. But a review will come!
Have a nice weekend everybody!

Saturday 27. may 2006:
Updated the links and bands pages.
So there should be some new cool stuff to check out there!
First of all - go to the Magnum Maids page, cause they´re playing tonight!
Thursday 25. may 2006:
So many things to do, and so little time!
That´s why there´s so few things going on here at the moment.
But there´s a lot of activity on the forum, so please post anything you want there!
Anyway, two new reviews are up now,
one very heavy and one very punky!
A couple more will come soon.

Monday 22. may 2006:
Another three live reviews are up now, by the wonderful GlamGirl!
This time she´s seen Tyla & Dogs D´ Amour, Trashcan Darlings and Upstrokes
with a nice bonus - Enuff Z´Nuff!
Tuesday 16. may 2006:
A live review of last thursday´s Jetsurfers gig is up now!
So it´s the day before the big day, for us norwegians.
Tomorrow, may 17th, is our national day, when the Coca Cola and the ice cream flows,
and it´s cold as hell and snow is in the air. Haha!
But today, is when the big boys are out! When every boy and girl in the nation gets
out and let´s out all that may have stayed inside for too long.
If you wanna see a whole nation drunk on it´s knees - this is your mighty chance!
Here in Trondheim, we celebrate this with a rock´n roll extravaganza at Rock City: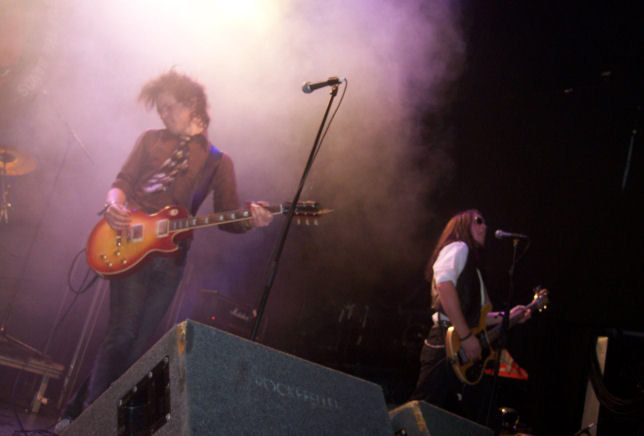 !BEINHARD!
This is gonna be a night of hard-rockin´ boogie-woogie, performed in all it´s guts and glory
by the young sleazters in Beinhard!
See you there around midnight or something!
www.beinhard.no
"Best new band in Norway 2006" - Global Battle of the Bands
"If we had made songs like this twenty years ago we would be millionaires now" -
Charlie Harper, UK Subs
Sunday 7. may 2006:
I´ve just finished a review! I made an exception for this one....
It´s the new compilation from Arne Thelin, called
Second Thoughts - Arne Thelin pop drops 1987 - 2005.
It´s out now on Wizzard In Vinyl records, the same label that released
the latest Bithammer! ep, and the cd verson of Trashcan Darlings´ Lipstick Menace.

Soon, I hopefully will have a couple more reviews up here.
I´ll let you all know....
Friday 28. april 2006:
Another great live review by GlamGirl is up now!
This time it´s the Buzzcocks gig that went down on Elm Street in Oslo, last monday!
Thursday 27. april 2006:
Ok, one of my favourite norwegian band, has got a couple of new songs
up on their web-site, and you better check ´em out! :
www.HOLLYWOOD-VAMPIRES.com
The first track, Lemmy, well, it´s not hard to see what that one´s about.
Or, I should rather say who!
Great song, and it´s a little funny with the Mötley Crüe riff.
The second one, Switchblade Romance, has got this all-round nice´n warm
rock´n roll sound, with an amazing boogie-woogie beat.
I´m pretty sure that you will enjoy these gems as much as I do!

Put up a press release from Peter Blast, in the Bands section.
I´m really looking forward to hear his new stuff! Check him out!
Wednesday 26. april 2006:
Just put up GlamGirl´s review of last weeks Backyard Babies show in Oslo!
And don´t forget the Trashcan Darlings show on saturday!
Rock The Boat
Friday 21. april 2006:
Just a short notice to let you all know there´s a brand new press release,
from The Boys, out now! It´s on the Boys page, in the Bands section!
Check out this great site, which I just learned about: www.rockhospital.com
And, last but not least - I put up a short live review of Jackie And The Rotten Cherries!
Tuesday 18. april 2006:
The brand new Honest John Plain & The Amigos record:
One More And We´re Staying is out now on Action Records!!!!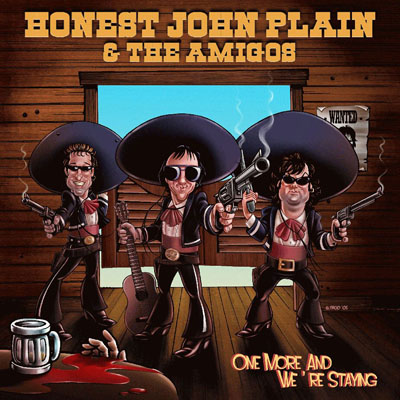 I´ve just ordered my copy, so if anyone who lives near me wants a copy too, let me know now,
so I can tell the great people of Action Records to send me more.
Boys fans who´ve already heard it, says it´s some of the best stuff that HJP has ever done -
which should tempt quite a few out there to get it!
You can buy it directly from Action Records yourself, just go here: www.action-recordz.com
Ok, the news about the upcoming New York Dolls album, has been up here for some days now.
And if you´ve already been to the Roadrunner Records web site - I guess you´ve been
cheering just as much as me over the three new songs which is put up there!
I think they´re nothing short of excellent, which I know will piss some of you off...
If you read there what Sylvain Sylvain has to say about this new New York Dolls -
you gotta agree with him....
The track Dancing On The Lip Of A Volcano, is absolutely stunning! And I think it´s
as cool as the best of The Criminals, where Syl was the main man.
The single, Dance Like A Monkey, picks up from where the boys left us - in the jungle.
I don´t think they could´ve done a better job at capturing the Dolls sound in 2006.
Now I know what many out here cries out. And yeah, sure I know there´s no Johnny Thunders.
But what the guys now deliver, is so good, so this is gonna be one of the biggest highlights
this year. Let the party begin and sure I´m ready for
One Day It Will Please Us To Remember Even This.
Forthcoming saturday, I´m gonna be jealous as hell of you lucky people who will
see the much wanted Crybabys on a stage again!
This happening takes place at London´s Garage - so cheers to you all who´s going!
Friday 7. april, 2006:
A new review is up, by Mr Billy McBarbie, of the norwegian
punkrock band, Ørtæv! (that´s norwegian)
It´s just turned from thursday to friday here, but anyway, tonight, for me, that´s really
tomorrow night,, ok let´s just call it friday march 7 - the Backstreet Girls
open the new club in Oslo - Amplifier!
The Girls also opened the same place, some years ago, when it was called Rock Bottom.
So, the BSG are the same, but the club has a new name! Haha!
Remember to join in the forum, where we now have the new Backstreet Girls message board!
For more info on BSG:
x www.backstreetgirls.net
x home.no.net/broerby
As the movie about Arthur "Killer" Kane has just hit the streets on dvd (and btw! a friend of mine
is in it 3 times!), the New York Dolls announce their new album:
Rolling Stone : New York Dolls Make Their Return
Saturday 1. april, 2006:
Just a short notice to let you know that my memorial over Nikki Sudden
is up now, on the Nikki page in the Bands section.
Just my beautiful memories of my meetings with Nikki... Take it as it is.
And GlamGirl´s great review of last saturdays Trashcan Darlings performance,
is up now in the review section.
Marqués De La Concordia
Cheers, and all the very best!