Thursday 30. june, 2005:
Not so much going on lately, but I´ve added a bunch of reviews right now!
One is even by a book! I read a lot of books you know, mostly rock´n roll biographies and diaries, and stuff about pirates.
Casino Steel told a short story the other day, on the Backstage Passers forum, which I´ve
copied to the Casino Steel page here. It´s a bout a soccer-match.
New shows added to the Trashcan Darlings page - you better check it out!
A lot of things is not OK on this site - it will get better, but don´t hold your breath!
I fucked up the top-menu in the review section now, so you have to use "back" a lot. Sorry!
I´ll try and get it fixed tomorrow. Hopefully will get all the old reviews up again soon too.
And also the gallery. There´s a lot of pix I wanna show you...
BTW - you can see some stuff over at myspace.com. Here´s the link to yours truly:
http://home.myspace.com/index.cfm?fuseaction=user&Mytoken=20050630120441
Monday 13. june, 2005:
New dates added to the Shakedown Club!
The Hollywood Vampires rocking out at Gamla, Oslo on friday - and the Harbour Hookers at Skuret, Trondheim on saturday.
For more info - check the Shakedown Club and also the forum!
Do ya think the New York Dolls deserve a spot in the Rock´n Roll Hall of Fame??
Of course you do!
Go ahead and sign: New York Dolls-nomination for induction into the Rock and Roll Hall of Fame Petition
If you´re in Trondheim on friday 24. june - be sure to catch Nazareth at Rock City!
Support is by local boogie-rockers, Evil Angels - check ´em out here: NRK Urørt - EVIL ANGELS
Thursday 2. june, 2005:
Three new reviews are up - Hanoi Rocks, NPB and Kevin K!
And keep checking the Shakedown Club and the forum - new dates will be added continuously.
The Turbonegro afterparty shakers in Slömber, will do a gig at Cafe 3B, here in Trondheim, saturday 11. june.
So if you´re not in Oslo checking out those rude Crüe - come on down!
Or I guess you can make it anyway...
You want some badges (buttons) for your band?!
Get in touch with Hit Me! Records - find them under links!
Some info is up in the forum. I think I´ll order me some RRAF buttons soon... Let you know!
Tuesday 31. may, 2005:
Tour-dates and other news added to these pages:
X Nikki Sudden
X Dave Kusworth
X Ratcats
X Åsmunds
And some new gigs added in the Shakedown section.
New reviews will be up shortly - maybe already tomorrow!
And keep those forum-talk flowing. 38 registered users - and #100 will get a free t-shirt!
(If it will be a local one, I can buy you a drink. Happy-hour!)
Wednesday 25. may 2005:
Kvikksølguttene to hit Trondheim!
This band includes Petter Baarli of the Backstreet Girls and Casino Steel, as well as some other famous
people from television and music biz. They perform as a part of a benefit concert for "norwegian rock musem in Trondheim".
More info in the Shakedown section in the forum.
The Rock´n Roll Nurse radio show takes a summer break! And a well deserved one too!
Only one exclusive show was aired, but this show will hit harder than ever in... my guess is mid-august.
Look forward to hear some rock´n roll and punk-rock sleaze , ´cause this is gonna be the radio show you always wanted!
A huge rock´n roll happening in Oslo tomorrow: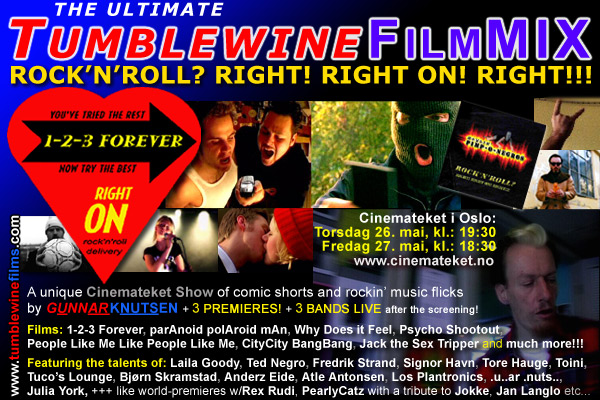 More info on this in the Shakedown section in the forum.
Added news to the Casino Steel and Backstreet Girls pages, and the Hollywood Vampires page.
Go to the Bands section!
Monday 23. may, 2005:
I completely forgot to announce this event in New York City, last friday.
It was a photo show including Sami Yaffa´s Mad Juana. You can see the poster in the Hanoi Rocks
page, go to the bands section. The poster is extremely good with a very famous head!
Some of you might remember a radio show called Trash Kassett. This was a show on norwegian national broadcasting, NRK,,
and I think it started in 2002. The thing was that the listeners could send in their own home-made tape with
their favourite music. And yours truly had the best tape that year, according to the shows host, and won the whole shebang!
My tape got played on the air, with artists like the Ramones, Trashcan Darlings, Fuck Ups, Pansy Division, Candypants,
Backstreet Girls and much much more. I can´t even remember them all! I think about 24 bands was crammed onto a
60 minute tape! Now the show is taken off the air and a huge party is being held on saturday.
For more info, check the forum: rraf.net :: View topic - Trash Kassett!
The info is only in norwegian, and I don´t think you can listen to the show outside of norway, anyway.
Too sad that more people didn´t show up for the Hollywood Vampires gig last friday.
You missed one hell of a show, including a lot of their old hits, which still are unreleased, I think they played the entire
Welcome To Dumpedville EP, and some brand new ones. As well as a bunch of well-picked classics from the
grande catalogue of rock´n roll - from Ramones to Backstreet Girls, and Status Quo to the Dead Boys.
My favourite of the night was probably their explosive take on the Dead Boys classic, All This And More.
Shame on you all you so-called rockers!

Thursday 19. may, 2005:
Finally back in Trondheim, and I left all my money in Oslo - it´s so damn easy!
Hopefully all Trondheim-rockers and -punks have got some saved up for tomorrow nights show
with the amazing Hollywood Vampires! They´re back in Trondheim for the third time, with their
terrific glam- and boogie-rock. The first one was a sensational show as support for the Trashcan Darlings,
and those who was there can no way have forgotten!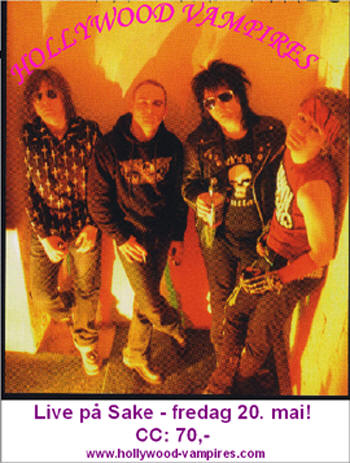 So come on all you vampires and let´s enjoy the Hollywood night!
www.hollywood-vampires.com
Go to the bands-section, Hanoi Rocks, and see a fucking cool picture! It´s a flyer for a show
in NYC tomorrow!
Monday 9. may, 2005:
Added some news about Casino Steel appearing on norwegian television - go to the Casino Steel page in links.
And Spanish tour-dates for Nikki Sudden on his page as well as the Darrel Bath page.
Anyone going to the Trashcan Darlings show at Last Train on sunday?
And don´t forget Carburetors + The Oowees at John Dee the day after!
Both gigs are in Oslo.
Some info on the New York Dolls, see their page in links!
And I think that the Rock´n Roll Nurse radio-show will air on wednesday.
More info on that in the forum!
Wednesday 4. may, 2005:
´Ello-´Ello!
I´ve added a section for live-shows, called The Shakedown Club!
Just click on "Shakedowns" !
Who´s the first to see where I stole the title from??
The Rock´n Roll Nurse radio-show airs tonight at midnight!
All the info you need is posted in the forum.
And remember, you can listen to it over the internet, if you by accident is somewhere else than Trondheim, tonight.
Enjoy the Turbonegro show, Jugends and Jugendettes!
And don´t miss the party at Rock City, before and after the concert.
The sensational Trang Hjælm and Slömber is live and dangerous on stage!
See the forum for more info.
Monday 2. may, 2005:
Woow - the place was packed when the Jetsurfers hit the stage late friday night!
Ok, maybe not. And that´s too sad, cause they are truly one of the coolest bands around,
and a great bunch of guys to be around and party with. But don´t worry - they´ll be back!
And if you´re going to the Notodden Blues Festival to see the New York Dolls,
the Jetsurfers are on the night before - august 5th!
The amazing new Five Years Down The Road collection, is a must have in my opinion.
You can get it at Muddy waters in Oslo, or get in touch with the band!
I just found out, that there is an official New York Dolls web-site, with loads of information on the new tour.
And you can download a live show from the SXSW 2005, where a couple of new songs were performed.
Check out the great The Punishing World!
And the Dolls, with Sami Yaffa of the original Hanoi Rocks, on bass, have just finished a three-night stint
at NYC´s Irwing Plaza.
Check it all out here: www.new-york-dolls.com
On wednesday, it looks like I will be on the air! `We want the airwaves!´
The scene of the crime will be the Trondheim Studentradio, on a new show about rock´n roll,
hosted by Ellen - the Rock´n Roll Nurse. You can check out her interview and review of the latest
Backstreet Girls gig here in Trondheim, at the BSG site. You´re stupid if you don´t!
I won´t partcipate in the whole show, only present a couple of records that I really like.
And since this is a new show, I know nothing more at the moment, other than I think it´s gonna be great!
See the Radio´s web-site for more info and you can listen to it on the net as well:
Studentradion i Trondheim :: FM 107 og 104.2
Keep an eye on the forum, some more news concerning this might come there tomorrow.
Ellen - please be my guest and post anything you want about your show!
Hope you all have seen the new reviews! Five new ones are up, and it´s way better than the old review-section.
The older reviews will be up there soon, in alphabetical order.
And thanx to all who´ve registered in the forum. 27 already, since 21. april!
I forgot to celebrate the 25th... User 100 will get a free t-shirt!

Thursday 28. april, 2005:
Five new reviews will be out here sometime tonight or tomorrow, so watch that section!
There´s some really good records I´ve received lately, and I can easily recommend them all to you.
More pics added to the Peter Blast page. If you still haven´t checked him out - do it now!
His latest album, Explode, is a brilliant one and includes the best cover version I´ve heard of the Stones´ Paint It Black.
And a new ep is on it´s way.
Also added a sexy snapshot of the glam-girls in the Sirens.
And don´t forget tomorrows show at Sake - read more right under here.
Monday 25. april, 2005:
The amazing Jetsurfers tour of Mid-Norway:
"Sake Pub" - Trondheim - fredag 29. april
"JB 11" - Verdal - lørdag 30. april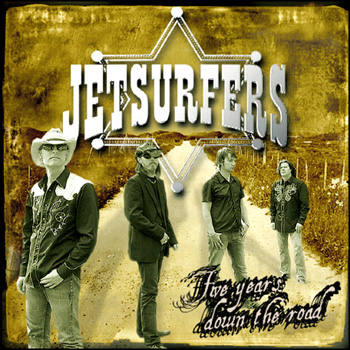 Jetsurfers ga ut plata "Five years down the Road" i 2004, og dette mente noen anmeldere;
Farojournalen; "De tre første låtene høres ut som noe av den beste countryrocken som har kommet ut i Norge. Jetsurfers kan stå foran et velfortjent gjennombrudd."
Rockmag; "Jetsurfers er beviset på at stordelen av norsk musikkbransje ikke har fnugg av peiling på kvalitetsmusikk utenom karaokekonkurranser på TV2. Hvis det finnes noe som helst rettferdighet i verden, burde Jetsurfers hatt bedre oppbacking enn de fleste artister i kongeriket."
Bergensavisen; "En solid dose americana med høy twangfaktor. Det svinger av bandet. Stilig !"
For intervju eller mer info. kontakt På Scenen.
Mvh.
Audun Norgaard/
På Scenen
To find out more about one of my favourite norwegian rock´n roll bands -
check out
www.jetsurfers.com.
So what do y´all think of the new way with the bands??
After a while you´ll get more info, pictures and stories about every bands and artists there, on their very own page in the site. I know it´s one more click to get to the official sites, but hopefully you´ll enjoy some exclusive pix and words from the bands themselves right here. Check out NYC rocker Peter Blast - he´s right on it already!
So what do you put on your stereo right now?
For some of the best boogie-woogie ever - get yourself a copy of George Thorogood
& The Destroyers - Anthology double-cd collection.
Enjoy the sun, baby!
Thursday 21. april, 2005:
The review section is not quite ready yet, but to check out the old ones, go to the news archive at the bottom - 2005Q1.

Now, some news.
x First a sad note - Hideaki Sekiguchi aka Billy, the bass-player of japanese jet-rock´n roll heroes, Guitar Wolf, passed away on march 31. Only 38 years old, he had tons of years in rock´n roll in front of him. But for those of you who know the band, all that energy these guys deliver, they could run a power station!
R.I.P. Billy - `All Through The Night Buttobase!´
x The New York Dolls are booked for this years Notodden Blues Festival, here in Norway! This will take place on saturday 6. august, but David Johansen will play a blues show on thursday 4. august together with Howlin´ Wolf´s old guitar player - Hubert Sumlin. You can see a short clip of Sumlin in the latest Dolls live dvd. And this is also your chance to see Hanoi Rocks´ original bass player, Sami Yaffa, as he´s the new bass player in the Dolls, after Arthur `Killer´ Kane passed away last year.
For more info, check out the festival´s web-site: www.bluesfest.no
x There´s a really cool interview with the Backstreet Girls for you to download,
done by Ellen the Rock´n Roll Nurse, for Trondheim Studentradio.
Go to the media-section on the BSG site: Backstreet Girls.
x And here´s another cool interview - Hanoi Rocks´ Michael Monroe and Andy McCoy on finnish tv: Bettina S - the link is right in the middle of the site.
I really want you to see it, it all ends in one hell of a blues-jam after a lot
of hilarious misunderstandings. I wonder about that eye infection...
Well, alright! That´s enough for one day.
But remember LOS AARONES and The OOwees at Kamelon in Bergen, tomorrow!
And next friday, the fantastic Jetsurfers live at Sake Pub in Trondheim!
Don´t miss it!!!!
Thursday 21. april, 2005:
HI! And welcome to this new version of RRAF.net. It´s not quite finished yet, as you´ll see, but maybe it never will be... With a web-site like this, you can improve it as you go along and create new stuff whenever you want to. I guess the main reason for this new version is that I want you to still come here, and enjoy being here. A close runner-up is that I want to keep on doing this! ´Cause I was really tired of keeping it up with the old site. And hopefully - a lot of new people will join in on the fun. So tell all your friends and enemies how great this new Rock´n Roll, Alcohol & Fucking In The Streets web-site looks! If you think it´s shit, then say so in the forum! Or, if you got anything nice to say, or anything at all concerning rock´n roll - go to the brand new forum! And for all fans of sleazy glam-rock (well, I guess that´s why you´re already here, ain´t it?!) - there´s a very own Trashcan Darlings messageboard in the forum, so check it out!
Alright - hope you all like it. And all kinds of feedback are greatly appreciated!