Friday 8. april 2005:
`I´ve been to the doctor, and he gave me one of these...´ Anybody recognize the line?
But really, I´ve just been to the doctor, there seems to be something wrong with my head! Caused by lack of sleep and stress, most likely.
But what can you do?! Sit at home in front of the fucking tv!? He gave me acupuncture, my first time. It wasn´t as bad as I thought it would be.
I´m not a big fan of needles... Well, well - hope you all will get drunk tonight and boogie as hard as you can. We ended up having one hell of
an afterparty after the Backstreet Girls show last saturday. My stereo said goodbye in the early mornig hours of the sunday, I think
it got a shock of boogie-woogie. Too much Quo, Tatts and Stones! But you try and have the Backstreet Girls in your house!
Some cool pix of the Boys from the Berlin gig is up here: PUNK AND DISORDERLY - The Festival
And read this great, great journal entry by Nikki Sudden: nikkisudden.com :: View topic - Monday ~ 4 April ~ April Fool's Day & On…
And don´t come and say that you don´t agree.

A su salud!
Thursday 31. march 2005:
Angus Young is 50 years today - yeaah!!!
I bought my Family Jewels, the brand new Ac/Dc double dvd set yesterday, at a very reasonable price too.
Get it and pour yourself a drink, or four, and boogie into the night!
And if you live in Trondheim or around, you´ll have one hell of a good warm up to the Backstreet Girls show on saturday.
Pictures from the Jayne County shows are now up on her site: www.jaynecounty.com
`Have a drink on me!´
Wednesday 30. march 2005:
Not dead yet! It may seem like it at times, no news updates, no reviews, and the guestbook is shut down! But that was out of my hands, not that it matter that much, but I really enjoyed reading all the messages there. They´re all gone now. But I´m thinking about putting up a forum when I got the new site ready. The adress will be the same, but a slight difference in the layout. Hopefully it will be way cooler, and easier to access the info that´s here.
Two new reviews are up - The Mormones and The Rooph.
As for London - I had a blast over there! Jayne County and the boys rocked the Camden Underworld, and it was a real pleasure to meet Jayne again. Haven´t seen her since september 2003, and she was sweet as hell!
Honest John Plain and his Amigos was amazing, hope to see them very soon again.

If you´re looking for the official Hanoi Rocks web-site, it has moved to a new adress: www.hanoirocks.info
You can listen to clips of all songs on the new album, but today you can order it from like cdon.com and others.
And don´t forget to get your copy of the latest Dave Kusworth record - Wonderland Avenue.
You´ll get it here for 160nok/$23/20euro
Shipping is not included - depends on where you live.
Or get it directly from the man himself, and maybe get it signed: www.davekusworth.com
And don´t forget the Backstreet Girls on saturday!
Tuesday 15. march 2005:
Finally, I now got the latest Dave Kusworth & The Tenderhooks cd in stock! I´m not gonna bother to put it up in the shop right now, as I´m working on the new site, and hope that the new one will be a much better one. But send me a mail if you want it - it´s a masterpiece! Review will also be up.
Check Dave´s site for a lot of news regarding the Jacobites, and Dave´s new band. There´s also a bunch of stuff to download there, which I know you will enjoy.
www.davekusworth.com
Speaking of downloading - check out this site www.rockpassion.com
You´ll find the Ronnie Wood and fiends show from last sunday, at London´s Theatre Royal.
Read about the show here nikkisudden.com :: View topic - Monday ~ 14 March ~ Cornwelled and Wooded
and here IORR Talk :: Tell Me
Upcoming shows this week:
*The Mormones at Lloyds, Hønefoss on thursday 17.
*Backstreet Girls + Rockers Rollin´ at Eiker Rock 2005 (Mjøndalen Gjestegiveri) on friday 18.
*Backstreet Girls + Trashcan Darlings at Rockefeller, Oslo on saturday 19.
*Gatechrashers at Hausmania, Oslo, also on saturday 19. - maybe you can make both places!
Wish I could be at all shows, but work is my way of fun these days before the Easter holidays.
And then, off to London town on Good Friday!
Thursday 3. march 2005:
On sunday, it´s Rock´n Roll Cinema at Prinsen in Trondheim. It´s the Minimalen short film festival,
and they´ll be showing the films of Gunnar Knutsen of Tumblewine Films. See flyer: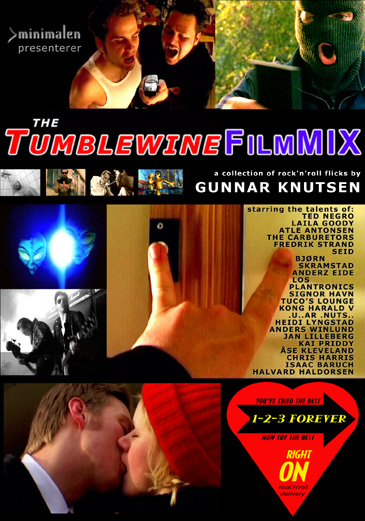 Among the goodies are the 1-2-3 Forever short film, and Carburetors music videos. The show starts at 13.00!
A dvd collection of Tumblewine Films will be sold at the venue.
www.tumblewinefilms.com
www.minimalen.com
Only weeks away now - the RRAF Winter Tour 2005 continues. This time it´s the Jayne County & The Electric Chairs show at London´s
Underworld in Camden, supported by the great Honest John Plain, from The Boys, and his Amigos.
That´s gonna be one hell of an Easter celebration!
Some new reviews are up. Lately I got a lot of really cool records in the mail, and it takes a lot of time to listen to all of them, it´s not always a record
hits it off right away. And one day, I should re-write some of the old reviews. Hopefully I got these right, and that people find them as interesting as they
truly are. ´Cause that´s one of the advantages about this whole thing - all the new bands I learn to know.
So go ahead, The Sirens and Mr. Kevin K are waiting for you to enter their party!
Monday 21. february 2005:
The duo that sounds like there´s a five-piece band, The Mormones, are playing Fredrikstad, Norway on friday 25. february.
The gig is at Dis Cafe, and support is by local band, Nixon. For more info: The Crypt
Fabulous Hit Me! Records has now got their own web-site - keep a close eye on it, baby: Hit Me! Records
Thursday 17. februaury 2005:
A lot of upcoming shows I would love to go and see, in the next few weeks. Tomorrow I´ll be at the Carburetors show here in Trondheim,
and if you´re going too - be there early! The place is gonna get packed, as it´s part of the ISFIT-festival.
Those of you who are nearby Steinkjer - go and rock with the Slömber boyzz!
I´m sorry to hear about the death of Dave Goodman. Here´s some words from Mr. trakMARX:
`Brothers & Sisters,
Bow yr heads & pray to yr respective gods for the sadly departed soul of
Dave Goodman, legendary Sex Pistols producer & regular all round good guy.
Dave passed away following a heart attack at his Malta home this week. Our
thoughts go out to his family & friends.´

RIP

Jean Encoule
trakMARX.com
Dave Kusworth has named his new band, and check his wonderful site: www.davekusworth.com
Last night I met up with Casino Steel, and now got more of his terrific Completely Rock´n Roll vol 1 + 2 in stock.
Go see the shop for details about them.
And to kick off your weekend, go see what Andy McCoy had to say to the Metal Express, when Hanoi Rocks
visited Oslo: Metal Express. Who do you wanna believe - Mr McCoy or Nikki Sixx?!
Rock on&on&on....
Friday 11. february 2005:
Andy Andersen´s (Ratcats, Fuck Ups) and Petter Baarli´s (Backstreet Girls, Ratcats) band from back when they were young, well, they are still very young, has now got a brand new web-site. A pretty cool picture and two songs to download -
check it out here: www.slips.tv
A finnish special in the review-section now - Sweatmaster and the Shotdowns (RIP).
I had a blast in Bergen last weekend, which lasted from friday ´till tuesday. One fucking great party after the other, like pearls on a string! Thanxx a lot to the Rockers Rollin´ for putting on two great shows and one memorable jam-session on sunday night. I guess the people at Garage won´t forget you too soon! The Status Quo gig was quite good - but it didn´t fit right in with the sitting crowd in Grieghallen. Who the hell had the idea of booking Quo in there?!? The band certainly didn´t like a sitting audience, but after a while, the guards gave up telling us to sit down. As 1300 people jumped up and down!
We were interviewed by Bergen Arbeiderblad in the bar before the gig, check it out here: http://www.ba.no/puls/article1450226.ece
And a huge thanxx to Dag Rune and Anja for their enormous hospitality.
Let´s boogie sometime soon again!
Enjoy the friday, baby!
Thursday 3. february 2005:
Now you can get most of the records and t-shirts from this site at Trondheims new fashion boutique, Spooky!
It´s located in City Passasjen, right downtown Trondheim. If you don´t know where it is, send me a mail or check out their website: http://spookyshop.no/
The RRAF Winter Tour 2005 continues - tomorrow I´m flying down to the city of Bergen, to see the mighty
boogie-woogie gods, Status Quo!!! But that´s on monday. In the meantime, I will drink and drink with Norways
ultimate boogie-rock band, Rockers Rollin´! So if anyone in Bergen reads this - come on and join the party at Madam Felle -
both friday and saturday night!
*Go and get drunk at the Rabarbra Pub, Nedre Bakklandet 4*
Thursday 27. january 2005:
And back home again... safe and sound. Wasn´t too sure about that when we were in East Berlin surrounded by skinheads and mohawk-punks. And we were told that the streets could be unsafe to walk because of the neo nazis. But as usual - we got drunk and had one hell of a good time! Got lots of photos that hopefully will see the light of day here in the near future. Meanwhile, you can read some about us on Nikki Sudden´s journal nikkisudden.com :: View topic - Monday ~ 24 January ~ A Flat Full Of Norwegians
And The Boys were fucking brilliant! One of the best gig´s I´ve ever seen - and a really cool party as well!
Then Hanoi Rocks finally made it to Norway - but it could´ve gone wrong this time too.
A scandal the finnish press called it, only because they were stopped by norwegian customs who found 5 grams of marijuana. More on that: Hanoi Rocks stopped by Norwegian customs due to DRUGS
On saturday there´s gonna be one hell of a party at the St. Croix club in Fredrikstad, the line-up is:
*The Carburetors
*The Squareheads
*The Oowees
*Heaven Eleven
And just to tell you - I am working (not too much perhaps, still no internet or computer in my flat) on a new design, which will look fucking amazing, I think. Some day you´ll see it. I´ll get some new reviews up in the next few days, some cool, some not so good. Records I mean... In the meantime - stay away from any godawful band that tries to rock your world.
Go out and find the brand new editions of the old Rose Tatto records, which Captain Oi Records has just released. It´s the coolest I´ve bought in the last few days. Tchüss!
Wednesday 12. january 2005:
`Don´t you think it´s amazing - that I even function in this world...
If someone loves me tonight - loneliness loves me more.´
Yeah, it is amazing - to start the day with some words from The Flashing Psychedelic Kid, Mr. Michael Monroe himself!
Even more amazing is the news about Conny Bloom joining Hanoi Roxx on guitar! I´m glad I caught one of the few gigs Stevie Klasson played with the band, and now I´ll see Conny!! Dreaming of Nasty Suicide...
Read Mr. Monroe´s own words about the upcoming Hanoi record: www.hanoirocks.com
There´s a new store in town... http://spookyshop.no/
It´s called Spooky, and is located in downtown Trondheim, you´ll find the adress and a map on their site.
But you can just as well order all they got in stock through their website.
Roxx on boyz!
Wednesday 5. january 2005:
Exciting news for us here at the `fuck-rock-with-alcohol´ HQ - two great gigs coming up this weekend here
in glorious Trondheim!!! First it´s the tribute to our beloved and oh so dearly missed, Gary Holton (RIP), on friday at the Rabarbra club. This event, which I got all my hopes up for, is presented by The Rig Twins -
Bård "Mr. Bored" Svendsen, who was in the Holton/Steel band!, and Arne "Hotty" Nystrøm, the singer from Hot Lips. That´s two big reasons for getting your hopes up too!
CC is only 50,- nok, and I´ve heard the beer is dirt cheap! Anyway, this you don´t wanna miss out on! C U darlings??!!
Here´s some info about Gary Holton: *Rockens ville liv ødela Gary - an article from VG, norwegian only.
*Wayne Winston Norris - Gary Holton
On saturday 8. january - it´s the lovely Mary Me Young, also at the Rabarbra Club. CC is 50,- nok!
I remember seeing them at Uffa some time ago, and I really liked it! Punk-rock´n roll - hope I still like it...
The Rabarbra Club is located at Nedre Bakklandet 4.
And just yesterday - I finally got my plane-tickets for Berlin reserved. It was very close that I cancelled the whole trip, because of the very high prices on monday. But it was all because of a huge computer error, so fortunately, I got pretty cheap flights after all. So don´t always believe what it says when you´re ordering through internet - check if you think it´s wrong, it certainly paid off for me. So now, Mr. Strange? Gentle (of Trashcan Darlings), Mr. Ulf Lyrån (ultra cool rock´n roller), and myself, are ready for the Boys!!! Berlin baby - we are looking forward to meet ya!
This is one hell of a rock´n roll band you gotta check out: THE SIRENS - from Detroit, USA.
You can download their version of the Hollywood Brats classic, Chez Maximes, as well as the Sweet classic, Hellraiser.
Enjoy boyzz!!