Peter Blast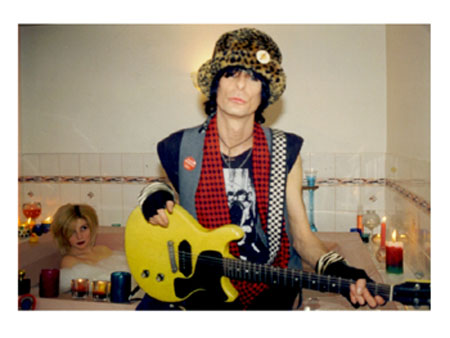 Say Yeah,Yeah Everybody !!!...
Peter Blast here to welcome you .
Also to remind you that at the web-site at the bottom of the page will give you it all !!!...Video clip's , sound sample's , New's and everything that is within the world of "Peter Blast ", SOooo enjoy!
Wednesday 14. june 2006:
Here´s a couple of shit-hot pics of Peter with some Dolls!
Taken during a TV show in Chicago: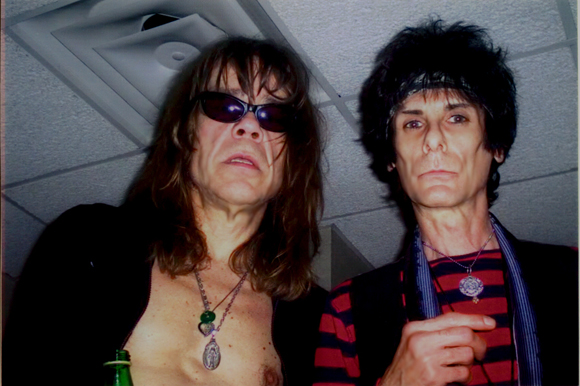 David Johansen and Peter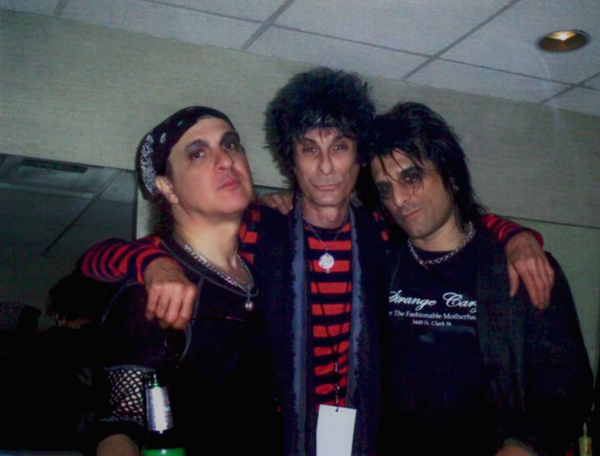 Peter with Syl Sylvain and Steve Conte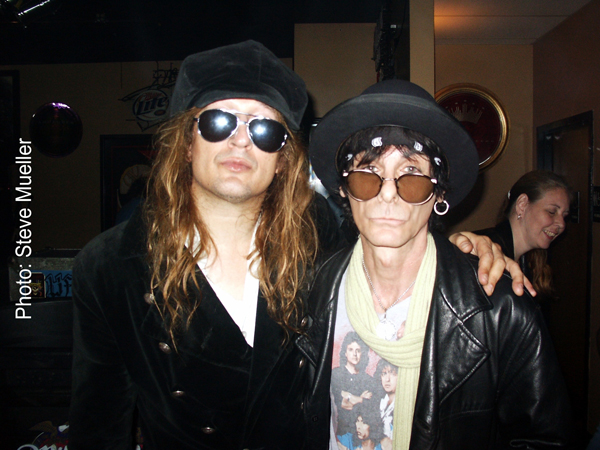 Peter with Chip Z´Nuff
Thursday 27. april 2006:
Here´s a catch up on what Mr Blast is up to:
Rocker PETER BLAST is being recorded by Legendary Chicago Blues Guitarist, Don Griffin.
Two new tracks, "I Ain't Cursed" / "On a Derailed Train" will be featured singles on a
"PETER BLAST ANTHOLOGY" entitled "Pure Organic Junk" to be released through New York's
Poptown Records later this summer. Recording with Blast are Chip Z'NUff of Enuff Z'Nuff aka Chick Scorpion / Dan Curry - EX Hi-Fi and the Road Burners / along with Blast on Guitars is Tony Christiano.
Tuesday 2. november, 2005:
Here´s a 28 question interview, published in the very nice Sugarbuzz Magazine, enjoy!:
Peter Blast is a man that defies all categories. Just when you think you can pigeonhole him, he changes hue like some exotic chameleon. Perhaps this is a good thing. Sure, you have your well-loved groups that do not stray from the formula. Their determination and predictability keep you coming back for more (i.e.: Ramones). However, you also have your little treasures that wait to be discovered like Mr. Blast. Peter Blast has seemingly been ahead of the game throughout his entire career whether it was on the first wave of American Punk, good old gritty rock and roll, or even the whole Alternative Country scene. Recently I had the opportunity to talk to Peter and dissect twenty-eight years of a career in progress.

1. Degeneration was your band from 1977 to 1982. Historically it seems like the Punk Rock history books have left out the fact that your band existed. Do you feel that Degeneration was lost in time? Could this be the fact that the band never released anything officially?

I do not really think Degeneration was lost in time; I have had people run into me year's later and give me a nod and a wink and say the word "Degeneration". In fact, someone signed my site's guest book not too long ago and made mention to something that you'd only know if you were at one of the show's. As far as history and all, we did not get the brass ring. Young, dumb, and full of cum so no record deals. What was given to us were booze, broads, and drugs. Everything a young bummed out new group needs for self-destruction.

2. You hung around and played with Johnny Thunders for a period of time. When did you initially meet him and is there any recordings that exist with the two of you playing together?

I get asked about those days a lot. Johnny and me were cool. Sometimes he'd want to party or other times just sit and talk shit. I hooked up with Johnny Thunders in Chicago around 1980.
I was still in "Degeneration" just coming in from the West Coast. I met Johnny and we talked about doing some recordings together but he was struggling and I really didn't have a label, so it never really happened. I think that would have been a good mix of writing styles and raw rock music.
We did kick around some fine classic licks.
Johnny was doing an interview when I first initially met him. I asked if he wanted to smoke a joint .The problem was I didn't have any papers so I stepped out to track some down. When I returned Johnny was holding some papers in his hand. I thought he was fucking me around (laughs). We hung out anytime we were in the same city after that (laughs).
Walter Lure and I were talking one time of recording later when Johnny came in yelling at Lure .I split before exchanging numbers. Hey Walter! Call me.
You got to love the N.Y.Dolls and Heartbreakers.
I had the luck of jamming a bit with Johnny backstage at a few different venues. He was playing with Wayne Kramer in Gang War and Johnny didn't have a guitar with him so he used a Dan Armstrong that was a friend Don's (soon to join Degeneration). Don was also doing an interview for a school radio show and got to interview Johnny. I sat in on that interview.
On that night also a woman was in the front watching the show (and drinking a lot!), turns out she was with the Sun Times newspaper. Moreover, she was there to review Johnny's show. She took my number and calls me the next day. She can't remember a thing about the show the previous night so she ends up doing an interview with Degeneration and myself! So if it wasn't for Johnny,
Degeneration would never have received the coverage in a major newspaper.
I thank Johnny Thunders for that everyday!

3. When was the last time you actually saw Thunders and what was your reaction to his death?

I think one of the last times I hooked up with Johnny was in the late Eighties. He was in bad shape, stopping in the middle of songs to comb his hair. Nobody backstage was in great spirits. Johnny was tweaking', Lure was bitchin' and everyone else just stood there watching the freak show. The merry go round had become derailed. I had seen Johnny do a lot of wild stuff on stage in the past and make it happen but sadly this was not what I witnessed this time.
I was amazed that when Johnny died Rolling Stone magazine only had a real short fact sheet about his death.
In the end Johnny Thunders was the guy who's sound and image shaped and sparked a generation!
When he died, I was surprised, but not shocked.
God Bless Johnny Thunders! Moreover, to all those that are "So alone".

4. Reflecting back on the New York Dolls and Johnny Thunders
why do you think they are held in high esteem today?

Well the Dolls were original and paved roads for many people to come after them. They were true pioneers. They were a prototype for Punk. I think Johnny got sucked into club land where he revelled for years before his death. You have to do what your heart and soul tell you to do and not what some greasy schmuck is telling you to do. Mind you, look if you follow that path you can be successful too …look at Aerosmith and Kiss!

5. You also were friends with Stiv Bators. Where did you initially meet him?

I met Stiv in Cleveland around the time The Dead Boys got signed to Sire. Later we met again in N.Y.C. I've seen some pictures of us together but I don't know where they were taken possibly in Cleveland. I didn't see Stiv again until he was doing The Lords of the New Church stuff with Brian James from The Damned. I never got to jam with those cats though.

6. Like many early Punk bands of the time most didn't realize that others were doing the same thing in other cities. What was the early Chicago scene like for Degeneration?

That's the funny thing, the Southside of Chicago didn't even know what Punk was! Mind you when Degeneration first existed the Punk label didn't exist! You had to get the fuck out of Dodge. That's why we were so lucky to get to the West Coast and to play the Vegas Strip.
A guy that at the time was a writer for T.V. promoted us. He actually wrote for the show "Laugh In". We performed at some outside summer festivals with groups like Boz Scaggs, Fleetwood Mac and shit like that. What it had to do with Punk I'll never know! I felt more like a movie star than an addicted Punk Rocker.

7. How did a writer for "Laugh In" end up promoting you?

This woman came to Chicago to see us and put us in a small studio to record a demo. She then took the demo to L.A. and had some guy listen to it; he in turn was connected to this wise guy in Las Vegas. All of a sudden, airfare is waiting at the airport and we're showcasing at the Sahara! Better yet, they kept inviting us back. Hell, I called a suite at the Golden Nugget home! Mountains of drugs, scores of chicks and kegs of booze kept flowing. A good way to kill a young band quickly!

8. According to your website you were the first documented Punk band to play the Las Vegas Strip. Any memories of gigs from that time?

Well we played in L.A. and everybody in the crowd was beating the shit out of each other! People were rolling across the floor, kickin' ass and someone fell through some kind of plate glass window! In fact, that same gig someone tried to pull me off the stage by my leg, Chip and Crepid cut 'em off me with their guitar necks. I ended up smashing a bottle over that guys head.

9. Whatever happened to the original members of Degeneration and what eventually broke the band up?
Did bad management play a part in the break up of Degeneration?

Chick grew up to be Chip Z'Nuff of Enuff Z'nuff. I gave Chip that name "Chick" because as a kid, I was into Ten Years After with Alvin Lee and the keyboardists name was Chick Churchill. Anyways, the drummer never played again to my knowledge. I think he turned into a local politician, I always knew something was wrong with him! Crepid was an ex drinker who thought it best to start up again, he was drinking more then you could believe. I saw him drink a fifth in one up! I think he is now deceased. Management, girlfriends, and a lot of others drank themselves to death or went insane. I am currently working on my third solo release since I was in the group "Junebug". I am trying not to over medicate or drink myself to death!
The management was a fucking joke. They didn't have a clue in all honesty of how to run the show. People hanging around us were trying to pull us all in different directions. The team spirit started to wane quickly.
They gave us credit cards for liquor store's, not a good idea! I tend to remember that drummer boy started going to parties and not soon after, he was chasing the dragon. Another problem was that the Punk scenes between N.Y., L.A, and the U.K were not from the same mould. In an essence, there was no understanding
what made the other tick.
I don't know why we based ourselves out of L.A. and Vegas. We were going for the big prize I guess. The L.A. Punk scene was stupid back then and we really didn't fit into the narrow-minded way of thinking. Keep in mind we were Chicago boys. It was hard to keep it together.
11. Do you see Degeneration doing a one off reunion show?

I doubt it. That's really a hard question to answer, cause if you're doing Punk per say you must have the right team working your latest venture. People that believe in you and your music and can bring it to the right pair of ear's. When your brain switches gears, it is hard to relive what you once did. I say to move forward rather than relive the past. It all comes full circle anyways. Great songs and stories stem from observation, imagination and experience. There has to a different setting to each picture you're verbally painting!

12. When Degeneration died where did you go from there?

Degeneration" died and was buried by 1983. I was still doing a few Projects with Scorpion (a.k.a. Chip Z'nuff). Keep in mind it is now about 1984 before Chips hey day with E'nuff Z'Nuff. I had a few little groups together and did a lot of recording but for the most part I felt a little displaced being based out of Chicago again. It felt like I was walking backwards and banging into everything in my path.
I finally found a group playing in a basement. We ditched the singer and I brought in a friend of mine for second guitar. The Noise Factory was born! The guys wanted my name within the group name so we changed it to "The Blast Factory. I think the year was now about 1986. Therefore, for about three years I was living with one foot in the grave and the other punching the gas, full throttle wide open!

13. Who were the members of the Blast Factory? How long was "The Blast Factory" in existence? Do you ever plan to release any of the recordings from that time?

The very start of the Blast Factory was this cat named Alley Blue and myself. I had all these new songs like "Soldier Boy, See no Evil, Ticket to Hell, Good Girls Gone Bad, as well as a few others. So Blue, myself, a four track and drum machine started doing demos to enlist other players. Blue was great on guitar, bass and a real wiz with the drum machine. I listen to those tapes today and its like damn that's a fucking machine!
It was a drag cause after we had a complete line up, Blues guitar style wasn't working out with the other guitarist and he took a powder. In the end the one guitarist didn't have a need to play with another. Jack St. James rocked and then disappeared with the drummer's chick.
Blast Factory was a tour group essentially. The Factory was the best line up I've ever had or for that matter played with. We lasted a few years but once again, trouble reared its ugly head.
It has a tendency to follow me around!
The same booze and drugs scenario that killed off Degeneration killed The Blast Factory as well. The guys from the Blast Factory were from the metal world and I was from old school rock, punk, and glam. The outcome was that some great music was made. All those cats are done now they hung it up a long time ago. Back to the basement never to be heard from again! I think they all married each other's ex's!
"The Blast Factory" did a lot of recording and I will release some of it. Some of the stuff we tracked was later rerecorded for "Junebug". I'd love to get it out there cause it really beats up the versions we did with Junebug.You can't take that kind of stuff and try turning it into a pop record as some people have learned, I knew I was right! The Blast Factory was heavy, dark, and haunting! All glam and punked out. Kickin' ass on ten!!!

14. Once "The Blast Factory" disbanded, did you put together your next band "Junebug" quickly?

The Blast Factor was put down (R.I.P.) around 1992 or 1993.
It was a bit of a drag after so much work was put into that group.
Yes, my next band "Junebug" was playing some Blast Factory songs in the summer of 1993. Some of Junebug's songs were rehash but new compositions were also being worked out.

15. Who was in Junebug? How would you describe Junebugs sound?

"Junebug" was getting press around the world being called "The long lost cousins of The N.Y.Dolls". Essentially Junebug was a super group. The recordings were done with a lot of old friends; some of the players were under other contracts so they were listed under different names, like Tara on bass is Chip Z'nuff. We later toured with a chick bassist but when we played Amsterdam, her folks pulled the plug and Chip stepped in again. Desi Rexx from D'MOLLS came down to record and so did Gino Martino a.k.a. Eugene Strenz.
Kenny Harke was with a group called "Off Broadway" and with "Badfinger" and "The James Young Group (Styx). Chip also produced the CD "Ticket to Hell " and Phil Bonnono mixed it. Phil had previously done "Cheap Trick", The Eye of the Tiger" by "Survivor" which ended up in a Rocky movie. Junebug played a little bit of everything, Punk, Glam, Pop and Metal.
It was funny because I didn't perform a showcase or anything! I was just signed on the spot. Z'nuff was starting his Stoneyrecords and Larry Germack out of Cleveland had the label Circumstantial.Germack was also a rep. for R.E.D. Distribution. Essentially "Junebug" was released by two Indies' with major distribution. I think it all is unbelievable and very cool .The first press we had was in Italy where they somehow got their hands on the demo cassette, which was still called "Peter Blast" at the time.

16. When did "Ticket to Hell" come out? During the recording of the Junebug cd, didn't you take a break and start writing new material for a solo cd?

The Junebug "Ticket to Hell" CD was finished being recorded except for the vocals for "Kisses from Yesterday". The night before the last session I fell off a stage, shattered my hip, and broke my leg in two places. After I got it together again, I went from a hospital to a studio and finished up the vocal track. From there, I went into detox. I stayed down South with some people and started writing a bunch of new stuff, which was completely different than what I was doing with Junebug. I wrote some old country & western songs along with rethinking what the Hell is my life all about .I think a lot of deep thinking went into those songs and made me a better person in the end. You know Junebug was like someone who was mad at the world. The new stuff I was writing down South was like saying, "Get it together Peter, and I'm sorry".
Therefore, I kept going up to the city to record this new material with "Johnny K, the producer of Disturbed. I was recording another CD! with Junebug sitting on the shelf somewhere. Z'nuff calls me down South one day and tells me I got a deal. I said at this point for which one? The answer was for Junebug! It was time to switch gears again and get back home. Later on, those tracks that I was writing down South became my first solo CD,"This Side of Shang-Hi".

17. This Side of Shang-Hi sees you going in a totally different direction. Can you reflect back on the making of the CD and how it was initially received?

Shang-Hi was so different nobody knew how to market it, remember this Was long before crossover country and/or alt country were ever thought of, Now Nashville thinks they dreamed it up!
"This side of Shang-Hi" was released overseas by Perris records and later released by Stoney records in the States. I still think it is my sleeper. It was also the first CD that I produced completely (with some input by Johnny K.)
Z'nuff and myself wrote and co-produced one or two tracks and Chip played bass on the whole CD. Donnie played some guitar and Honky Tonk piano. Gino Martino played some Spanish nylon string guitar. Tony Christiano played the bulk of guitar, slide, and lap guitars. I also had Willie Shurtz on accordion; he had previously toured with Tom Waits and John Fogerty. Kenny Harke was on drums along with Ricky Parent. Now add in violin, banjo percussions, and a lot of layering and you start to get the full picture. I took a seven-piece group out on the road to perform some high-class joints. It was totally different from playing rooms with "L.A.Guns or E.Z., with Junebug. I was doing rooms that Sinatra was eating at!
It's been a real roller coaster ride! I did a video for "The Crossroads Hotel" off of the Shang-Hi CD, which got a lot of viewing from cable T.V. shows across America.

18. I read that you actually penned material for the movie "Henry, Portrait of a Serial killer".
How did that come about?

What a great flick! I was writing and recording with this guy and a small group of musicians. After we were done, I went down to Mexico to live for a few months. Steven A. Jones the drummer I was recording with became a director for the film and McNaughton the guy I was writing with got to do the film score, so the song "Waiting in the Garden" found its way into the movie.

19. "Explode" your next release seems like a perfect culmination of everything that you previously had done. Do you feel the final product represented where you were at the time?

Explode" is different in the sense that it's the first rock CD that I had complete control over. Chip Z'nuff produced "Junebug" in part although I did produce "Kisses from Yesterday". "This side of Shang-hi" I produced most of it but Johnny K, did have a helping hand in it.
Also "Shang-hi" wasn't a pure rock record it had a lot of vibe front porch styled songs that called for acoustics, violins, accordion, Bottleneck, lap steel and more percussion rather then drums. I think that "This Side of Shang-hi" is a very special cd that people may look at again in years to come.
"Explode" and "This Side of Shang-hi are two different animals and Junebug yet another. "Junebug" was one pissed off guy where with "This side of Shang-hi" it's like becoming at one with yourself. "Explode" is back to rockin' without needing anger management. I do like to write and record different styles of music! I think if all the songs sound the same, it's not saying much about the artist's abilities as a composer.
As always I called upon some old buddy's to come and record on Explode. Gino Martino and Chip Z'nuff to mention a few and its also the first CD that I played Guitar on, all the rhythms &fills are me. These were the first live shows featuring me as the guitarist and front man. I got to tour and perform a lot with the Explode CD in the States and I intend to tour a lot more overseas. For now you'll have to settle for the video" As Sharp as a Knife". It's out there in T.V. land.
20."Tracks" was another ep you released. It particularly caught my attention as you cover "Pills" (Bo Diddley, New York Dolls). This cd is now hard to find. Why is it so obscure?

Tracks was an EP with two live tracks and two studio demo's that were bootlegged and then sold out right by a guy that said he didn't know where the recordings came from! I was informed that the EP's were even being sold with the labels name on them. A friend of a friend found them being sold at an open air flea market. He cornered the guy and found he had around five hundred cd's! All the ep's were collected from the dealer and sold. Tracks sold out fast. I think most of them went to Japan, China, and Korea. Those places really like rare recordings.
As I said there were four cut's on Tracks, a live take of "State Trooper by Bruce Springsteen", a live take of "Pill's " and two studio tracks " Soldier Boy " (a tune I demoed years ago) and a song called " The Other Side". Soldier Boy I always thought was a smash hit but the recording was only a demo, so that was a bit of a drag. I'm thinking that guy got the recordings from someone very close to me. I talked about this EP when I did an Internet interview on "Old Rules, New School, Live 365.com " and they played " State Trooper" Live,
along with seven other songs from three different cd's of mine.
This interview with eight songs are like a Peter Blast history lesson.

21. You have quite a bit of material recorded over the years. The progression and growth of Peter Blast would make an interesting Box Set. What are your thoughts about releasing something of this calibre?

A box set has been thought about but now is not the time. Later on, all of the past and future recordings I will and have done will make up the box set along with videos and Live footage.
Maybe it will be "Peter Blast, "The best of the Worst"!

22. I am interested in what you initially listened to at a younger age.
Do you remember the first album you actually owned?

The first records I owned fell off the back of a truck in Chicago. They changed my life at that very moment forever. "Meet the Beatles" and The Rolling Stones –"Not Fade away" single. I had a guitar within a week and was banging on it writing melodies and Words .I used to write songs and send them to the Beatles, hoping they would use one. What a dumb ass! (Didn't they cover "Stab Me Gently"? ha ha-ED)
My influence's stem back to the British Invasion and Pirate FM Radio. The radio shows would come on after the real shows ended. You could hear The Jeff Beck Group with Ron Wood and Rod Stewart, Zep 1 all that stuff. I was in L.A. as a runaway in 1969 the same year flower power died. The early seventies had Stewart's solo stuff and The Faces along with some of the Rolling Stones, best records to date. Humble Pie, Blue Cheer, Spooky Tooth an endless flow of some really great music and cool drugs to set a mood and don't forget Hendrix!
I think all this and more is still what makes me tick. What's old is new and what is new is mainstream .I don't listen to the radio anymore. I always liked original glam but glam was a look not a sound. Keith Richard is the first glam punk rocker as far as I am concerned. Wearing makeup, chopped up hair and some wild ass clothes but he plays fucking Rock n Roll and blues.
The early to mid seventies also had The N.Y.Dolls, which were Glam and played Rock n Roll but it was more street gear. Later cats like Johnny Thunders made his raw, rock, punk and then came the Pistols
and all that followed.
As a kid, my dad liked Johnny Cash so between all the groups and artists mentioned I think a little of all of them make my foundation. Of course, T-Rex and a whole lot of others are still floating around
up stairs in my gray matter!

23. Since you have been around Chicago and seen many changes in the music scene; I was wondering if you had any interesting stories you would like to share.

Back in the early seventies The Faces came to Chicago about five times a year. I was walking around downtown Chicago when I saw this guy walking around looking lost .I asked if he needed help. I was shocked to find it was Rod Stewart! I helped him find his hotel by a short cab ride. The Faces always rented the top floor of the Holiday Inn. A friend of mine would always go to the after show parties. She brought me along one night, where I had the opportunity to meet Stewart again along with Ronnie and the boys.
They were great to everybody and I saw Ronnie a few times down the road after he became a Rolling Stone. Anyway, if you liked whiskey and cocaine you were going to have yourself a good time! This chick that first took me to the party use to wear this full-length fur coat that would have the lining of her coat filled with two foot long joints! These guys rocked, very foot loose and fancy free. Nobody partied like Rod and The Faces.
Another time Desi Rexx of D'Molls and I were at a James Brown concert, when this English guy kept following me around telling me how much he liked my shirt .I finally said I am not taking my shirt off my back for you but lets have a beer. Desi walks over and tells me that the guy is Glen Matlock!
Later Glen put me plus two on the guest list because he was playing at the Exit Chicago the next night. I brought along Desi and Chip Z'nuff. Glen was all worried that the club wanted two sets and he only had material for one set .I sat backstage with him playing his one and only bass and telling him to switch the songs around or call it a second show.
Years later when he was touring as a Sex Pistol, my body guard and I went to the meet and greet. Steve Jones came by and I asked If he remembered me from a meeting with Joan Jett .He said "no" and kept going, a true rude boy, and bit of a jerk off. When Glen came out we talked and he said where the band was going for cocktails. I blew them off and went for drinks with the road crew. I had no need for Johnny Rotten or Steve Jones bullshit. If it looks, like and sounds like bullshit it must be bullshit!
Why the Jonesy attitude, he is just another Thunders thief.
Another short story! I was outside behind a venue the Stones had just played and there was a limo sitting there. I don't remember who opened the door and said for me to get in but when I did Keith fucking Richards was in the Limo! I was out of my mind, I said hello introduced myself and layed a joint on him. Its weird isn't it?

24. You are currently in the studio working on your next cd Peter Blast-Ex's in Exile. How are the sessions going and when do you figure the cd will be finished? Who is in this current line up?

On the new CD I'm Tracking for next year "PETER BLAST, EX'S in EXiLe" is still taking shape. There's so many new songs, some are very old school punk & others are very Rock n Roll, of course there's also a few magical, mystical tune's that I'd have to call "Americana, gypsy folk pop with that Peter Blast signature.
It's funny how some thing's change but still remain the same. I think this cd has a lot of different texture and color's then some of my past releases.
In the studio, I'm recording with "Desi Rexx" who toured with David lee Roth & was a part of the group D'Molls. I've also got "Chip Z'nuff playing Bass on a few tracks. I have been working with him for so many years now that it wouldn't feel right if he wasn't on it. Dan Curry is playing drums; he was with Hi-Fi, & The Roadburners. Dan is included in the live line up also. I've got two local guys playing on a few tracks, trying to help kick start some careers. One of the two had a group out in Arizona that ended up being one of Johnny Thunders many support groups; he will also be playing on a few studio tracks and in the live line up
along with a local bassist.
I'm always wanting to tour and it seems a lot of countries really want me to do dates .I'm praying to hook up with some promoters soon and do things the right way. Keep your fingers crossed.

25. On your new cd, you have a song about a character named Leddah. I understand it is an amusing story about how that song was written. Would you care to elaborate?

One of my newer songs that I'm tracking is called" My right arm, Wrong Vain". It is the story of a voodoo doll that is alive & well somewhere off in the countryside. I was sent some photos of Leddah that were on e-bay, so I contacted the owner about using an image for the new CD cover. Some fortune teller in England (weirder still she use to be married to some guy in Adam and the Ants!) contacted me saying the owner of the doll wouldn't be happy, so I'm not going to use it. I don't need a voodoo Doll pissed off because another song I'm tracking is called "I ain't Cursed". The story goes like this; the gypsies believe that you can put someone's soul into a doll to extend the lifeline of that person. Now I believe that to live forever through the eyes of a doll would be a real drag. The guy never could sell the doll cause every time he tried he said the doll would put him into a trance until he got back home with the doll. Looks to me like the gypsy woman cursed everybody involved
but personally "I aint Cursed".

26. You always seem to be 2 steps ahead of the game. Sometimes as you state earlier when you pave the way for others you don't get the success or recognition. How do you feel about this statement applying it to yourself?

Well being one or two steps ahead can hurt you, because they don't and won't get it. If it doesn't sound like everybody else they won't get it and by the time they do its somebody else that's doing it. When I did "This Side of Shang-hi" I took it down South and they said "this isn't country", so I go to the city and the label says, "Well that's not rock. What the fuck that sounds to me like a crossover. It hurts but you get over it.

27. I find it interesting that you have a religious side to yourself but also a dark side. Do you find that this is a natural balance? To understand the light you must understand the dark?

Well it's all about good versus evil. You have the Devil on one shoulder and your Angels on the other. I think it took a case of Angels to get me this far. Haunting and eerie doesn't have anything to do with evil if you don't want it to be. They are stories that make up songs. It's all part of a great mystery!

28. What do you think history books will say about Peter Blast in 25 years?

What will people say about me in twenty-five years? I would like to be remembered as an artist that could touch upon several styles of music and then make it his own. Ann Leighton in New York said I walk a fine line between "Elegance and Ball's". This could be true; I'd like to think so! I do what I do with no apologies even when it's the right arm, wrong Vain.
Copyright: Christopher Duda
sugarbuzzmagazine.com
This interview is taken, with permission by Peter Blast, from the `On The Record With´ section,
on the Sugar Buzz web site. There´s some really nice pictures of Peter there, so go check it out!

Peter Blast,Reckless,Ruthless old school, Rock,Punk,Glam,Pop,Traditional Blues and Hard Rock.
" Only a guy with Peter's experience and lifestyle can make such Thrill - Heavy, raunchy yet melodic kind of rock. This is'nt mainstream, but it is true craftsmanship".
" This gifted singer-songwriter, walk's the fine line of ball's with elegance.Peter's lyric's and interpretive skill's rate up there with such great's as Bruce Springsteen and other's".
" Blast was an in "Degeneration" the first punk group to perform the Las Vegas Strip, hung out with "Johnny Thunders" and some Dead Boys, and has performed with the like's of "L.A.Guns" in the group " junebug".
" Blast's voice can dominate every style of rock 'n roll and make it his
own. Peter get's a new star every time I Listen to "EXPLODE", which
is now more than I can count on my finger's".
( Ann Leighton, N.Y.,KVK, Belgium,Ringo Kid,Norway)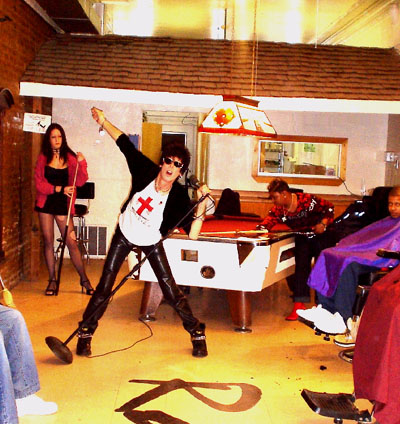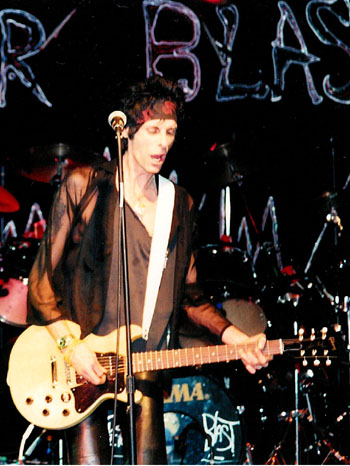 www.peter-blast.com
www.myspace.com/peterblast
POPTOWN RECORDS For fans of rock music from the 60s, 70s and 80s