Nikki Sudden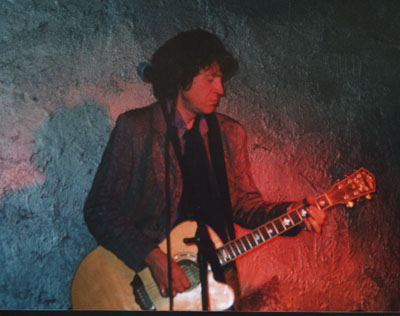 July 19 1956 - March 26 2006
I Miss You, Nikki - Rest In Peace
Too many thoughts around here these last days, too even be able to get down something near
as good as one as Nikki deserves. I feel empty, and I miss you Nikki, very much.
Some fine people have posted their thoughts on Nikki, in the memorial section
on the great, official Nikki Sudden web-site.
I hope you all wanna go and read them, as well as keep a close eye on the Nikki Sudden forum -
there´s a lot of beautiful words and thoughts there, and it´s easy to see how many people´s lives
Nikki has touched. I will now try and put down some of my thoughts and memories about
one of the most important persons, that I´ve ever met....
It was the summer of 2003, I remember it as it was yesterday... I was with some good friends in a
shop in Oslo, looking up Chris Damien Doll of Trashcan Darlings, to get my hands on a bunch of
The Lipstick Menace Tour - EP. He was playin Bob Dylan over the stereo, and then he showed me
some cd´s that he´d just bought. It was the re-releases of the Jacobites records, on the Secretly Canadian
label. I know I´d checked out some Nikki Sudden stuff earlier, but now I was really getting into it all....
I got Chris to make me a copy of Ragged School. I was hooked!
I was dragged down Silver Street, fast, and almost loosing touch of everything else. And I was loving it!
Then Strange? Gentle called me up, one afternoon I was at work. He was gonna have the Jacobites
play an acoustic show at the Elm Street club in Oslo, in november... did I think it was possible
to get them a gig here in Trondheim, too? I can´t quite remember what I thought at first, but soon, the ball
was rolling. After some back and forth, we finally got the gig booked at the Credo restaurant,
and a huge thanks goes out to Tor Schjølberg! He paid the band, and I paid the flights from Oslo,
and booked them onto my couch. Well, Nikki was sleeping at one couch, me at the other, while
Dave and girlfriend, Lesley, slept in my room.
What an amazing evening and night that was!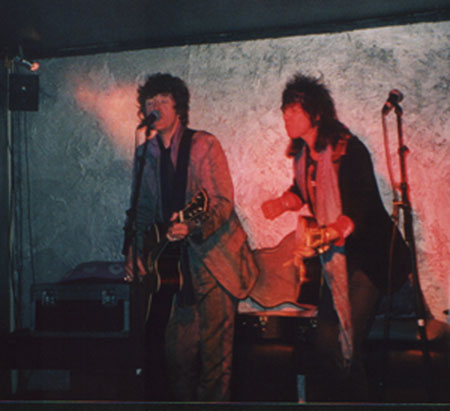 But before this, I got my good, good friend in Oslo, Mr Ulf Lyrån, to make me some
more Jacobites stuff. The day a couple of cd´s and a video turned up, I was in heaven!
Now, I was way down Silver Street....
Before the show, we were watching the Four Flicks dvd-set, and me and some friends were
all over the records that the boys had brought with them. Buying ´em all and getting them signed.
Nikki signed my copy of his Waiting On Egypt/The Bible Belt with:
Joar, stay bruised, Nikki Sudden. And his signature heart....
We only got maybe an hour and a half of sleep before we had to go to the airport.
Nikki played us a cd-r copy of his forthcoming album, Treasure Island, which sounded fantastic!
In my car, on the way to the airport, in the cold, dark november morning - we listened to Red Brocade.
Nikki skipped Farewell, My Darling, and we were deep into Stained Sheets.
Stained Sheets is to this day one of my favourite Nikki Sudden compositions....
I´d never seen Hanoi Rocks, because of some unfortunate situations after they got back together.
When they announced a gig at the Peace & Love festival in Borlänge, Sweden, in the summer of 2004 -
and the Jacobites was booked for two shows - I was heading down there with a bunch of great friends.
And I met some great new friends there too, who joined us for the front row at the Jacobites shows.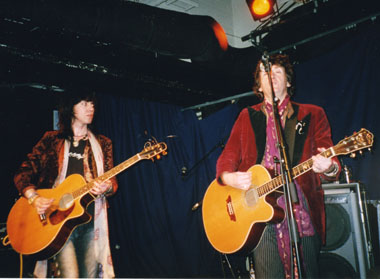 I bet you a $100 that you won´t find anyone with as much class and style as Nikki and Dave!
I quickly hooked up with the boys, after the gig. Nikki greeted me with a "Hey honey"....
Dave told the merchandise guy to give me some records. I was a friend!
I couldn´t believe it... my heart was on fire!
We were all over the afterparty, some kind of a music-biz seminar, I thought.
But I met a lot of people on the inside. And they all knew Nikki.
I can´t remember if I told you, but Nikki -I had a wonderful night.
Thanks for getting me in there...
The night after, saturday night, me and some of my best friends, were having a drink right by your
hotel. Kristin saw you in the street, and I rushed after you. "Have you seen Dave?" you asked.
You were gonna play an extra session down in one of the bars there. Dave turned up,
and you played two songs each, on the same guitar. Nikki started with two songs, then Dave
played two of his, and then Nikki again. And so on for about an hour and a half.
Then off to the real show, same stage as the friday night.
Another amazing show over, and I was supposed to meet you guys after. But there was so many
people around you, so me and the others went for a drink in the bar.
Then I lost you.... So I thought this was it for this time....
We went out in the over-crowded streets of Borlänge. Many thousand people wandering
drunk and lost and lonely in strange streets. Me too, I guess....
Then you showed up, like a star on a dark, clouded sky. You said: "There you are, I was looking for you!"
"Take your friends with you, and let´s go!" Nikki told the guard at the gate the we all were in his band,
and we all got in! The red wine was flowing, and Nikki and Dave charmed the pants off the swedes....
Those swedish nights will always be remembered... Jacobites - I owe you a big one!
Next time I got to meet you Nikki, was late january 2005.
The Boys, one of the greatest bands to come out of the 70´s, was set to play Berlin - your town
for the last 8 years. I asked you, humbly, if I could sleep on your floor... you said your floor
was awaiting me. I guess you meant your couch. Anyway, I ended up in the same hotel as The Boys.
But we met at the gig, and we, Ulf, Tarjei, Petter, Casino and me, invaded your home
the morning after. You served us tea as we were going through your Stones and Jacobites records.
I got the Little Boy Blue & The Blue Boys vs The Lone Ranger cd, right here!
My last night with you, was at the Magic Club in Barcelona, january 28th, this year.
A solo acoustic show, the stage was all yours....
I went there with my lovely girlfriend, Natalia. My first night with her.
The setting couldn´t be better - my catalonian senorita, and a Nikki Sudden show!
You asked us if we got any requests. I´m sure I told you Hurt Me More, as I always do...
Natalia asked for Evangeline. You played Evangeline.... you gentleman...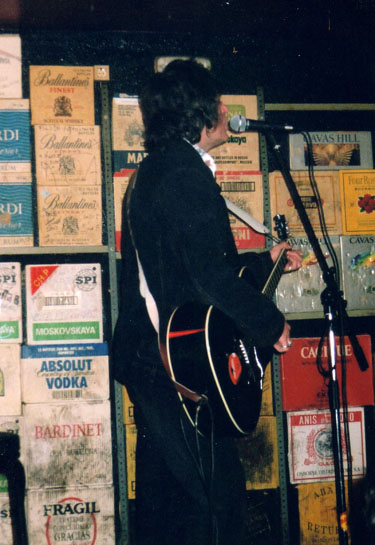 Another night in heaven for me....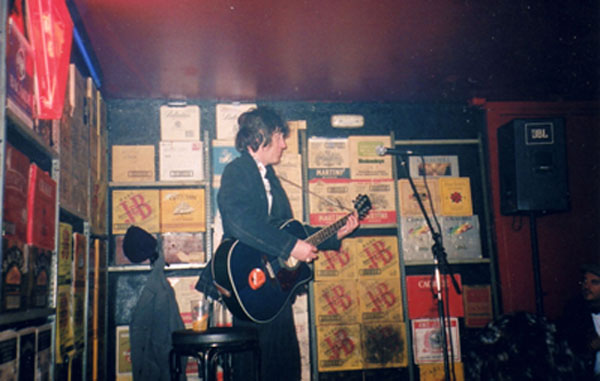 I´ll never forget you and Dave playing Hurt Me More, at the Credo bar here in Trondheim,
one cold november night in 2003. You did a run-through Loves Cascade at the soundcheck, too...
Tonight, I´m watching the video of that show, as many other nights, since that
unforgettable Trondheim november night.

Nikki - you changed my life! You made it a better one, a richer one, a more romantic one...
you and Dave will always be in my heart. I know Dave will carry your flame high,
your spirit will be alive with him and all of us Nikki fans.
I know you´re looking down on me, us. Your tattered scarves, your thoughts on the
A Bigger Bang tour, your love for Dave and Darrell, your comforting words and
wisdom on life and death - it´s all hanging over me. Us. We are many. Many Nikki Sudden fans.
I know you know that. Even if it sometimes didn´t seem like it.
Why am I sometimes too late??
I was gonna make you some Stones dvd´s... as I made for Dave.
I´m waiting for you telling me, in your angel voice, your new adress....
" It´s funny how things go around But go around they do
This place is empty So empty without you"
(Keith Richards)
April 1 2006
Ringo
"I´m high and lonesome Yea I´m on my merry way
Oh, high and lonesome But I´ll be back some sunny day"
(Nikki Sudden)