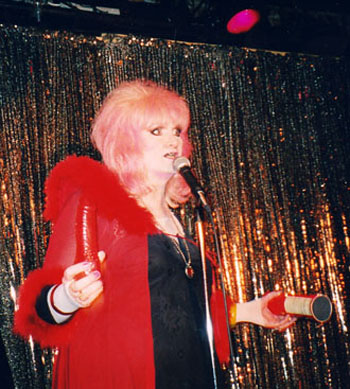 Jayne County
Friday 20. october 2006:
So, Jayne was in some trouble with Kiss´ Gene Simmons,
over the Electric Chairs name. Here´s the lowdown:
FROM WAYNE/JAYNE COUNTY:

As many of you have probably already heard, CREEP Gene Simmons has stolen my
band*s name and given to his son Nick Simmons! This is a dispicable act of
greed and disgusting contempt! To not only me as a person, but as a
Glam/Punk Pioneer and Trans artist! And quite frankly it is a tremendous
INSULT to the entire PUNK WORLD!!! I thought up the name myself back in 1977
and have been recording and touring with this name since way back then!!!
I have ALWAYS been WAYNE/JAYNE COUNTY AND THE ELECTRIC CHAIRS!!! And my first
LP was called THE ELECTRIC CHAIRS. Everyone in the Punk world and other
knows that!! In fact I have a gig in London on Oct. the 28 with the DAMNED
and I am billed as JAYNE COUNTY AND THE ELECTRIC CHAIRS! IT IS MY NAME!!!!!
Creepy Mean Gene has even gone and copywrited my for himself!!! I will try
to fight the best I can but Mean Gene is RICH and has top lawyers!!! He will
try to shoot me down, like a dog!!! SO, I NEED YOU....ALL MY FRIENDS AND
FANS TO HELP ME FIGHT THIS GREAT INJUSTICE!!! Do absolutely ANYTHING you can
and can think of to harass and protest to Gene Simmons, that awful show
called I think the Family Jewles or something!!! Also protest to A&E TV
station. Calll them. email them. fax them. harrass them and let them know
that they are NOT GOING TO GET AWAY WITH IT!!! Here is some useful info
about the show for you!!! The DIRECT PHONE NUMBER to the show is.... 323 468 2000.
The company doing the show is called THE GREIF COMPANY .. A DAY WITH, INC,..
and their address is: 9233 W. Pico Blvd. .. Suite 218..... Los Angeles, Calif, 90035
Their num. is 310 385 1200 and the Fax. is 310 385 1207 ...
OK TROOPS. MOBILIZE AND HELP ME FIGHT!! IF YOU LOVE ME AND MY MUSIC
YOU WILL HELP ME!!!!!!!!! Love to you all. XXXXXXXX Jayne..
of WAYNE/JAYNECOUNTY AND THE ELECTRIC CHAIRS!!!!!!!!!!!!!!!!!!!
This was sent to me by Tom Kristensen, some time ago.
It´s also been up on Jayne´s myspace site, see link at the bottom.
My fault it´s so late up here, but look on this is as a school class!
And now, the rest of the story:
" Hey all!! Jayne herself here! Well, Gene Simmons of KISS backed off from giving my name
The Electric Chairs to his cute son!!! But still he should not have used it without my consent!!!!
Anyway, I just want to thank everyone for your support!!! And go to my My Space spaces!!! I have FOUR now!!!
And two by someone I don*t even know!!!! But the main ones are the Jayne County and The Electric Chairs,
Wayne/Jayne County and The Electric Chairs/More Music By Jayne County and Jayne County Meets The She Wolves!!!
Have fun!!! Thanx!!! xxxXXXxxxXXXxxxXXXxxxXXXxxxXXX Jayne!!!!!!!!!!!!!!!!!!!!!!!!!!!!!!!!!!!!!!!!!!!"
This is from the guestbook, over at Jayne´s official site.

Live and learn, guys!
It sure helps to let people know what´s going on!
New releases is expected in the near future, so be sure to check in on Jaynes´s many sites,
whenever you can!

Thursday 8. december 2005:
Here´s a bunch of fantastic pics taken at Elm Street Rock Cafe, Oslo
6. october, by Dan A. Nachtnebel. Enjoy Jayne in all her glory!: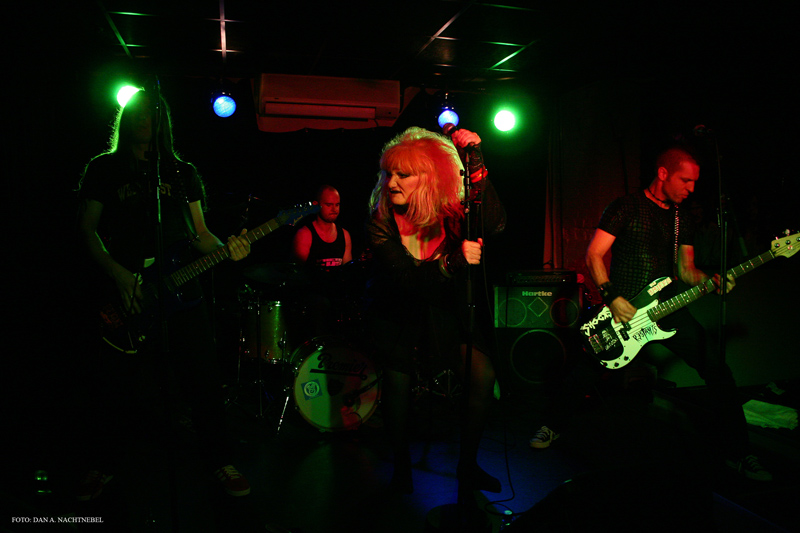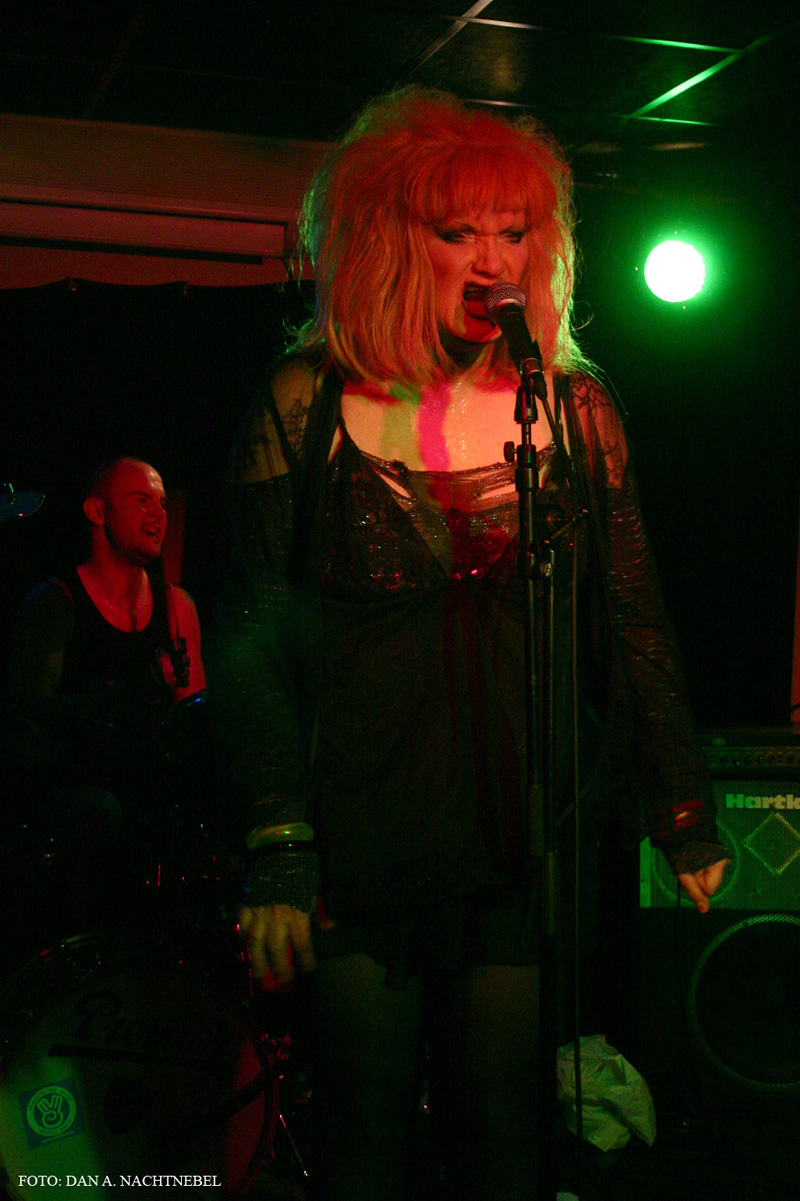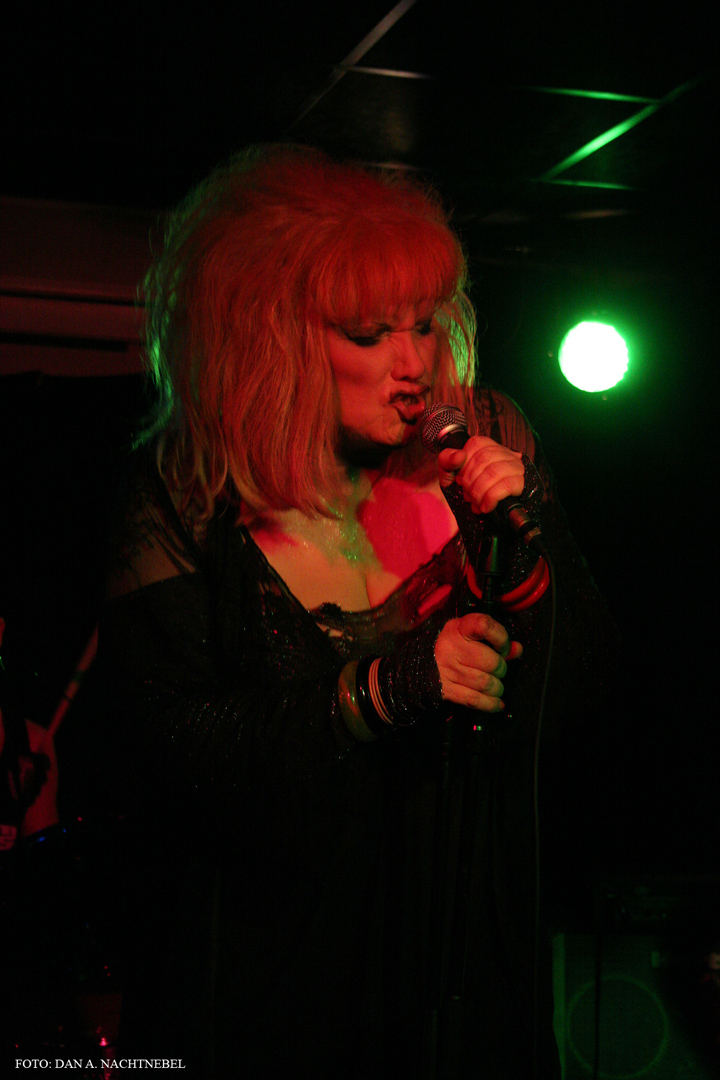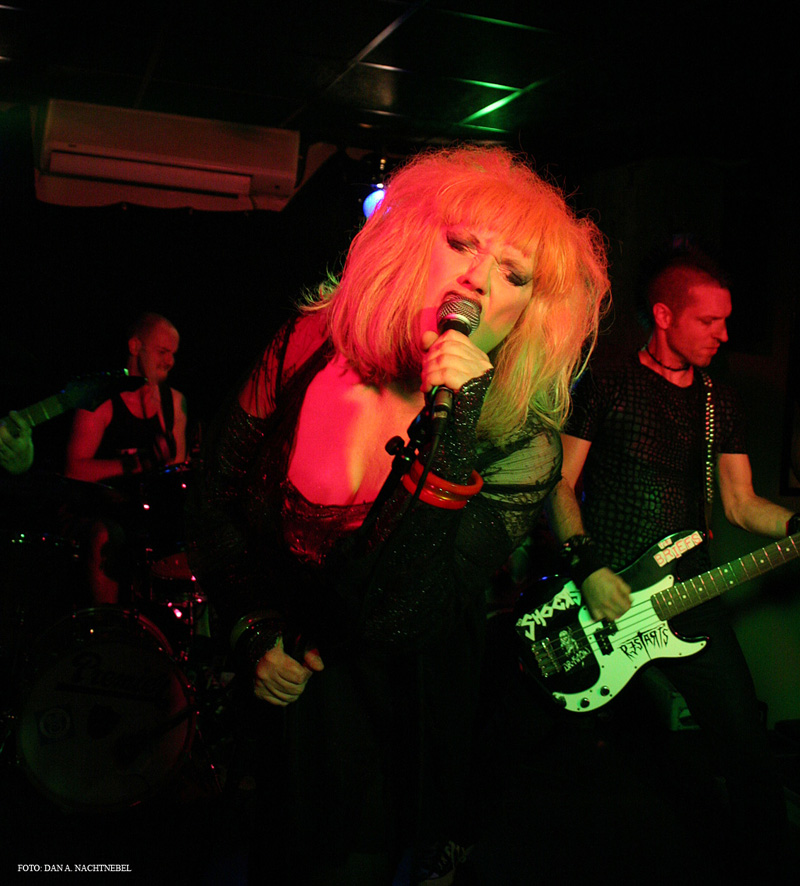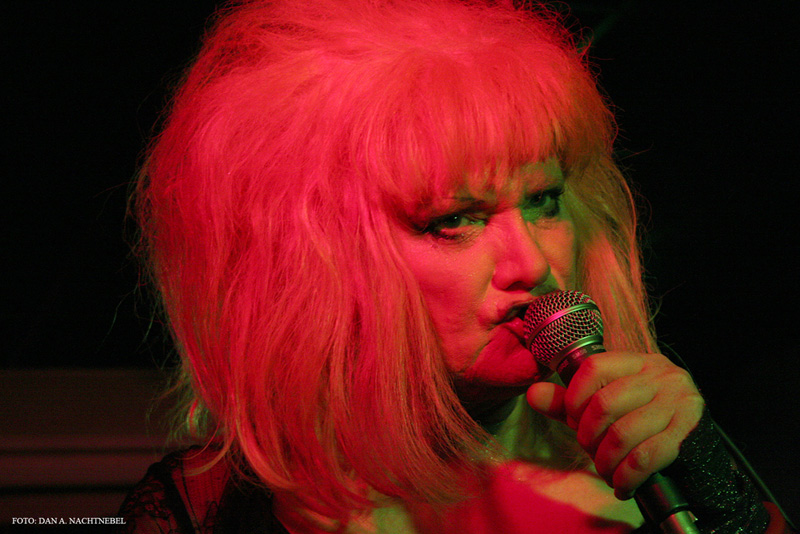 More pics + a review here: RRAF.net - On Tour - Jayne County