Billy McBarbie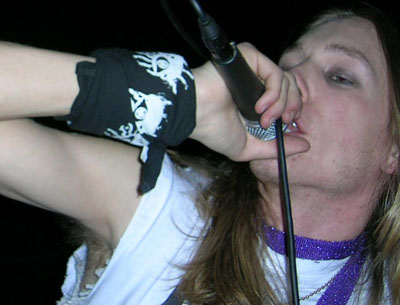 e-mail: stanza99@hotmail.com
Adress: Odd-Reidar Liasjø
Nedre Møllenberggt. 68A
7043 Trondheim
Norway
"Main occupation: Fronting the upcoming rock'n roll-band Slömber, and trying to become a teacher in elementary school to find a way to pass rock'n roll on to the kids.
Some bands I enjoy listening to: Glucifer, Guns'n Roses, The Carburetors, The Dirty Callahans, Velvet Revolver, Izzy Stradlin, Sex Pistols, WASP, Turbonegro, Backyard Babies, Hellacopters, Dogs D'Amour, Rose Tattoo, Backstreet Girls, Johnny Cash, Silver, Mötley Crüe, Trashcan Darlings, Mötorhead, The Clash, Rolling Stones, Chuck Berry, Green Day, Poison, AC/DC, and a bunch of others whom I seem to be forgetting under preasure...
I base my life on a quote form David Lee Roth: "It doesn't matter what you're doing, as long as you look good doing it!". And it's also easy to forget that: Rock'n roll ain't about inventing the gun-powder; it's about making a fucking firework!!!
My LP-player isn't working that good at the time,
so please send me your music on a CD!"